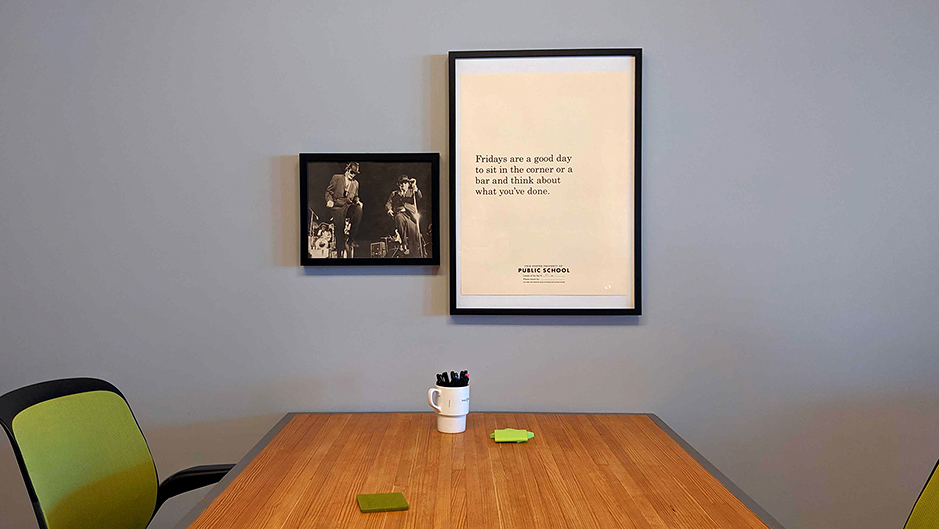 I've spoken with designers at different stages in their careers who, in one way or another, feel on the outside of the growing demand for user experience design and who are eager to find a way to "break in" to a UI/UX job. If my experience or those of other designers at Fuzzy Math can be any example, there is no "best" way to a job in UI or UX design.
I'm a visual designer and a project lead here at Fuzzy Math. I'm also part of internal project teams that focus on bringing our values into our work and sharing our time, resources, and expertise with our community. This April, alongside our celebration of ten years of Fuzzy Math, we celebrated my one-year work anniversary. 🎉 But that milestone doesn't really reflect my whole history with Fuzzy Math, or even begin to tell the story of how I got here.
My path to, then from, then back to Fuzzy Math was crooked and shaped by many things, most of them inextricable from my personal and family life and circumstances. The following is a re-tracing of that path and a dozen things I learned along the way. I hope my story and some of the lessons I learned can provide a little encouragement to new designers or folks looking to make their own transition into user experience design. Onward!
Lesson #1: Going to industry events really is worth It.
An Introduction
My introduction to FM was as a brand-new grad in the summer of 2012. At the time I was living with friends of my parents in Chicago's western suburbs and freelancing through a staffing agency, mostly making copy edits to brochure designs for extended stay hotels and a for-profit college (i.e. living the dream).
On advice from a mentor, I volunteered to do a writeup on a Debbie Millan talk put on by AIGA. I showed up super early and mostly drifted around avoiding eye contact until it was time to be seated. But I was there to meet some people, and was resolved to speak to somebody, so it was a huge relief when Fuzzy Math alum Isaac sat down in my row looking approachable.
It was the first time I'd heard of Fuzzy Math — and the first time I'd heard of user experience design as a field or discipline. Isaac spoke to me with warmth and genuine interest, despite my age, lack of experience, and obviously un-cool eagerness. His kindness and attention made an impression on me, and Fuzzy Math (and user experience design in general) was now on my radar, a bright spot on my mental map of Chicago's design scene.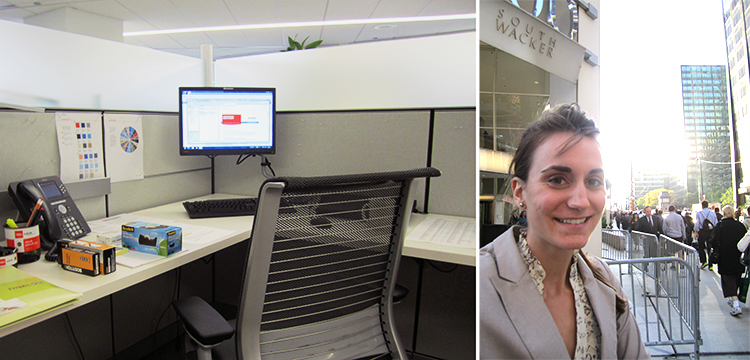 Lessons #2–3: Lying to yourself only works for so long. And, It's not your first job that matters — it's your second job.
The First Job
That fall I signed on to design marketing materials full-time for a commercial real estate brokerage downtown. I took the job drunk on an uncanny combination of anxiety and dogged optimism, despite the fact that I had hoped for work in a studio, despite the fact that I'd be working on a PC, despite the fact that I'd have a marketing title and not a design title. 
The brokerage was a big corporation and very formal, and despite my best intentions I wasn't very happy there for very long. After a year I was back out and around the city attending events, hoping to make a connection that would lead to something new. I ran into Isaac more than once, and every time he treated me with the same kindness.
A friend and mentor once told me that it's not your first job that matters — it's your second job. People want to know you can be trusted — and after you've proven that, it's easier to chart your own course.
Lesson #4: Getting laid off isn't always so bad.
The Second Job
I found my second job in the first weeks of 2014: a contract-to-hire position as a visual designer for a social media startup. I loved it. My first project was a logo redesign and icon set creation: building up their brand and visual identity in the product and in sales and marketing materials.
By week six the CEO was in Mexico and I was helping my supervisor move boxes from our offices in a startup incubator into storage. 
Our space had been leased to another startup and we were forced to vacate on grounds of months of unpaid rent. We were all out of an office, and I was out of several thousand dollars in unpaid invoices — and a job. (That doesn't include the $50 I spent dry cleaning my then-boyfriend's yeti costume for company use at SXSW 2014 — but that's another story.)
Amid the chaos and absurdity of the startup's collapse, thanks to the confidence and connections (and, I believe, the conscience) of my supervisor, I was brought in on contract to do production work for Patagonia's global website redesign. It wasn't exactly glamorous: I worked mostly from home designing customer service screens and retail store detail pages. But it was real work and no b.s. — working on brand-new responsive designs in a beautiful system and getting direct feedback from the Brand Creative Director. It was a huge boost.
Lesson #5: The best places to work aren't hiring. (Most of the time.)
Hello, Again
That summer I saw a brief (and I mean, brief — it might have been up for all of a week) LinkedIn posting that Fuzzy Math was looking for a Visual Designer. 
I was scared to apply, but my work with Patagonia was coming to a close. I messaged Isaac through LinkedIn, and he agreed to meet me for a coffee at the then-newly-opened Gaslight Coffee Roasters in Logan Square. Isaac explained that Fuzzy Math doesn't hire often and was no longer looking for a full-time visual designer (hence the short-lived LinkedIn post) — but that there could be an opportunity for some freelance work along the lines of what I'd been doing for Patagonia.
After a few weeks and a couple of emails, I began contracting for Fuzzy Math once a week on Tuesdays.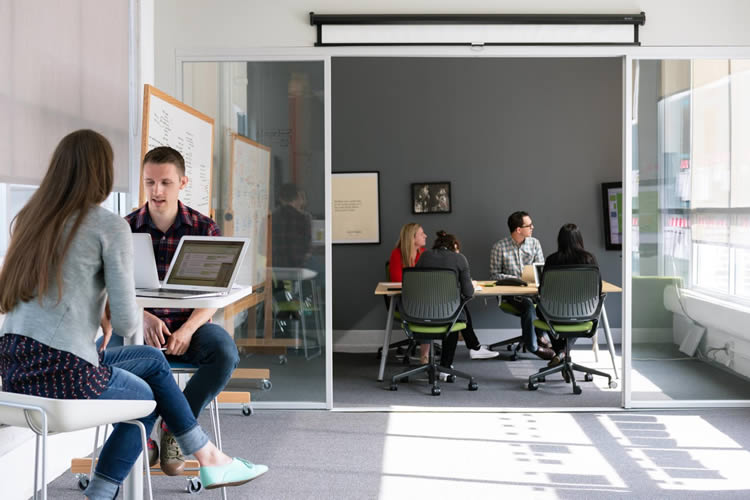 Lessons #6–7: It's really quiet around here. And beware the espresso machine.
Welcome to Fuzzy Math
The thing I remember most about working at Fuzzy Math in 2014 is that it felt like working in a library. It was (and is) very quiet at FMHQ. It's good for getting stuff done, but there's something intimidating about a quiet space full of smart people doing complicated-looking things.
On one of my first days in the office, Rachel showed me how to use the espresso machine. I listened as best I could, but really had no clue what I was doing when I tried to use it on my own for the first (and last) time. I got the espresso shot in the cup alright, but all hell broke loose when I tried to steam the milk. I still don't remember exactly what happened, but steam started shooting out all over the kitchen. It's very hard impossible to be quiet and cool while dodging a spray of scalding-hot water vapor.
I was mortified. But if anybody noticed, they pretended not to.
I began learning a lot — and quickly. I started out working under Isaac, designing interaction patterns in Fireworks (RIP Fireworks) and using InVision to create prototypes. I worked on data visualizations for the first time. I got a taste of long-term client projects as part of the Wonderlic and Fieldglass teams. (Mark wrote a blog post about the Wonderlic project, and the back of my head made it into the post.) I was exposed to human-centered design for the first time — and it provided categories for a sensibility I had intuited in school but couldn't fully articulate. It was kind of a little like falling in love. My feeling for HCD was, "Where have you been all my life?!"
Goodbye, Fuzzy Math, Hello, Ohio
I loved my work, and it was well-received by the Fuzzy Mathers I worked with. Our once-a-week arrangement quickly became twice-a-week, then a full-time contract UI job. 
That spring, the aforementioned boyfriend with the Yeti suit, Alex, became my fiancé. Shortly thereafter he was hired on as an administrator in student affairs at a small liberal arts college in rural Ohio, and we planned that I would join him thereafter our wedding in October. Fuzzy Math is tight-knit team, and a big part of our work requires intentional, in-person collaboration here in Chicago. My move to Ohio would be the end of my road as a full-time contractor.
I was disappointed. But the pain of losing out on an opportunity to continue working a job I loved was dulled (or maybe I was just distracted) by the giant transitions, other joy and other pain, that bookended it. My corporate job and that mess of a startup were barely behind me, and I was looking forward to marriage and a new life in a new place.
I moved to Ohio in the last days of October, 2014, and I got my bearings and a temp job with the college accounting office. The job entailed roaming around campus sticking barcode stickers on treadmills and microscopes and things. "Movable assets inventory," as it were.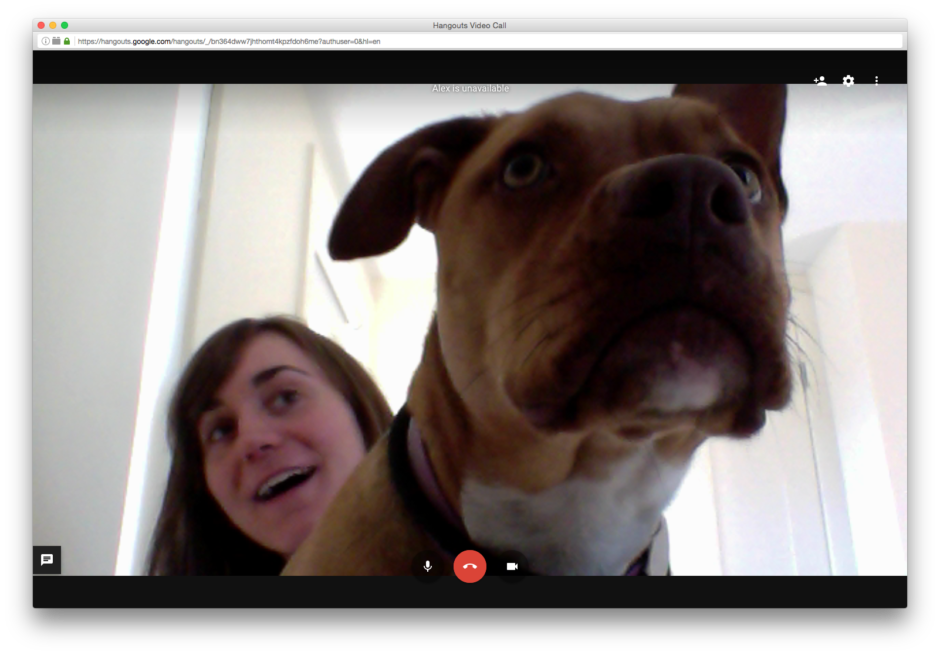 Lesson #9: Freelancing is fun! And it's not actually that hard.
Freelance Livin'
I cold-emailed designers and creatives I learned about in the area, and signed contracts for branding and communication design work. I rebuilt the website for a local domestic violence shelter, including some (very) rudimentary personas and a new information architecture. It was exciting! I kept in touch with Isaac, and every now and then picked up a few hours of work on Fuzzy Math projects (mostly spec work and production design when things got extra-busy at FMHQ).
While still unsure if I wanted to stick with freelancing or find a full-time gig, I was offered a full-time position as a web designer at a large pharmaceutical company in Columbus. Taking the job would mean an hour-long commute, and working for a large pharmaceutical company. Having, by this point, developed a better sense of what I actually wanted from a workplace and learned lesson number two (Lying to yourself only works for so long), I turned down the position and leaned into freelancing.
For the next two and a half years, I built up an independent design practice through connections I'd made back in Chicago and new relationships in Ohio. It was a lot of fun — and I worked on a lot of really different projects: Peanut brittle packaging for an old-timey candy shop near Akron, Ohio. Ads for funeral services in New York. User research for an Episcopal parish. Brochures for a foodservice data startup. 
I invested in the community, too, teaching graphic design classes at a community center and serving as a design advisor to a student magazine. It was deeply rewarding — and fun — to build something of my own: finding and fostering client relationships, learning about new industries, and figuring out how to sit down and produce in a different context with a different challenge every day.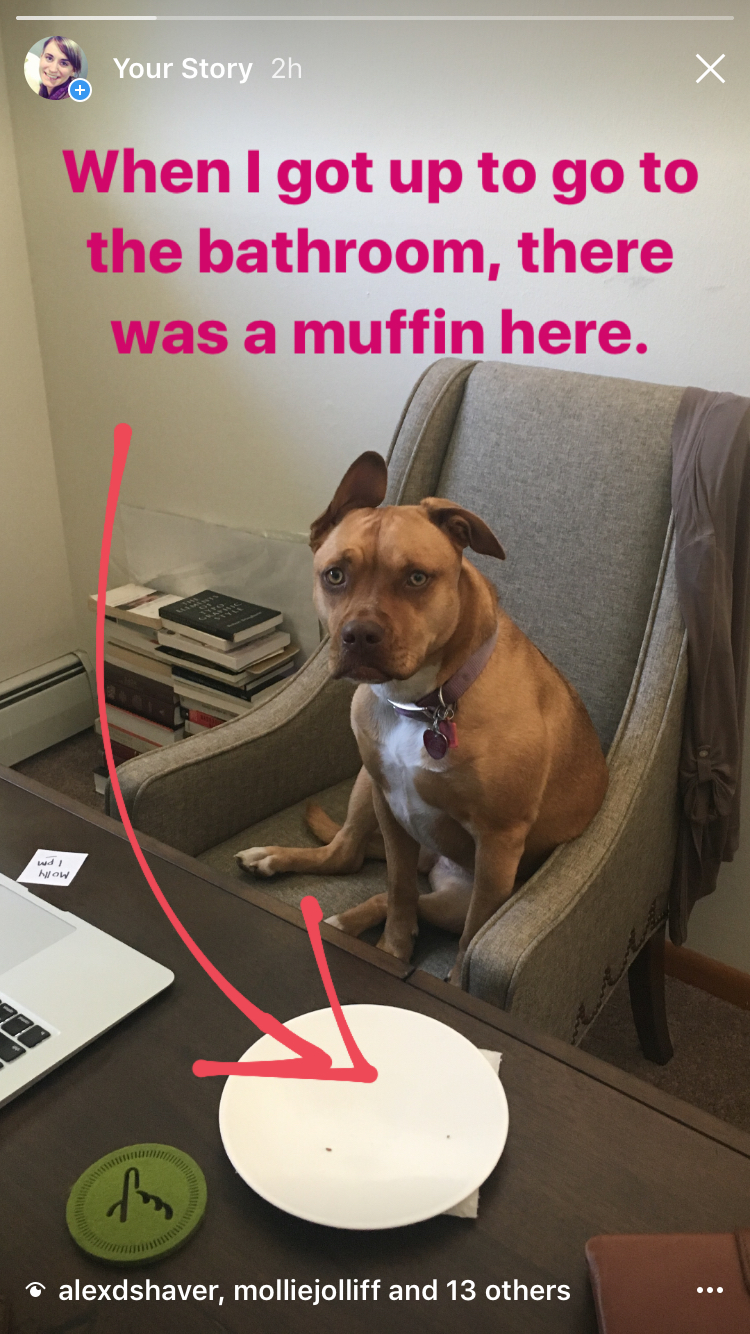 Lesson #10: If you can d

odge a wrench, you can dodge… other things.
It's Been Awhile
The spring of 2017 brought another season of change for Alex and me. Alex was offered a new position at a state university in Bowling Green, Ohio, and we decided to pick up and move again: he'd leave his job at the liberal arts college, and I'd bring my freelance work to Bowling Green. 
As we were packing up our apartment, I took a call with Isaac and Carl back at Fuzzy Math. Isaac was in transition, too: leaving Fuzzy Math to pursue a startup of his own. I was tapped to help out at Fuzzy Math again; this time to take over visual design work for Interactive Health, and any other excess visual design work that came up while the team looked for Isaac's replacement. 
After just a month or two in his new position, Alex and I began to see clearly something that had been true for some time: he was burned out from working in higher education. This new position would be his last job in student affairs.
And as much as I enjoyed working independently, as time went on, I felt like I was coming up against a ceiling: a limit to the projects I could get and the work I could do on my own. It was a scary, frustrating place to be: looking into the future and seeing no clear path — looking back and feeling like I'd left something great behind. Did we make a huge mistake when we left Chicago? Was it worth it?
We began a three-city job search: for me this time. I had gone as far as I wanted to go as a freelancer, and I wanted to work on new projects with people I could learn from. I interviewed with companies in Cleveland and Pittsburgh — Cleveland and Pittsburgh, because, in addition to Chicago, that's where our friends are. We were over starting over, and wanted this move to be our last for a good long while.
Meanwhile, and as before, my work with Fuzzy Math continued on a pretty steady uptick, from a handful of hours a week to twenty hours a week. I was brought on as the visual designer for a new project with a new client in the health insurance industry, and soon I had full-time UI job for Fuzzy Math again.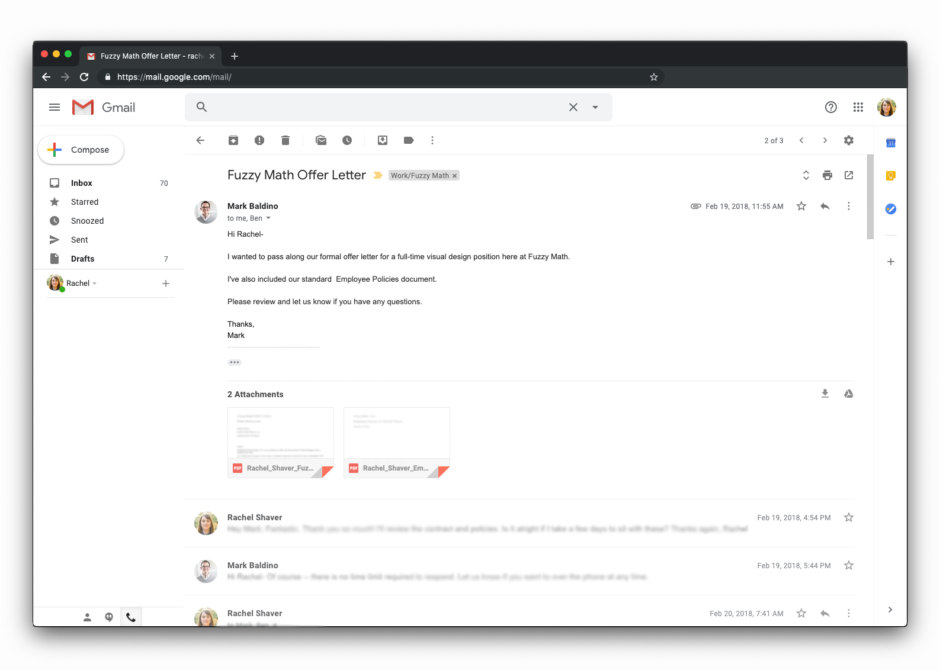 Lesson #11: Some grass is actually greener.
Welcome (Back) to Fuzzy Math
I became a full-time employee at Fuzzy Math on Easter Sunday, 2018. (Just on paper. We don't like to work on the weekends around here.)
Alex and I began moving into our new apartment in Chicago seven days later, and I had my second first day at Fuzzy Math on a snowy April Monday. (Springtime in Chicago, amirite?)
My new full-time job at Fuzzy Math was even better than I had anticipated. I found a lot had changed since 2014: Fuzzy Math had a new office, a lot more designers — and a lot more of them women. 💪🏻 I started to build relationships with people I met but had been a little afraid of as a young freelancer. I learned our process from start to finish: and now I had a stake — and was given a voice — in that process and in the culture surrounding it.
Lesson #12: It's still quiet around here. Bonus Lesson #13: Be careful with the coffee maker.
Our coffeemaker here at FMHQ is about a hundred years old, and has a reusable filter with a broken handle that pops out from the basket if you're not careful with it. One morning a few weeks into my new job, I was hustling around the kitchen making our second or third pot of coffee. I grabbed the filter to dump out the old grounds, and that little handle popped out, and I flung the wet coffee grounds all over the floor. It was quite literally a hot mess.
It was embarrassing. But I didn't have to try and play it cool: Jon noticed and helped me clean it all up.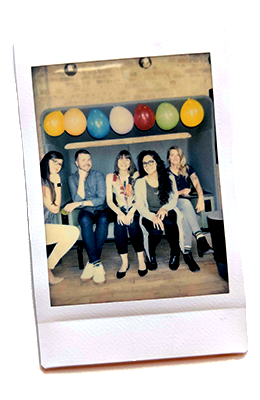 One Year Later
When we talk to people during user interviews and research, again and again we learn that things are rarely straightforward. Relationships, interactions, assumptions — even within the context of a person using a software program — are affected by whole hosts of circumstances and experiences. Untangling those in pursuit of simplicity and clarity is complicated and difficult work. Along the way we come up against confusion, frustration, and sometimes, pain. This is not at all unlike — and really, in no way separate from — life. (This is a huge part of why I like what we do so much.)
At this point, after some time and with a little space, I'm grateful for the places I've been and the experiences I've had. I'm grateful to the people who have surrounded me with love and support in those places, through those experiences. I'm proud that I kept moving through change, frustration, and uncertainty. I'm grateful to have work to do that I enjoy, with people I respect and care for, at a place I'm proud to be.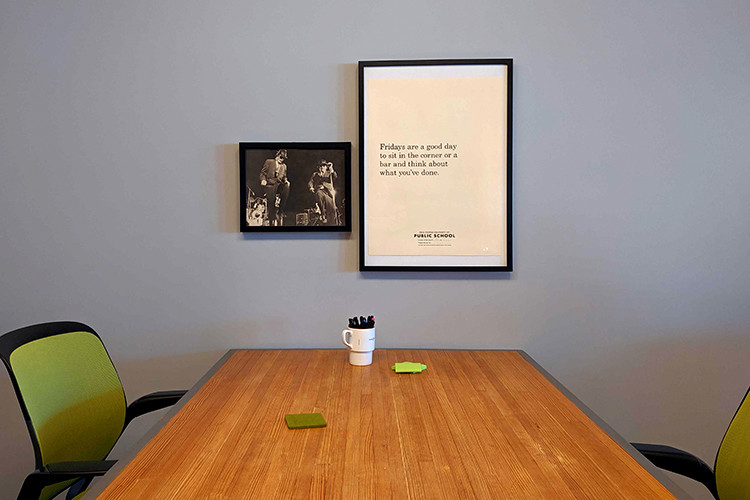 Thanks for Reading
There's a poster on the wall in our office that reads "Fridays are a good day to sit in the corner or a bar and think about what you've done."
Its message is a little tongue-in-cheek, but it's true, and in its way it reminds us to slow down and make some space for reflection in our busy days.
In many ways, we're on the edge of another season of change here at Fuzzy Math. Good, hard things are on the horizon as we continue to grow our team and evolve our practice and process. I'm looking forward to my second year here, and to Fuzzy Math's future, with a lot of confidence.
As we look toward the future, may we do many good things, and take many more Fridays to sit back and enjoy what we've done (preferably with beer in hand). 🍻
"And you may ask yourself, Well, how did I get here?"