We've enabled our clients to deliver award-winning UX that improves the healthcare experience demonstrated through a reduction in usability issues and vastly improved patient satisfaction scores.
Starting with Microsoft Health Solutions Group and GE Healthcare, and recently with Blue Cross Blue Shield, our work has spanned the breadth of the healthcare industry, including both some of the biggest companies and emerging startups. We've helped our clients understand the UX design process and best practices in delivering user experiences in healthcare organizations, and delivered solutions that balance the needs of hospitals, providers, clinicians, care teams, insurance providers, and patients.
AWARD-WINNING PATIENT
/PROVIDER PORTAL
INCREASE IN PATIENT
SATISFACTION SCORES
USABILITY SCORE
IMPROVEMENT
Fuzzy Math is reliable, innovative, and skilled. We admire their desire to tackle complex projects and will continue to use them. Patient satisfaction has increased by 30% and Net Promoter Score has grown from 46% to 91%.
DAVID CERINO
CEO, WiserCare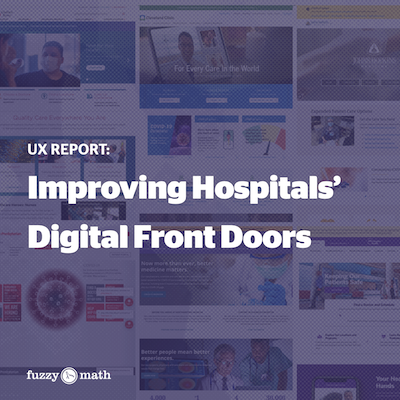 Improving Hospitals' Digital Front Doors
Download our report to find out what we learned from investigating 10 top hospitals' websites, and read our recommendations for improving your digital front door.
Services
Product Strategy & UX Road Mapping

Fuzzy Math has helped healthcare organizations define short- and long-term product road maps and ensure they are bringing a usable application or service to the market. Our research has helped healthcare organizations understand their core audiences through personas and customer journey maps that illustrate the touchpoints, goals, and pain points of the people using their products.


UX Research & Ethnographic Design Research

We've conducted primary research within providers' offices, clinics, and hospital and insurance administration offices across a diverse set of roles including:

• CxOs: CEO, CFO, CNO, CMO, CIO, CMIO CTO
• Physicians
• Nurses
• Pharmacists
• Data scientists
• Patient advocates
• Claims processors
• Insurance customer support
• Patients (teenagers through elderly)

UX Organization Design & Team Training

Through education and organization design, we've built, grown, and developed internal UX teams for some of the largest healthcare companies in the world.


Healthcare Product Design

We've designed cross-platform responsive and native mobile applications for use in many different healthcare settings. We understand how changing contexts of use, from the bright operating room to the dark radiology lab and from the nurses station to the patient beside, affect usability and employ product design strategies to ensure healthcare products seamlessly integrate into these spaces.

We've Designed
Patient and provider portal application
Personal Health Records (PHRs)
Claims processing software
Workplace wellness
Health evaluation & recommendation tools
Revenue lifecycle management
Nutrition marketplace
Clinical Decision Support Solutions (CDSS)
Hospital administrator and clinician analytics dashboards
Radiology suites
Hospital & resource simulations
Pharmacology evaluation tools
The Fuzzy Math team listened well and incorporated the input and experience of our team into their deliverables…. As something of an unintended outcome, our team's practices improved through osmosis – we learned from their approach and have incorporated many of the techniques they used during our project.
MIKE FLYNN
VP Product Development & Strategy, VelocityEHS