Identify and solve the right problems by understanding your users through research.
For established products, how do you wrangle a nonstop feed of bug reports and customer requests into meaningful product updates? For new products, how do you whittle down the potential feature set when every discussion opens the door to another "what if it also did…"? In either case, user research is the key to uncovering the root cause of existing issues and understanding the real value and use cases behind feature additions and updates. Your users will be happier, and your business and product will be stronger.
What is user research?
Research is the heartbeat of user-centered design. It helps ensure that user goals and business goals are aligned, and allows us to quickly get into the nitty-gritty details of how users think, feel, and act around your product.
Discovery research is broad, uncovering a variety of insights before a product even exists. Discovery research activities like contextual inquiry, ethnographic research, surveys, and diary studies help us (and your team) understand your users holistically, as real people trying to accomplish a task
Usability research zeroes in on how a user interacts with an existing product. Watching a user interact with an existing product can uncover new pain points and insights that you never considered before!
Our discovery and usability research services are laser-focused on your business outcomes. We use your product and business goals to define a successful product strategy, grounded in real user data and insights.
Read more here: What is UX Research? 
Our UX Research Process
There's no 'one size fits all' thinking at Fuzzy Math. Instead, we apply what we know to how businesses operate, all in the name of helping our clients solve for their problems in context.
Discovery & Understanding

Our user research process starts broadly. At this stage, everything and everyone is interesting: you never know where you might uncover an insight that could change the whole direction of a project

Our next step is to comb through all the data and begin to evaluate it. We organize it in documents and spreadsheets — or slice and dice it into bite-sized chunks on sticky notes and post them all over our conference room walls. We begin to understand where we are — and where we might go.

Then, we synthesize. We hunt for patterns and common threads in our data: listening back to our interview recordings and poring over survey results. We follow the threads to identify real sources of user pain and frustration — and to identify potential solutions.
•  •  •
•  •  •
Through a mix of hands-on research, seasoned experiences, and professional empathy, we discover needs both unrealized and expressed so that we can deliver on our promise to champion people as people, not only users.
Read on to discover more about our UX research services.
Fuzzy Math doesn't rely on thinking or guessing. They actually sought clarifications, feedback, and data from our users in order to inform their choices.
David Curtis
Director, Technology and Data Services, Global Healthy Living Foundation
Discovery Research Services
Understanding your users in context
Develop a deep understanding of your users through live, contextual research. Observing the real environment and processes of people who currently use — or could use — your product is vital to building a product that fits within that ecosystem.
Our team has performed contextual research in many work environments, from operating rooms to cubicles, warehouses to kitchen tables, and many more in between. Through quick, targeted research, we can help answer the important product strategy questions you face and uncover insights that help you clarify where you're at, and where you're going.
Our research services are aimed at providing your team both with original research, including recordings, that can be analyzed by your team, alongside thoughtful research analysis that elevates opportunities and problem areas.
Usability Testing Services
Moderated Usability Testing

Unmoderated Usability Testing
User feedback and validation
While ethnographic research looks broadly at users and goals, usability testing helps uncover how existing design meets user expectations. Usability tests provide users with a series of realistic tasks, which they're asked to accomplish using a designed product or prototype. Through usability testing, your team will see where users struggle to use the product or understand the information within it, alternative mechanisms users develop to solve problems, and get feedback along the way about what works well, and what doesn't.
Usability testing is part of our UI Design services, used to ensure the finished product is validated by real users, but can also be part of early discovery to understand how your product, or a competitor, works today.
UX Assessment and Analytics Services
Expert evaluation of current-state process
Understanding what you have today, and where there are obvious problems, is essential to effective product management. Our team will review your product design based on established best practices, identifying tactical opportunities for improvement and providing a base level on the existing application of design to your product.
We'll work with your team to understand existing analytics and build or extend your analytics practice to establish KPIs and associated metrics that focus on design quality. Through usability measures, such as those provided by SUPR-Q, your team can measure the effect of changes and showcase the value of design.
Case Study
VelocityEHS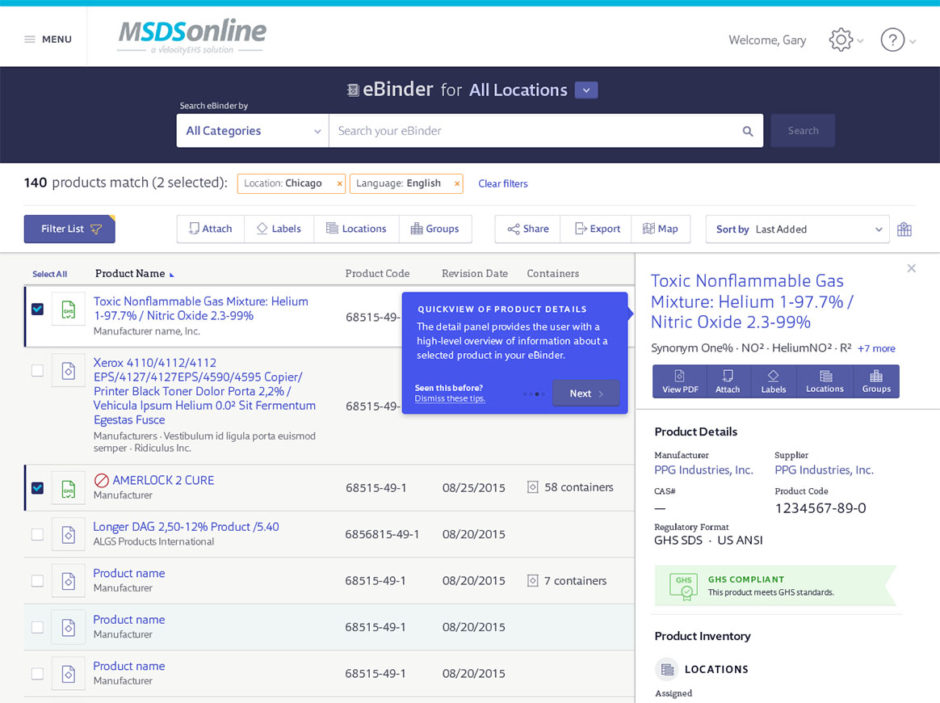 Through our collaboration, we helped VelocityEHS iterate on its own product to make health and safety standards an empowering experience rather than a procedural pain point. With our research and design support, we upgraded VelocityEHS from its existing version 1.0 of the product into a more comprehensive, intuitive version 2.0 built for usability and longevity.
Now, instead of being managed by outdated procedures and cluttered systems, employees can manage the chemicals they work with through a tool that feels like an extension of themselves exactly when and where they need it.
Design services adapted to your needs
Need more than just digital transformation consulting and UX design services? We offer a full range of product design services, including: