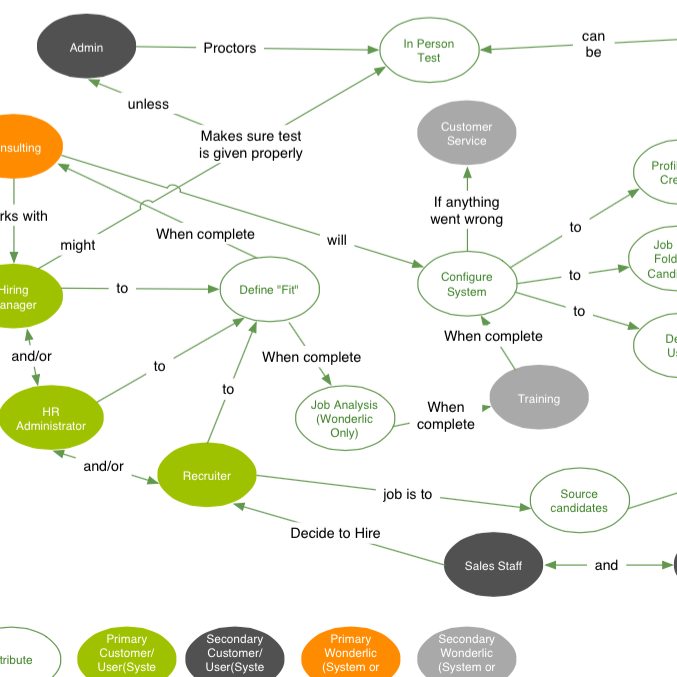 In B2B and enterprise software, the paying customers are those with purchasing and decision making powers. However, these economic buyers are generally not the same people that use software every day. They are not the end users with whom design research should be targeted. This mismatch between economic buying power and usage can create difficulties in selecting and conducting design research in business settings. In some cases, it's unclear who the end user is, and in other cases, it's difficult to speak with them.
Here are some tips Fuzzy Math has learned over the past several years conducting B2B and enterprise user research.
First, respect the hierarchy and work top-down.
Don't try to skip past the Economic Buyer; instead, start your relationship building there. After all, you aren't just a researcher and/or designer, you are a bridge between business, marketing, design, and implementation. That requires attention to a series of key relationships.
With the Economic Buyer, it's incredibly important to have buy-in from the top down. It also provides you with the necessary access to their team's time. So start there with a quick question and answer session at this level, in place of more robust user research sessions you might perform with end users. Then as you understand the team structure, start to ask questions about their team in order to identify any roadblocks to gaining access. Utilize your time with the Economic Buyer to build justification for pulling End Users away from their business tasks for your research.
You'll most likely encounter a number of levels in a hierarchy before you find your true user. However, if you start forming relationships and continually build your case for research you'll get to the End User.
We'll cover the production of impactful findings reports in our third blog post but take note that your resulting design will need to satisfy both the end user and the economic buyer.
Second, talk to people on the periphery and work side-to-side.
Outside of the team structure, look toward the outside at shared resources such as sales, training/implementation, customer service, and system administrators. They might not be your user, but they will most likely be able to help gain access to them. Then start to map out an organization chart, but instead of mapping the hierarchy, map how people are connected to each other in the digital ecosystem. You'll get the top-down from talking to the Economic Buyer and then you'll get the side-to-side connection by talking to everyone else.
Third, ensure continuous user research.
Repeat after me: research isn't a phase. Many product owners and designers position research as a one-time activity at the start or end of a project. They say things like "Hey, just this one time we'd like to talk to Mary about her use of the application." But the organization you are working for should be striving for Continuous Customer Outreach and becoming a Customer Oriented Organization. Your role is to set this baseline from the start.
Customer research should be a continuous thread throughout the lifecycle of an application or product. Explain to key stakeholders that design research will be happening regardless of the project plan, and the results of which will be continuously folded into requirements, use cases, personas, user stories, or whatever part of the process happens to be occurring. That means talking to users before, during, and after a project. It means establishing a relationship with users/customers that is lasting and that extends outside of project timelines. This helps you build a baseline of research, but also allows you to be extremely thorough in your presentation and refinement of ideas.
Since you already have a clear picture of the organization and have built a series of key relationships, it's time to start utilizing that trusted network. Start with a group of users and continually reach back out to them while also adding new users into your list of participants. Over time, mix-and-match at roughly 50%, the new and existing participants that you conduct research with.
So now you have your network established and are ready to implement a continuous user research process—now you just need to conduct the research itself.
Insight at Scale
Craft Amid Complexity
Enterprise Experimentation
Designing Organizational Culture