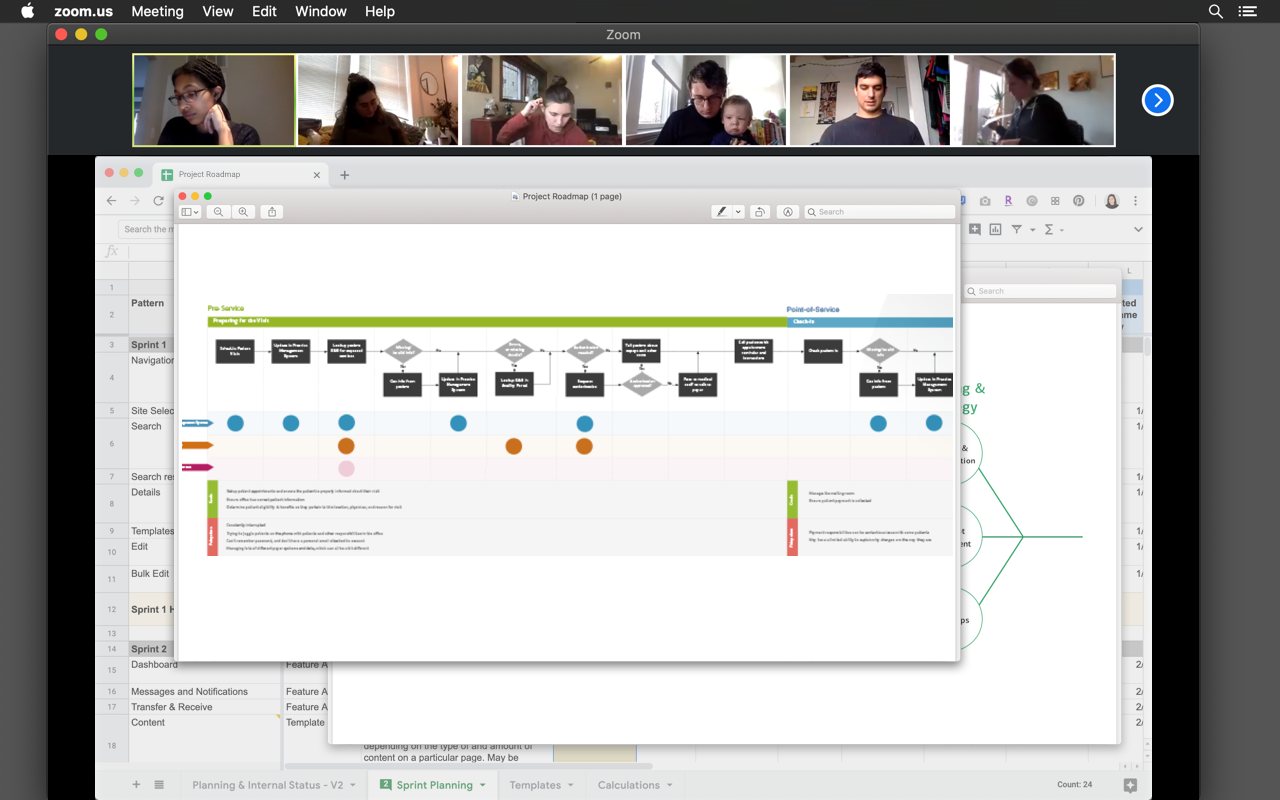 We're working through the COVID-19 pandemic, though a bit differently than we used to. In response to outbreak, Fuzzy Math is sharing our strategies for working, collaborating, and strategizing remotely in our
Remote UX Design Toolkit
.
Get the Remote UX Design Toolkit
Change can elevate and amplify pain points in our products. Product strategy forged during a crisis can provide a rock-solid foundation for the future.
While the present situation poses many challenges, few of those challenges are completely new or unique. If your workforce has gone fully remote, any friction in work experience is likely representative of what remote workers, whether always-remote or just stuck home waiting for a repair person, have always experienced on a smaller level. Security issues in Zoom were known long before Zoom became a household name outside of those of us who "t-con" for a living. But with an influx of millions of users and a serious spotlight, those pesky security issues suddenly became an urgent problem to solve.
Inflexibility in your product is amplified when your users' goals or contexts change, whether due to a pandemic, a shift in the market, or new regulation. Investigate what people are doing today, how they are (or aren't) using your product, and you'll likely find many long-standing issues with deep roots, amplified by the current conditions, and unlikely to evaporate once we're past this moment.
Understand the friction your customers' experience
Maybe some problem areas have become visible; likely others remain as yet just below the surface. What next? Start digging. Reach out to your customers. The customers from before, and those people who just became customers.
For existing customers, how has their experience changed? Not just with your product, but also around your product — their context of use has likely changed a bit. What are they doing before interacting with you, how does your product or service fit (or not) into the flow of their day? Where is there unnecessary friction? A gap that you could help fill? What problems aren't you seeing that you thought you would (or perhaps that are on your roadmap to address)?
Modern tools have made remote research a simple and effective practice. Form some hypotheses and start talking to people. Approach with an open mind, and understand what it is they're doing today, being cautious not to dismiss pain points too quickly as "quarantine problems".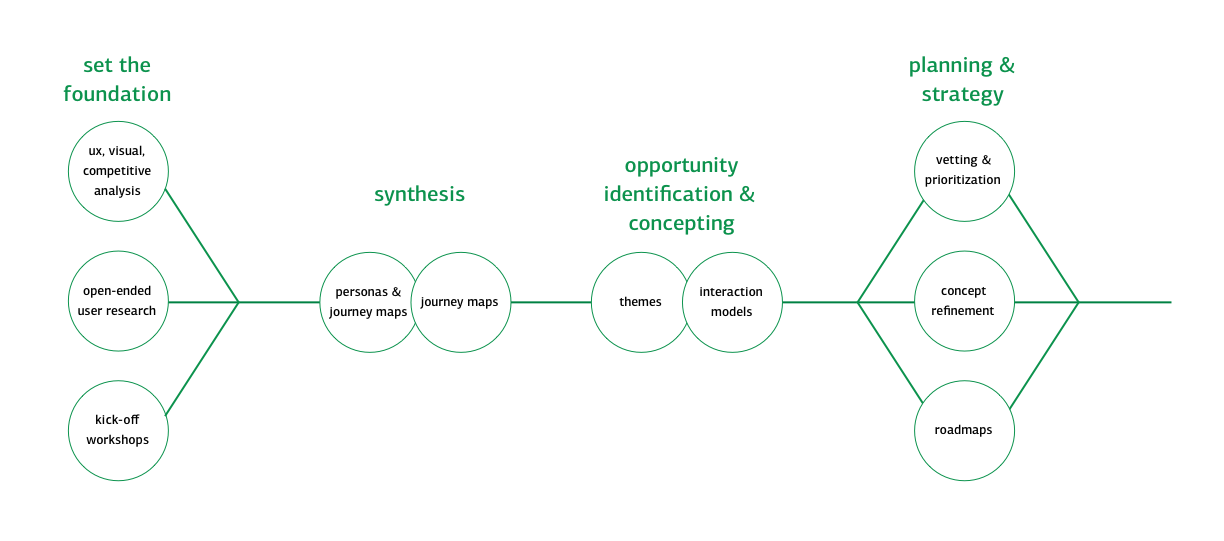 Evaluate and envision
Remember those hypotheses? Were they confirmed or rejected by your research? What else did you learn? How are different people working today, and how much of that is truly unique to the moment?
Identify areas where your product can realistically fill gaps or smooth friction, either through improving existing functionality to support a broader range of use or by adding features. Think about planned updates and whether they solve real problems people are facing. Envision what the future of your product looks like, what a product that tackles these goals with the flexibility and scalability required to work well in shifting circumstances might feel like.
We like to combine basic visualizations, like sketches, to help communicate this vision. Remote product strategy collaboration works here too, either through virtual whiteboards or, our preference, pen and paper (and digital cameras). This should be quick — you're getting to an outline of the future, not every detail of how everything works. Just enough to steer the ship in the right direction.
Most likely, you'll find there are some tactical things you can address without a major initiative, and some larger opportunities like wholly new features, or major workflow changes. In these cases, we're big proponents of the "parallel path" that delivers incremental updates — those tactical fixes — while working toward bigger, more strategic changes. This can only be done well when there's a clear vision of where it is you want to go, to ensure that those paths come together at the end.
Enact product strategy remotely
For some companies, shifts to remote work and collaboration has meant an influx of new users — enacting major change is taking a back seat to the tactical fixes that keep the product running. Zoom paused all feature development to try and address security issues that were affecting users today. It's still a crucial time to understand where to go, but a reactive approach to keeping things running necessarily takes priority.
For everyone else, this is an opportunity to get ahead and start acting on the future vision. Taking ideas from concept to spec and then to launch. Proactively working toward a future state that builds in flexibility and minimizes risk, so you're not left racing to react later on. Identifying new areas for growth that could minimize a future lull, and grant flexibility not just to the product but to the organization.
Maximize your basic remote collaboration tools to keep stakeholders from across teams in the loop and aligned around product vision. Detail all of the decisions, and communicate continuously — just like you would in other circumstances, minus the faded whiteboard "master plan" lingering in a conference room.
We can't predict the future, but by developing a keen understanding of what people actually need, and how your product can fit into their lives — even amidst change — you'll put yourself in an optimal position to adapt alongside change, rather than react to problems.
Getting Things Done Remotely
By now your team has likely figured out the logistics of remote meetings, but how do you improve collaboration to align and execute your product strategy?
Virtual Whiteboarding –

A lot of product strategy work happens at a whiteboard, through sketching, capturing ideas, and quickly moving things around and tweaking. Tools like

Miro

can foster this collaboration both in real time and asynchronously.

Mix and Match Communication Modes –

Videoconferences may be an essential part of how we work now, but it's not the only way. Document decisions and next steps in a shared space, be it your intranet or something like Trello. Foster asynchronous collaboration through team chats, and switch modes to a call when needed, to allow for easier participation.

Distributed Workshops –

Almost any workshop method can be adapted to a

remote workshop

, usually by combining video conferencing and remote collaboration tools. Tools like breakout rooms in Zoom can help foster small group ideation within a larger workshop.
Act on opportunities today for a better product tomorrow
The sudden and seismic shifts in how we work today expose the underlying shortcomings in any product and system. Many of these problems won't suddenly go away once most people are commuting to the office again. Use this moment to understand the issues your product can address, how it fits into the lives of your users, and re-assess priorities to ensure your roadmap is addressing real opportunities. Take your product from something that gets by in the best of times, to something that is excellent in the other times.