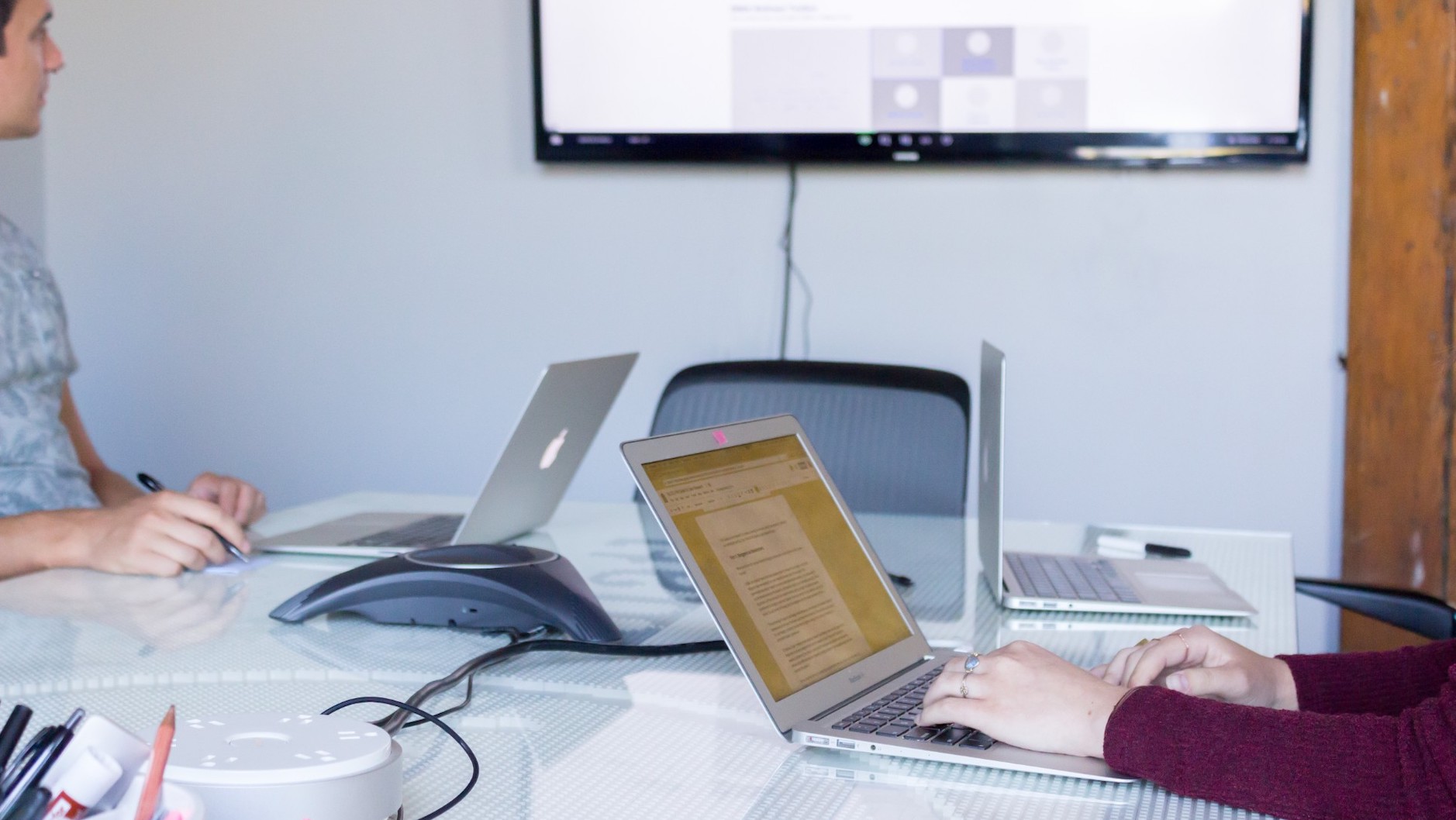 We're working through the COVID-19 pandemic, though a bit differently than we used to. In response to outbreak, Fuzzy Math is sharing our strategies for working, collaborating, and strategizing remotely in our
Remote UX Design Toolkit
.
Get the Remote UX Design Toolkit
With more and more companies taking a step back due to the global concern over the coronavirus, we're seeing many clients wanting to shift from face-to-face research to remote user methods. Luckily, with clients (and their users!) all over the world, remote user research is an integral part of the UX process at Fuzzy Math, and one we've been leading successfully for the past 11 years.
And while we're big believers that it's always the perfect opportunity to talk to your users and think strategically about their needs, it's also never been easier to connect with, learn from, and understand users from afar.

Why remote research?
There are a few benefits of running research remotely. Depending on the type of research you're running, it's possible that your remote research can be implemented quickly, and remain flexible to adjust to any changing or unforeseen circumstances. Plus, it allows for a wider and more diverse group of participants than you might otherwise be focused on.
Location
Remote research allows you to reach out to participants that might be otherwise overlooked — new geographies and underserved areas are more accessible when conducting user research remotely.
Respecting everyone's time
Remote research is a flexible approach that can quickly gauge users' reactions and feedback. Running user research remotely also means saving time and money on travel and logistics. In exchange, you're able to implement a variety of remote research methods—from intercepting a website user for a 5-minute survey to recruiting a user for a one-on-one interview—and come away with more valuable feedback that will drive successful change for your product (and for your users!).
Large amounts of data, small amounts of time
In addition, we've found that remote and unmoderated research methods are great for gathering a large pool of quantitative data. While we typically recommend a mix of quantitative and qualitative data, there's no denying the power of cold hard numbers when proving the value of user-centered design.

Taking In-Person Research Remote
Many research methods can easily be transferred from face-to-face to remote practices. Use these tips to run your remote research smoothly and efficiently.
Technology is your friend.
Remote research by necessity relies on technology to facilitate communication in real-time. We have a few tried-and-true tools that we use to connect with our users, including Calendly for scheduling, and Zoom for web conferencing.
It's worth it to note that while many enterprise users are familiar with web conferencing tools, there may be technical barriers to participation for many participants. We've compiled a few tips and tricks for Zoom users, to help you (and your testing participants) make the transition smoothly.
Turn your camera on.
It can be difficult to empathize with users over the web. However, a video call can help you connect with your participants and users, bridging the gap when conducting user research remotely. And it goes both ways — in my experience, participants are more likely to give thoughtful and complete responses when on a video call.
If you are planning on using video, though, make sure to give your participants a heads up prior to the call. There's nothing worse than a surprise video call.
Follow best practices for user interviews.
The best user interviews flow in an organic path, with the researcher following up on interesting things that the participant says. That said, be sure to come prepared with a plan and goals for what you would like to learn during the research session.
There is no need to structure your interview questions or sessions any differently when conducting research remotely. Continue to follow best practices in how to conduct user interviews by asking open-ended questions and keeping it conversational.
Embrace silence.
How do you know when to ask questions, and when to remain silent? This is difficult even at the best times, but compounds when each member of your research team is in a different location. There will be natural breaks in the conversation, as well as moments when you're unsure who should ask the next question. Let those moments breathe. In most cases, your participant will rush to fill in the silence.
Remote Interviews and Contextual Inquiry
As a typical rule, contextual inquiry relies on UX researchers embedding themselves in a user's environment and workspace. However, by combining interviews, screen sharing, and a couple extra questions, you can still get insight into users' environments and the bigger picture of the ecosystem in which they're working.
Consider what additional materials you want or need. Do you need to see their computer screen? Do you need to see their setup? If the answers are yes, you may need to request that participants share their screens. If there are any notes or additional materials that they refer to during their process, ask your participant to take a picture of their workspace, and share any extra documentation. These extra materials can provide insight far beyond a standard in-depth interview.
Ask the participant to walk through a workflow. This can be particularly successful when researching enterprise software tools or other scenarios where the "actual" workflow might be different than what is "best practice". By understanding the workarounds and the reality (not just the expectation), you can start to peel apart the pain points and identify opportunities for your future product strategy.
For more tips, view our guide on how to conduct user interviews.
Remote Moderated Validation Testing
So you've completed your initial research, and it's time to evaluate a new design or workflow by observing how a participant interacts with a product or tool. Luckily, validation testing can be successfully conducted remotely with a few key tricks.
Conducting moderated validation testing is often similar to conducting interviews and contextual inquiry. Only now, instead of asking users to show you their current workflow, you ask them to complete a similar set of tasks or goals using new screens. This type of testing helps us identify our blindspots, as well as any aspects of the design that users may find unexpected or confusing.
A few tips for this method of remote user testing:
Conduct a pilot session to ensure your tasks are clear and the instructions are straightforward.
Consider how your user will share their screen. Do they have all of the links that they need? Are they familiar with the process? Note: if you're using Zoom to host your session, you may be able to give your participant remote control over your screen.
For more tips on usability testing, view our guide to User-Friendly Usability Testing.
 
Unmoderated Remote Research Methods
In some cases, teams may also consider shifting research methods to those that can be run independently by users, such as surveys, diary studies, or unmoderated usability testing.
Surveys
Surveys are a great method for gathering large amounts of data and opinions remotely, because they can be sent to a wide variety of audiences. Most survey tools including SurveyMonkey (our go-to) offer options for segmenting audiences, allowing you to do more with a single survey. Depending on your research requirements, consider targeting audiences through a website intercept, a newsletter mailing list, or a third-party recruitment tool like Respondent.
Plus, many survey tools provide a number of pre-built questions and other resources for helping you craft a successful survey. Some of our favorite survey tips include:
Keep it short. Aim for a 10-15 minute survey
Don't overcomplicate it. Define a goal for your survey, and save unrelated questions for a followup survey.
Ask open ended questions with purpose. Remember that the more participants you have, the more effort it takes to sort through open-ended responses.
Randomize or flip responses in order to weed out participants that aren't fully "in" it. You may also consider asking the same question from different perspectives to make sure that answers are consistent. For example, "Which of these is the most important" and "Which of these are the least important."
Unmoderated Validation Testing
Running unmoderated usability testing through services like Usertesting.com or TryMyUI is another method of gathering user research remotely. However, this method comes with its own challenges, and requires the right amount of setup to help it go according to plan.
Running unmoderated validation testing successfully:
Are you looking for quantitative data? Unmoderated testing is a highly effective way of gathering design metrics like time-to-completion, success rate, even SUPR-Q data. Set an expected metric goal and measure your results against it.
Write tasks and survey questions clearly and concisely. Remember, when conducting unmoderated testing, you don't have the opportunity to ask followups. Have someone from outside your team review prompts and take a pilot test, and make adjustments to your questions as needed.
Keep it short, and keep it specific. Test one feature or one process per task, and try to keep your test around 15 minutes. Again, pilot your test with someone outside of your team if you're unsure.
Avoid leading questions. In writing an unmoderated testing script, your goal is to be very clear about what participants have to do, without giving them precise instructions. Ask your participant to share a document with a friend, instead of saying "Click on the share button".
Our number 1 tip for remote user research
Prepare for the best, plan for the worst.
Set aside more time than you think is necessary. You can always give them time back, but it's never guaranteed that you'll be able to schedule a second session.
Establish what to expect sooner rather than later. Tell participants what tech you'll be using. Provide documentation on how to use it. Tell them what format your conversation will be in — Are you asking them to walk you through something? Or have an informal interview about a particular topic? Let them know beforehand what you'll need from them so that they can come to the conversation prepared.
But no matter what type of remote user research you're running, you should always have a plan in place for when something goes wrong. (After all, it's technology. Something always goes wrong.) Plan on how you'll contact your participant in the event that Zoom doesn't work. Always have a second person on board who can take notes, but also fill in if the moderator's connection fails. Recording the session (if possible) is also a good idea, and will help if the notetaker disconnects from the call. And maybe have a backup phone number, just in case.