Considering a career in user experience? We don't blame you. According to a recent emsi study, nationwide demand for jobs in the technology sector is expected to grow by at least 3 percent and up to 16 percent by the year 2020. For UX jobs specifically, CNN projected a significant 18 percent job growth over the next decade. Take it from us — this is where you want to be. Sure, as a UX design firm, we might be a little biased; but we're also incredibly informed. That's why we've put together this cheat sheet to help you compile a resplendent UX portfolio.
1. Tell a story.
Your UX portfolio shares clear, concise details about your UX design process.
Fuzzy Math Co-founder Ben Ihnchak said it is important for prospective employees to neatly answer the following questions in their UX portfolio:
With whom did you meet?

What kind of conversations did you have?

What guided your research?

Why did you do X then Y then Z?

What did you learn from each step and what did you take forward to the next one?

What would you do differently next time?
When showcasing UX work, tell a complete story; don't only show the final mockups.
"My single piece of advice is that job candidates are able to explain their design process by extracting it from their project work and explaining it in detail. Then, tie that design process back into specific projects — both the design process and the final product are critical," said Fuzzy Math Co-founder Mark Baldino. In other words, when showcasing UX work, tell a complete story; don't only show the final mockups.
Additionally, express how you and your team came to specific UX decisions throughout your process. Nick Leonard, a UX Designer at Fuzzy Math who participates in UX portfolio reviews and interviewing during our hiring process advises that simply saying, "We decided a voice-based interface would work well," doesn't convey product design skills. Instead, he recommends you say something like, "We saw in our research that many target users suffered from arthritis and had difficulty using standard mice and keyboards, so we explored voice input as a potential solution that would be easier to use." Finally, show what the final deliverables were, along with any relevant outcomes (Did the stakeholders use it? Any metrics?).
2. Let your UX work do (most of) the talking.
If your work speaks for itself, we're intrigued! There's a well known saying: "I'll believe it when I see it." While we certainly trust you are applying for the job because you possess superb UX skills, we'd like to see what you're able to do with them. This means we'd like to see that both your work in your portfolio as well as your portfolio itself exemplifies good UX; it should be clean, well organized, and display best practices known to industry pros.
Your portfolio provides us direct insight to your training. It should be visually appealing wile supporting its own content—your work. Incorporate sketches, notes, and some of your own personality in your portfolio. Demonstrate your ability to lay out multiple stages of your design process, and note how you arrived there. This is what will interest employers, and in turn, land you a UX interview.

That being said, if you're seeking an internship, we understand you're still learning… but evidence of your training in UX should still exist in some form or another.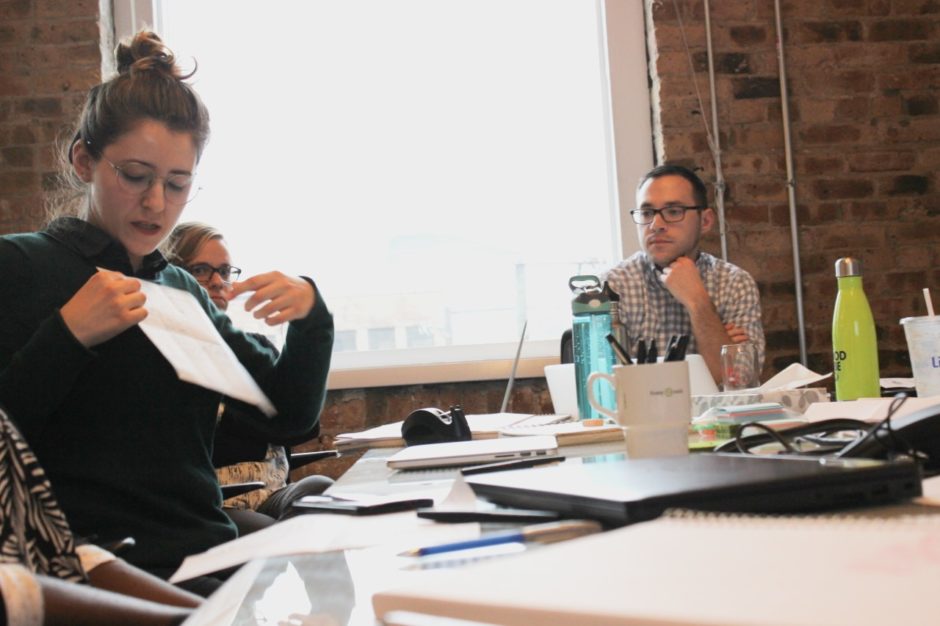 3. Do your research.
"The market is being flooded with entry level UX talent from accelerator programs — competition is intense. People should approach their portfolio from the eyes of the potential employer who might be looking at hundreds of job candidates' portfolios."

Mark Baldino
As the job seeker, it is important that you do competitive research; delve into understanding your peers who are applying for the same positions you are. How do their UX portfolios compare to yours? Do you need to enhance yours by adding visual effects, taking away content, smoothing over transitions, etc.? The need for differentiation is great, especially given the number of budding (and experienced) UX designers out there. Mark said, "The market is being flooded with entry level UX talent from accelerator programs — competition is intense. People should approach their portfolio from the eyes of the potential employer who might be looking at hundreds of job candidates' portfolios." Therefore, include examples of internships or pro bono work you've done, or emphasize your academic background. These are areas where you can potentially set yourself apart from the rest.
Once you've obtained a solid understanding of who you're up against, research the companies you want to work for. "Fuzzy Math is a standalone UX firm, so we're afforded the ability to be technology agnostic and always have multiple projects going at the same time. Other companies might be doing UX in support of a single product, while still others might be doing UX in support of a technology. For example, if a development shop has added a UX team, that team could have their UX decisions guided in certain ways by that technology. These differences will heavily influence your role, your day-to-day work life, the type of UX you're doing, and most likely your overall job satisfaction," Ben said. By researching the various types of UX employers, you will be better prepared to answer the kinds of questions they will ask you during an interview. This research will also help you ask them insightful questions about the work environment, culture, products, processes, and more.
4. Take advantage of unconventional UX projects and opportunities.
Include workk done for internships, side projects, and pro bono projects in your portfolio!\ Employers don't care whether you were paid or not; they just want to see the caliber of work you can deliver. Mark said, "If you can't find paid professional experience, you still need to continue working on your craft and demonstrating steady advancements of your skill-set over time."
They say in basketball, You miss 100 percent of the shots you don't take. Well, if you're offered a shot at a UX design job, even if it's not the shot you wanted to take, you could score big in the end. Here are a handful of positive takeaways: Many UX design firms offer paid internships, which serve as a trial period for both you and the firm itself, as well as an opportunity for you to add professional UX work to your portfolio. Beyond that, you will likely learn valuable lessons via your work with real clients and an experienced team of UX designers who are willing to help you become a stronger designer. Finally, if all goes exceedingly well, you might come out of your internship with a job offer — some members of our own team came to us through internships!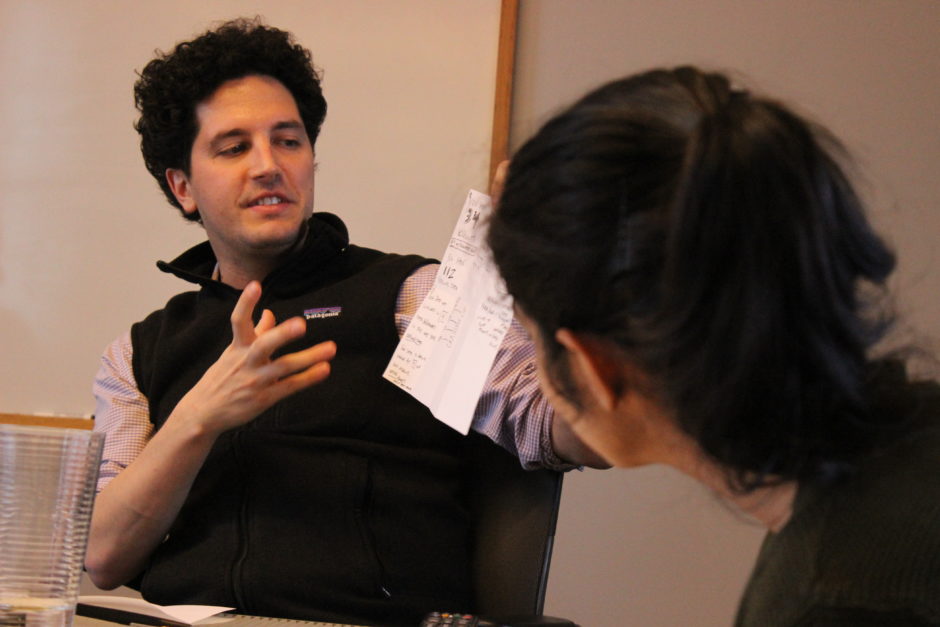 5. Specify your field of expertise.
If your portfolio includes a lot of work in various UX disciplines, such as user research, information architecture (IA) and interface design (UI/IxD), or even into visual design or code, etc., try to convey where your job interests lie. Do you want to be a generalist and do it all? Or would you prefer to focus on one or two subsets?
"UX designer positions at Fuzzy Math are focused on information architecture, interaction design, and overall product and service strategy," Nick said. "When reviewing candidates for these positions, we tend to look for areas where these are in focus in their portfolios. Front-end development, visual design, and content strategy are great skills to have, but secondary to the core areas within our focus for a UX team."
6. Embrace your setbacks.
Let's keep this simple. If you express that you've never encountered a setback or mistake in your UX design process, we probably won't believe you. We are all human. Carl Duffield, UX designer and portfolio reviewer at Fuzzy Math, said it best:
"Instead of pretending to be perfect, highlight what you've learned from past setbacks, even if it was the result of a mistake or oversight."

Carl Duffield
Your portfolio is a great venue for showing us your resilience after meeting with those painful "oops!" moments throughout the UX process, which we've all experienced. Use your UX skills to tell a story about what went wrong, how you fixed it, and what you learned from this lesson.
7. Show off your first-class communication skills.
Nothing is more frustrating than seeing a project become delayed due to poor communication skills. Working with clients and creating products that are effortlessly friendly to users both require an innate set of skills revolving around communication: writing, speaking, listening, and understanding. We're not saying to write a novel within your UX portfolio, but make sure that whatever content you do have is clear, concise, and to the point. It should also be easy to comprehend and grammatically correct. Baldino has said before that "writing is an essential part of any job, and perhaps it's even more important for a UXer." As further emphasis to this point, Ben said, "We have actually requested writing samples from people we have interviewed before, and those writing samples went a long way to bringing them on board."
Additionally, we, along with many other firms, maintain an internally produced blog, as well as a popular monthly UX newsletter. Nearly everyone in our office has written an article at one point or another, and it helps to have employees who can articulately and eloquently compose content that requires minimal time for revisions.
---
Think your portfolio has what it takes to help you get selected for a UX interview? Stay tuned for our follow-up post: "Pro Tips for Nailing Your UX Interview Questions."