Fuzzy Math had its 6th birthday yesterday, which was really exciting. In a few weeks we're all heading to Hopleaf to drink (and eat). It's truly satisfying to look back at the past six years and see all that we have accomplished. Almost all of that is due to the tremendous team Ben and I have hired along the way.
No joke! Fuzzy Math turned 6 years old today. Roughly 80 clients and 200 projects later and this #chicago #ux firm is just getting started.

— Fuzzy Math (@fuzzymath) April 1, 2015
And on that note there are a few lessons and learnings from the past year of running Fuzzy Math that I'd like to share.
Good clients in sales make good clients on projects
We've now completed about 200 projects for about 80 clients in six short years. We're an efficient, productive group. Even with that productivity, we've said "no thanks" to a number of projects because they didn't seem like the perfect fit. We've found that taking those projects is never good for the client or for our team in the long run.
As much as we try, there are always projects that don't go as we had hoped. For those projects, I've started to track back to our entire customer lifecycle: first contact through legal review, through kick-off, through final delivery. We've realized that when there were disconnects (communication style, how we work, why we do what we do, process) between Fuzzy Math and the client during sales, it translated to disconnects on projects. I've also found just the opposite has been true—good clients during sales tend to be good clients during projects.
So our advice is that if a potential client doesn't seem to be responding to your communication methods/style during the sales process, then don't take them on. Most likely that disconnect will amplify once contracts are signed. As a side note, I don't want to confuse this with challenging clients where our team is stretched and learning/trying new things. Smart, challenging clients are preferred, but that is very different from the problems I am suggesting might occur during sales.
"Talk" much more, "do" at the exact same rate
Fuzzy Math is a company of doers—we get stuff done. It makes perfect sense, then, that we've been heads down for the better part of six years delivering for our great clients. Yet over time we've amassed a tremendous amount of UX design knowledge and it's time to start sharing that.
If I hear one thing about growing a consulting firm it's that you need to be "thought leaders." I can't think of a term I dislike more. But the point is a real one. We are in the business of selling our team of skilled designers (they are awesome, go look) as much as the final design product. And so we need to push ourselves a bit to get up from our desks and talk about what we do, how we do it, and why we do it our own Fuzzy Math way. That starts with being more active in the local community, writing, speaking at conferences, teaching other designers, and continued mentorship. In the next few months keep an eye on this blog for more content, our twitter feed for design goodness, and eventually our FM newsletter.
I should note that this isn't the easiest transition for a group of (mostly) introverts, but we have too much to offer to keep it inside our walls.
Devote as much time as needed to foster leadership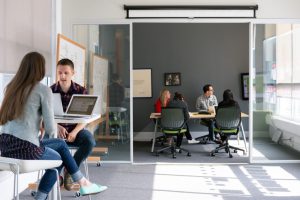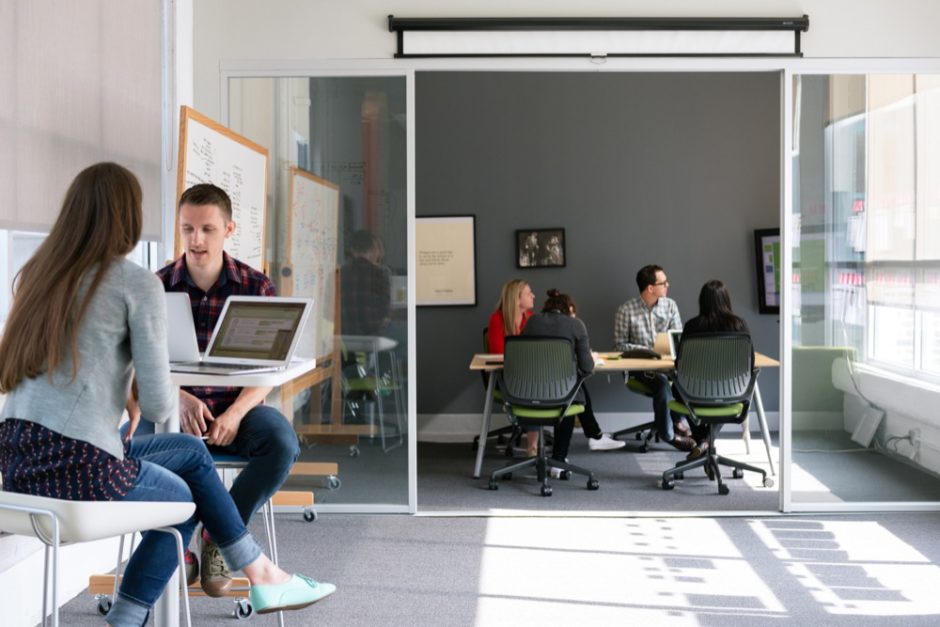 Ben and I tend to lead in fairly different ways based on our personality, style, and most importantly our interests. I firmly believe that everyone here at Fuzzy Math is a leader in their own ways. Growing internal leaders follows much of our standard design process: observe, query, listen, set goals, implement, measure. We want to identify where our team members excel, where they want to go, and how we can help them to get there. Some might lead through traditional means on a project. Some might be internal leaders that champion process and culture improvements. And some might best serve as an external voice for Fuzzy Math demonstrating UX prowess.
What's important to note is that we never force the issue, we listen to our team, we have them set their own goals, and we try to continually put them in a position to succeed.
As I said on twitter yesterday we're six years in and just getting started. Stay tuned.