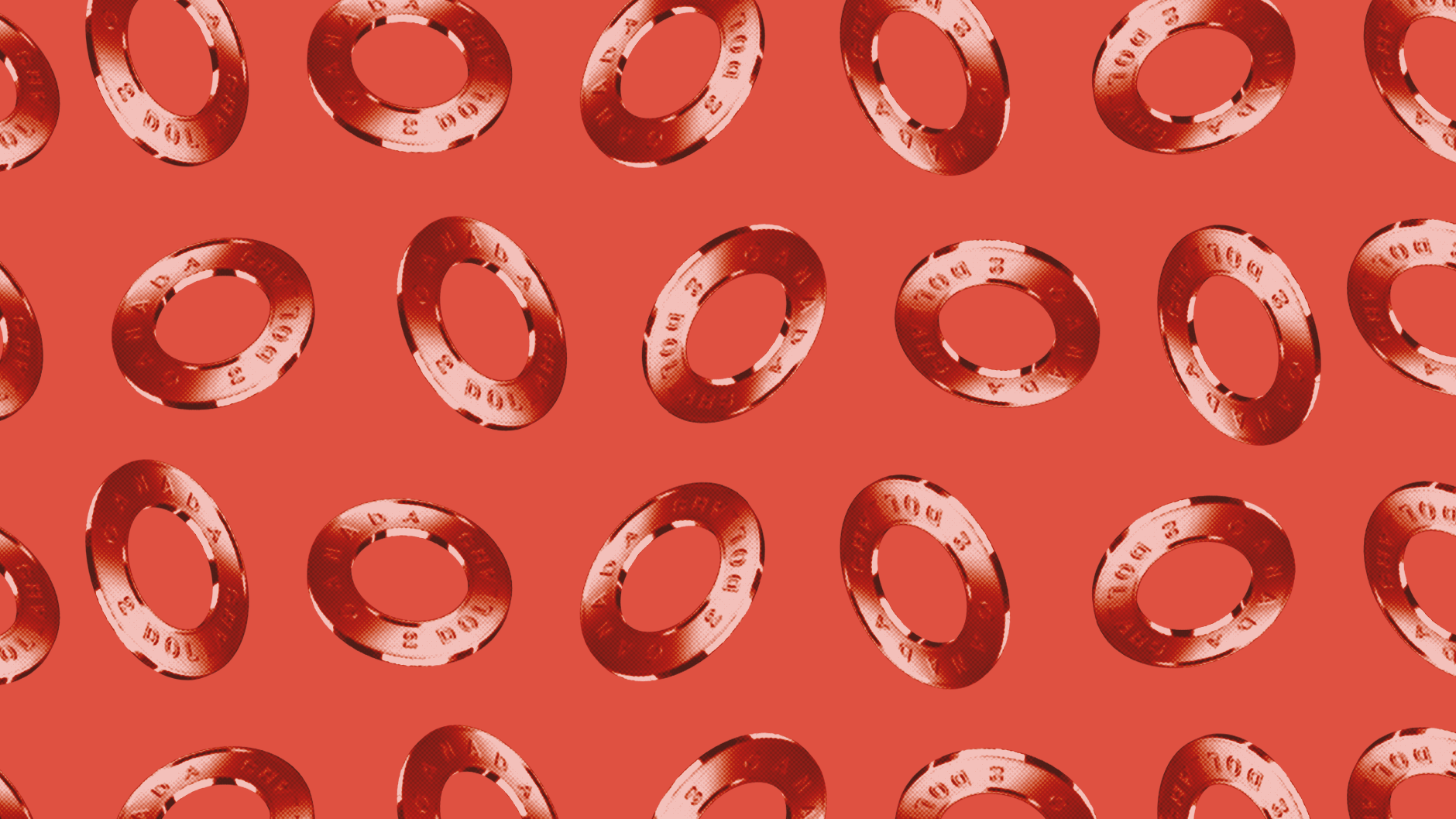 I had the opportunity of attending DesignThinkers Vancouver back in May. 
DesignThinkers is Canada's largest annual graphic design conference that happens twice a year, once in Vancouver and Toronto. I was inspired to attend because of the excellent talks lined up.
Over the course of two days, I listened to 24 fantastic speakers covering topics from equity, accessibility, typographic psychology, team building, leadership, design ethics, and finding your scenius.
There were a few talks that specifically stuck out to me and I hope to spark some interest for you as well.

Finding your Scenius
Austin Kleon's opening talk "Creative is not a noun"
Austin Kleon opened up the conference as the inaugural keynote speaker. Initially gaining fame for his blackout poems and fantastic book Steal Like an Artist, Austin touched on the myth of the "Lone Genius." Originally coined by musician Brian Eno, the term "scenius" dispels this myth.  If the term "scenius" is new to you, then be rest assured it was new to me as well.
"A Genius is someone who goes at it alone, they're part of an Egosystem" Austin explains. Being part of a scenius means utilizing and contributing to the wide ecology of talent. 
A fantastic example of this is on MOMA's website. There's a great visualization called "Inventing Abstraction" which traces the connection and expansion of the abstract art movement.
Having talent is great, but being surrounded by talented supportive people who nurture that talent is what truly pushes artists to reach their full potential. As an example, Mozart was a talented musician whose talent was formed by his arguably equally musically talented older sister and violinist father. He was born into and shuffled through a society full of patrons that appreciated music and nurtured his gifts.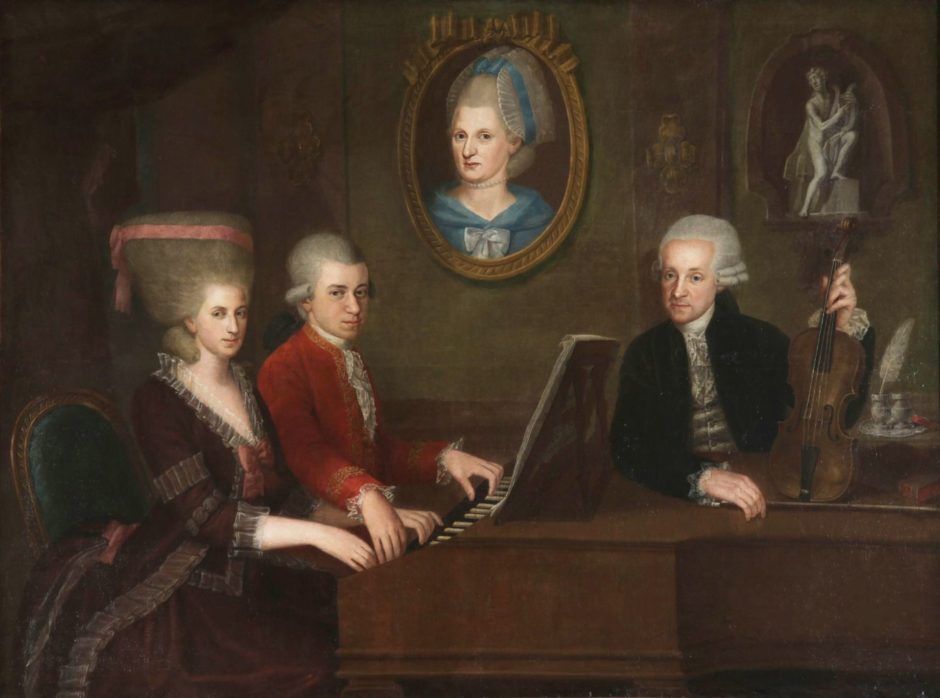 Mozart Family (Wikipedia)
The point is, we don't live in a vacuum; it's more like a soup. One crazy alphabet soup with all kinds of creatives, opinions, and ideas. Take a sip and add your own letters. 
Consider this: 
What are some small ways that you could contribute to your scenius? 

What has recently inspired you from your scenius?
A font by any other name…
Sarah Hyndman's talk "Tasting Type"
Can you taste Helvetica? Have you tried smelling Garamond? Sarah Hyndman's talk explored the idea of typography as an extension of the human voice. It's the unconscious verbal partner to any brand.
See for yourself, try saying the following "Hello's" out loud.
Sarah is "the founder of the highly innovative Type Tasting studio; her mission is to change the way we think and talk about typography." She researches how typography influences our perception of products. 
People often think of typography as high-brow, when actually it's enveloped in pop culture experiences. Our experience with typography can reveal a great deal about our history. Take this typeface for example, what do you think of when you see it?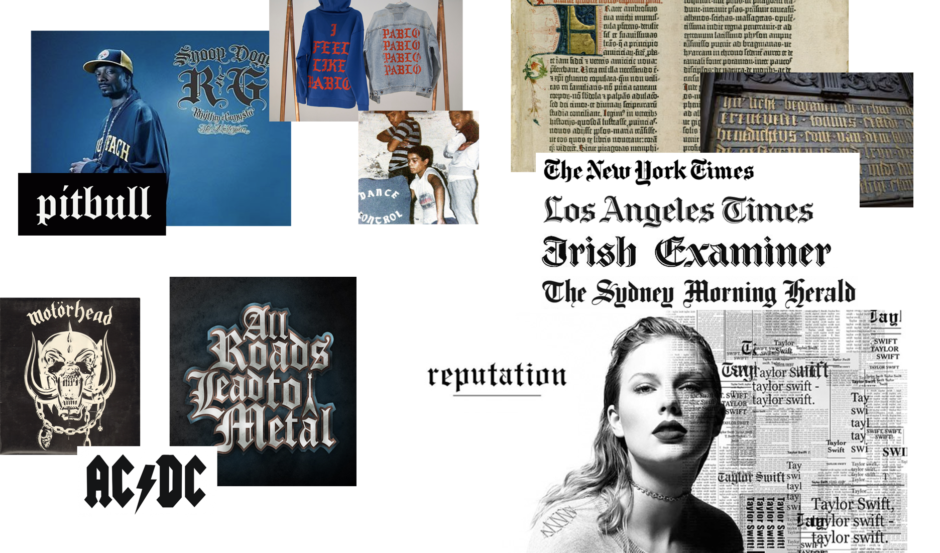 This typeface is called blackletter. It was used in the Gutenberg Bible, one of the first books printed in Europe. It can also be easily recognized in heavy metal, breaking culture, news sources, and even on Taylor Swift's Reputation album.
Typography grounds us in our culture and the products we buy. Sarah runs tests about the perception of flavor and nutrition by utilizing different typefaces.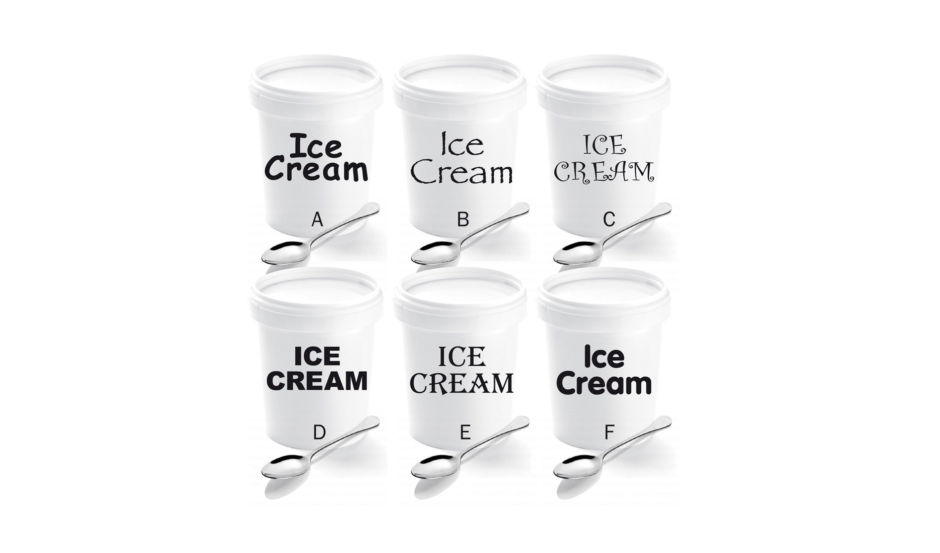 @SarahHyndman (Twitter) 

The research about how we perceive certain typefaces to be more healthy, while others are perceived to be more decadent, could help in creating clearer nutrition labels to repackaging healthy food to look more desirable. 
Typography is a big part of our everyday life, it influences our choices without demanding our attention. 
Consider this: 
What are some ways that you utilize typography when thinking about your brand? 

When looking at your design, think about the voice it would use if it could speak? What would it say? 
When Liz Jackson, the founder of TheDisabledList and a disability advocate, spoke about The Gang of 19 during her talk about Engaging in disability as a creative practice, I hadn't given much thought about the origin of bus lifts.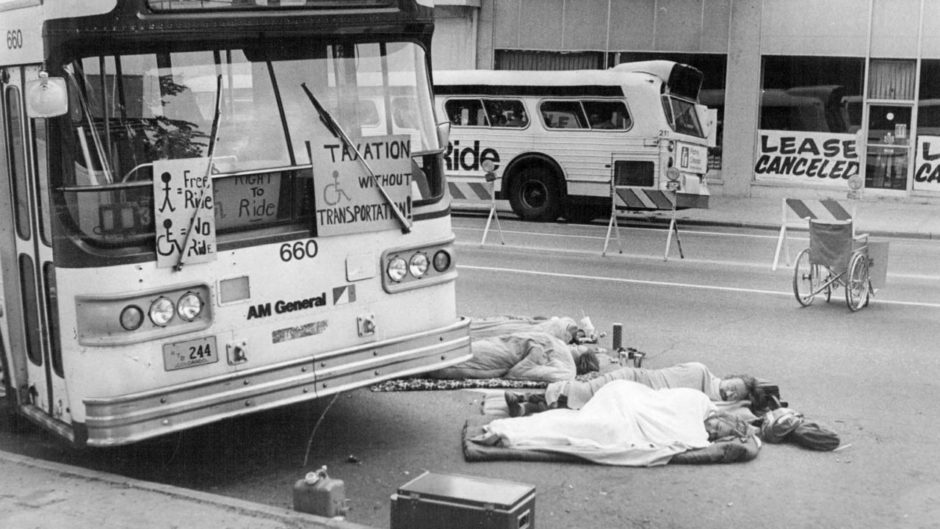 How Denver's Disability Activists Transformed the City (5280 Publishing) 
Learning about how individuals with disabilities have advocated for themselves throughout history, and how those struggles and wins were overshadowed by able-bodied people who "bestowed" accessibility for those individuals stuck with me long after the conference.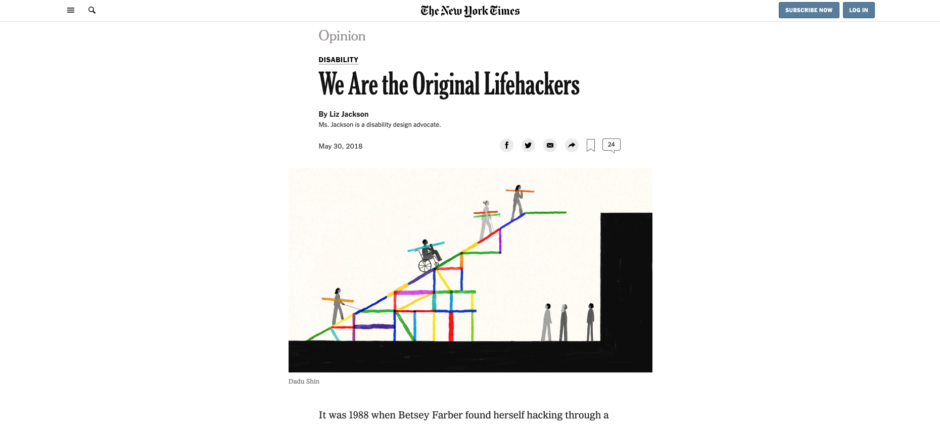 We are the Original Lifehackers by Liz Jackson (New York Times)
She emphasized how disabled people were the original "life hackers." By cutting people with disabilities out of the narrative, we as designers are doing a disservice not only to our fellow humans but also to potential solutions that could benefit many more.

This idea is known as the "Curb-Cut Effect." The example is a cut in the curb that allows accessibility for wheelchair users. However, it ends up serving a wider population by allowing strollers, suitcases, bicycles, and people on crutches to benefit.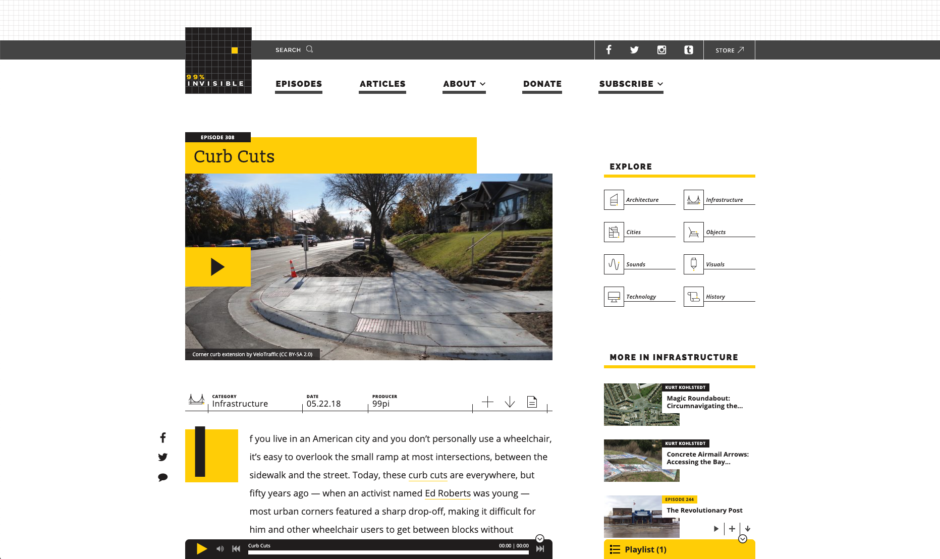 As an able-bodied designer, I recognize that even with my best intentions, accessibility awareness exists in my mind with conscious effort. Liz said in a call for recognition for designers with a disability:
Rectify the power structure. Who gets to do the thinking? Who is the receiver?
There's no shame in admitting to learning about a different lens and seeing your own limitations. Despite having an open mind, designing for someone with a disability is not my daily narrative. Including people with disabilities in the creative process, much like diversity on a larger scale, will ensure a more well-rounded product. 
Consider this: 
Have you ever talked to someone with a disability about how they use your product, or better yet, working with someone with a disability on a product? 

How did that influence your perspective?
Jessica's Bellamy's talk was so full of new and exciting information that I couldn't process it all at once. Jessica is a Motion Infographic designer and founder of GRIDS studio. 
Her work at GRIDS showed the power of designing infographics in a way that makes complex data easily digestible. In one example that Jessica shared, she created a set of infographics for a local election that distilled a set of complex political issues in a way that empowered the townspeople to advocate for themselves. Because they understood the issues, they were able to grill the politicians more thoroughly and successfully pass a set of sanctions that they could not before.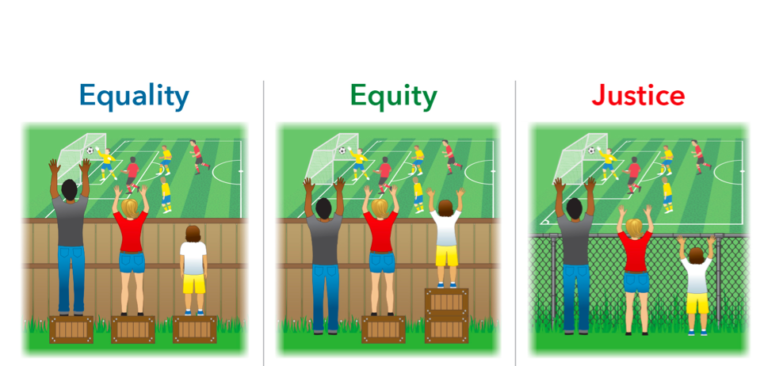 I learned about the concept of "Equity" and the difference between "Equity", "Equality" and "Justice." For example, the article "The deadly truth about a world built for men – from stab vests to car crashes" discusses this concept in regard to men's and women's restrooms, which have historically been equal in the sense that they share the same amount of space.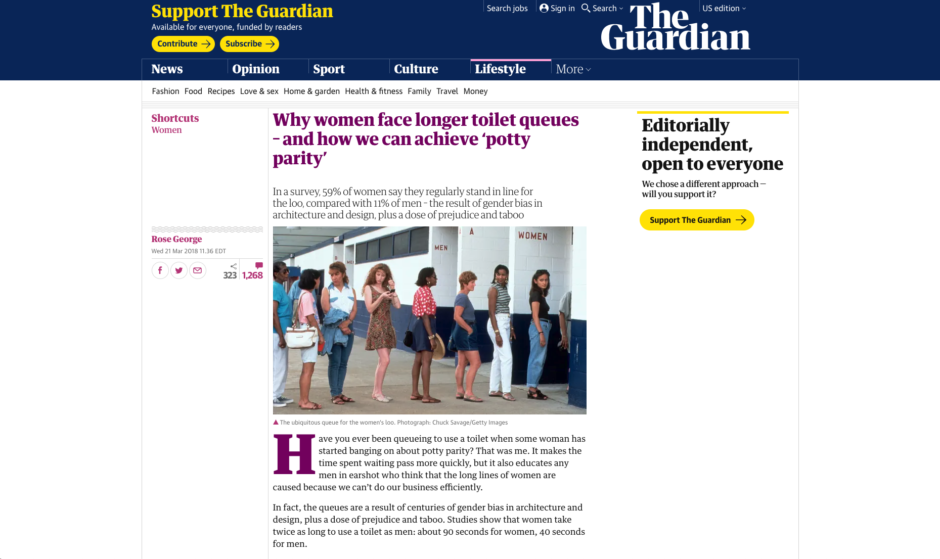 Why women face longer toilet queues — and how we can achieve 'potty parity' (The Guardian) 
However, "…if a male toilet has both cubicles and urinals, the number of people who can relieve themselves at once is far higher per square foot of floor space in the male bathroom than in the female bathroom. Suddenly equal floor space isn't so equal." 
Going beyond the pure logistics, there's a cultural inequity happening as well:
"But even if male and female toilets had an equal number of stalls, the issue wouldn't be resolved, because women take up to 2.3 times as long as men to use the toilet. Women make up the majority of the elderly and disabled, two groups that will tend to need more time in the toilet. Women are also more likely to be accompanied by children, as well as disabled and older people."

The deadly truth about a world built for men – from stab vests to car crashes (The Guardian)
The article goes on to mention everything about rates of injury for women in car crashes, to the way standard equipment like safety goggles don't fit quite right. 
It's a nice reminder that design can be used as a tool for educating or excluding.
Jessica covered a variety of wonderful topics and notably added some interesting hashtags to research as well. 
Check them out: 
So…what does this mean for me as a designer?
 As designers, we have an ethical obligation to lower the barrier of entry for diverse voices to enter the room.

We should strive to better understand how design can influence for good.

 Design is important because it sends a silent message about what we value, who we value, and who gets to influence that mindset.
There were so many other wonderful speakers at DesignThinkers Vancouver that are worth looking into as well. You can check them out here: https://designthinkers.com/vancouver/speakers/