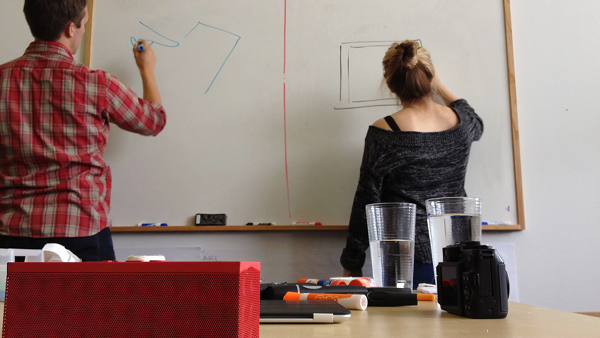 Wow, it's been a long time since we actually had our last salon, so I thought I should actually post something about what happened, and what will happen in the future since we blew our old schedule, for those of you keeping track at home.
So, let's see. It was February, it was cold, but the conversation was warm inside like a Tauntaun… Apparently, metaphors have fail me today. Anyway, it's been so long, I nearly forgotten what happened there but reflecting back on it now, I remember how cool our last go around was!
We had Harper Reed, Jessica Jackson, Ben Ihnchak, Nikola Milivojevic, Patrick McCarthy of Roth Mobot, Dennis McClendon of Chicago Cartographics and Benjamin Stanley presented on totally random and cool topics including Aphrodisiacs, startups, wind, pottery and craft, travel, history, circuit-bending, funny animal faces, doping bikers and more.
Patrick gave us a Circuit bent thank you card.
And Dennis has a beautiful online version of his talk on the Burnham Plan and its impact on Chicago posted as well. Those are some highlights of last time (and there were many more, it was truly rocking), including Mari Luangrath's foiled cupcakes for desert (sorry there was no coffee, Dennis ;).
So now what? Well, first we delayed things because we moved offices to 1440 N. Dayton (blog post coming soon, promise) in late May and we were slamming busy. That on top of work meant there was no salon for anybody, Johnny! Then, I had some personal business to attend to in June.
As we get settled in the new space we'll and I get my work-legs under me (I hope they aren't too hairy) we'll be spreading the word about our next salon. Heck, because it's already summer, it may just get replaced by our BBQ.
Either way, we'll have more details here soon.