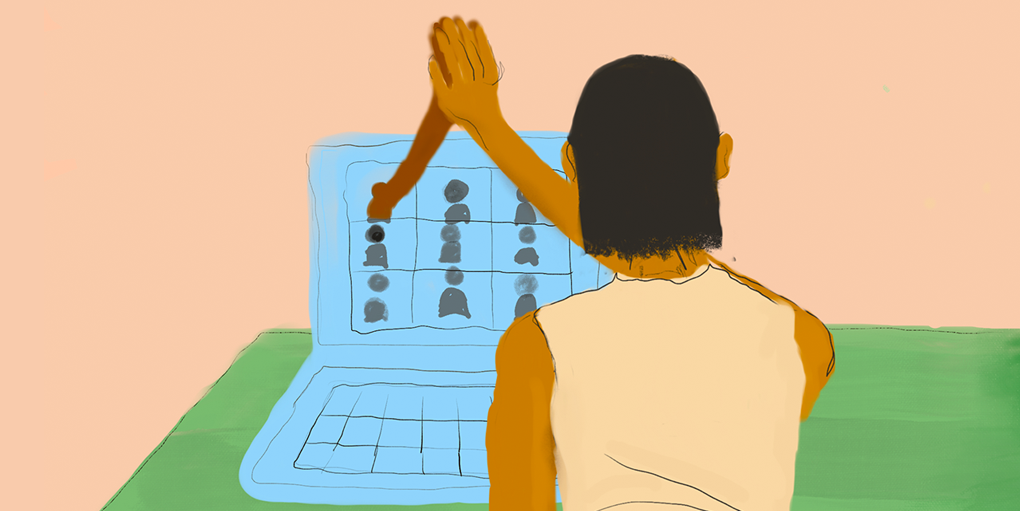 We have had an internship program here at Fuzzy Math for many years now. (Fun fact: one of our UX designers, Carl, started as an intern way back in 2011!) Although the program has developed and grown over the years, the core goal has stayed the same: provide a space for new designers to grow and flourish through hands-on client work and collaboration with our talented team.
Our Internship Program at Fuzzy Math
The internship at Fuzzy Math is a 3-month long, paid position that currently occurs every summer. We look to hire passionate designers who are just beginning their careers, or are close to finishing either their undergraduate or master's degree, and are looking for professional experience at a design consultancy. Just like in our full-time employees, we look for candidates that are driven by their curiosity, willing to ask questions, and excited to contribute their ideas. 
Having an internship program is a way for Fuzzy Math to share our knowledge with and offer opportunities to new designers. The whole office is involved in welcoming our interns, answering questions, and offering feedback. We structure the program to ensure that the interns learn as much as possible during the weeks they are here, and are empowered to accomplish their personal goals. Although the program is focused on giving opportunities to the interns, we always end up learning from them as well, and benefit from hearing new perspectives and ideas.
Our program consists of both a UX intern and a visual intern. They both work together on a pro bono project — alongside full-time Fuzzy Mathers. The pro bono project is the core of their work during the summer. It offers them hands-on experience of the entire design process, and exposure to working with clients. A Fuzzy Math UX and visual designer are on the project team to offer guidance and feedback, and to ensure that the interns don't feel like they have been thrown off the deep end. However, the work itself is completed by the interns so they have the opportunity to practice their design skills, create their own design deliverables, and present those to the client. We try to choose interesting pro bono projects that allow the interns to gain a better understanding of each step of our design process: discovery, design, and delivery. To the best of our ability, we aim for project timelines that ensure interns end the summer with finalized designs that they can feel proud of! (And add to their portfolios at t
To ensure that interns get started on the right foot, we schedule a few activities in the first few weeks to introduce interns to the Fuzzy Math family and how we work. We gather for a company breakfast or lunch on the first day to break the ice, and to provide an opportunity for interns to get to know everyone in the office. To continue building those relationships, everyone at Fuzzy Math schedules 1:1s with each intern, which are typically times to get out of the office and chat. We also encourage interns to sit in on client and internal project meetings to better learn about our process. The pro-bono project also kicks-off in the first two weeks so that interns can begin the fun, hands-on work as soon as possible.
Alongside the pro-bono project, Fuzzy Math also offers 1:1 mentorship and guidance with an internship "buddy". This buddy is a Fuzzy Math designer who isn't working on the pro-bono project with the interns, and ensures that they have what they need to be successful during their time at FM. The buddies are in charge of onboarding the interns, and going over the interns' goals. The intern buddies check-in with interns every week to answer any questions and ensure that the program is running smoothly. They are also responsible for reflecting with the interns at the end of the 3 months — providing guidance around professional next-steps, and receiving feedback in order to continue to grow and shape the internship for the future. 
How the Program Has Grown and Changed
Similar to how we approach a design problem, we continue to evolve the internship program and iterate to improve the experience for our interns each year. Recently, we have formed a team within the company that is dedicated to the internship, and that meets throughout the year to continuously develop the program. This team ensures that the responsibility of the internship is not all on one person and that there is a structure in place for the internship to be successful. The team streamlined the hiring process and we were able to have our application go live at the end of January, giving us plenty of time to receive and review applications from many qualified applicants.
Another big change that was implemented for the first time last year was to hire both a UX and a visual intern. Since both UX and visual design is so important to what we do, everyone at Fuzzy Math was excited for this addition. It can also be helpful for the interns to go through the process with someone else instead of on their own. 
Due to circumstances caused by coronavirus, we are having our first-ever remote internship this year. Although many companies had to cancel internships this summer, Fuzzy Math felt that just as our employees are able to work effectively remotely, our interns could as well. We feel committed to this program and are happy that we are in a position to still hire interns and provide an opportunity for them to learn with us this year. We acknowledge that it can be difficult to be a new intern in a remote setting, and have tried to account for that within the structure of the program. We have implemented more regular check-ins (over Zoom and Slack) to ensure the interns are getting the guidance they need. We also encourage them to reach out to anyone at the company to ask questions or to receive feedback. To make sure they felt welcome from the beginning, we sent the interns Fuzzy Math swag and surprised them with donuts on their first day! Overall, our goal is to be able to offer a wonderful internship experience, even with it being remote.
Meet Our 2020 Interns!
Everyone at Fuzzy Math is really excited that Alfreda and Alli joined our team this summer. They started a few weeks ago, and have already kicked-off our pro bono project. Although we are sad we can't meet them in person, it's been great getting to know them over Zoom!

Alfreda Kava | UX Intern
Alfreda has a Bachelors in Cognitive Psychology and is currently wrapping up her Masters in Human-Computer Interaction from DePaul University. She decided to pursue UX once she realized she could apply her research skills, psychology knowledge, and creativity to build intuitive user experiences.
What made you interested in the internship program at Fuzzy Math?
I was interested in Fuzzy Math because of its unique position as a UX consultancy, the commitment to the user-centered design process, and the willingness to embrace complexity. I wanted to dive deep during my summer internship and Fuzzy Math looked like a great place to do just that. 
What do you want to get out of your summer internship?
I am excited to work on our pro-bono project! It is great to know that we will make a positive impact while learning how to do UX work professionally. I am also looking forward to building relationships with all of the Fuzzy Mathers and learning from them! 
What are you excited to learn more about?
I'm looking forward to working with a design team, building out a large project, and sharpening my presentation and communication skills!
What do you love about design?
I love that we have a process to solve problems. It's awesome that by trusting it and carefully doing the work we can arrive at a solution that will make a task easier or more enjoyable. I also like that UX designers often have really different backgrounds and come from different disciplines, I think this adds to the strength of any team.

Alli Sevareid | Visual Intern
Alli received her BFA in Graphic Design from the Kansas City Art Institute. She thrived in a fine art approach to design, creating a series of print pieces, but later found the most fulfillment in designing digital tools and systems.
What made you interested in the internship program at Fuzzy Math?
I was drawn to Fuzzy Math initially for its work in the healthcare space and the small (but mighty!) team of UX and visual designers. Upon learning more about the internship itself, however, I loved that it was centered around one pro bono project and thought that was a great way for a studio to give back to its community.
What do you want to get out of your summer internship? 
I'm hoping to see the summer pro-bono project through from start to finish! As well as build relationships with the team, give and receive feedback in a professional setting, and build that video conferencing stamina.
What are you excited to learn more about?
I'm excited to both observe and partake in the designer-client relationship and see how it enriches the final design.
What do you love about design?
I love that design sits at the intersection between disciplines, such as hospitality and tech, and bridges the gap. Designers are then required to wear many hats in order to develop empathy for their audience, and I find that challenge very fulfilling.