Benvinguda to Fuzzy Math's recap of the
OFFF
2015 conference in Barcelona. We're organizing our blog posts around the experiences and take aways from this three day conference. This post marks the first day of the conference. If you missed the intro post, you can find it
here
.
On day one, I got to the Museum del Disseny early, as suggested, so I could get my conference swag (book and bag) and entry bracelet. The line was insanely long, but luckily they had reserved food trucks on the museum grounds, so I got some espresso and breakfast and enjoyed my views and the nice weather.
When the line finally dwindled, I was able to pick up my swag and set foot into the frenzy of curious folks from all over the world. The joint was packed (I later found out this was because they oversold their tickets, which was frustrating at one point when I had to wait outside until enough people left!), so I tried to grab a seat in the main speaking area while there was an open one, and I glued myself to it.
Of the notable speakers that day, a few stood out to me personally: AKQA, Robert Hodgin, Post Panic and Jon Burgerman.
AKQA
AKQA has worked with some big companies (i.e. Nike, Verizon, Audi, Nissan, WWF, Hermes, etc.), designing a variety of experiences ranging from the digital to physical and some places in between. The representative had some interesting snippets and general insights dealing with the space AKQA designs for; but for me, the work spoke a lot louder, saying AKQA knows how to move and shake. Two of my favorite 'projects' shown were for Nike: Ice Kings and Nike Rise.
Both campaigns are designing experiences that go beyond just one touch point. The best experiences are multifaceted; they inspire, delight, and tell a properly weaved story, possibly one you want to be part of. And as far as UI challenges go, the interface on that basketball court in the Rise video—so rad and impressive!
Bits, Straight from the Horse's Mouth:
Do your research: "Find patterns to why some companies go away" (Britannica, Borders, BlockBuster, etc.)
No boundaries: "Uber is an on-demand network, not just for taxis."
Information overload: Time and borders have disappeared.
People don't spend time on things they are not interested in: Stop interrupting what people are interested in and start becoming what people are interested in.
Produce order: See through chaos and create order — creativity is finding a solution.
Disrupt order: Change generations.
Robert Hodgin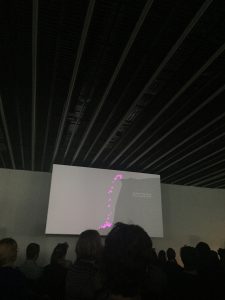 Mr. Hodgin is an artist/coder out of Brooklyn. He is a very entertaining and intelligent human being, and although his day-to-day work is way over my head, he was a passionate and witty storyteller. He also is the human behind that iTunes music visualizer, which he calls the Magnetosphere.
He caught everyone's attention when he started his story with an anecdote from when he was a child visiting the Grand Canyon. In this, he asked his dad, "If I threw 1 million dogs off this cliff, how many would live?" His question, although seemingly morbid, was a good demonstration of the manner of how he thinks. And the man really thinks.
"Every time I get mesmerized in nature, I try to recreate it in code."

– Hodgin
If you have the chance to hear him speak, he will be better able to explain the science, research, and brain power that went in to making such pieces as Boil Up,  for an installation in New Zealand. Of the few notes I have scribbled in my notebook (he kept me very engaged), one I jotted down relating to this project was, "If I were a fish…" He was having trouble coding the fish's behavior properly when introduced to the predators. So as we would in the experience design world, he tried to think of how the fish might feel. And that is where the "fear variable" was introduced into his code for this piece.
Post Panic
Post Panic is a film production group, they spoke on one project: a sci-fi film that is going to be a full feature film soon. It is currently called "Sundays."
The most interesting take-away for me was this new concept of a short film that is purely to show what they called the "texture" or "mood/style" of a movie. Similar to what someone in branding or design may do with a mood board, this "mood board" is for a full feature film. For Sundays, the most important thing for Post Panic to convey wasn't a storyline as much as a feeling or the essence of what this film could be.
Jon Burgerman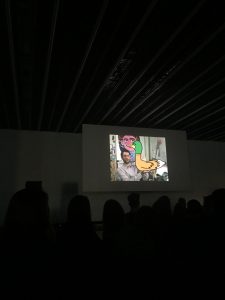 "I'm a doodler," he said. Jon's application for doodling is his way of working and thinking at the same time, and it is improvised. I enjoy Jon's art because it is lighthearted and fun, and he doodles using all types of media. Although he doesn't really work in the digital realm, he did make this iPhone: http://jonburgerman.com/new-iphone. I think, as designers, what we can gleam from Jon is the art of play.
Words of Wisdom:
"Failures are touchstones on a path to something else."
"It only takes two drawings to bring something to life."
"Art shouldn't sit on its ass and collect dust."
"Allow your imagination to be raw material."
"Things might not work out perfectly, but that's not always the point."
 Stay Tuned
In my next post, which covers Day 2 of the conference, I will introduce you to the works and thoughts of Territory Studio, Anton & Irene, Chuck Anderson, and Stefan Sagmeister.