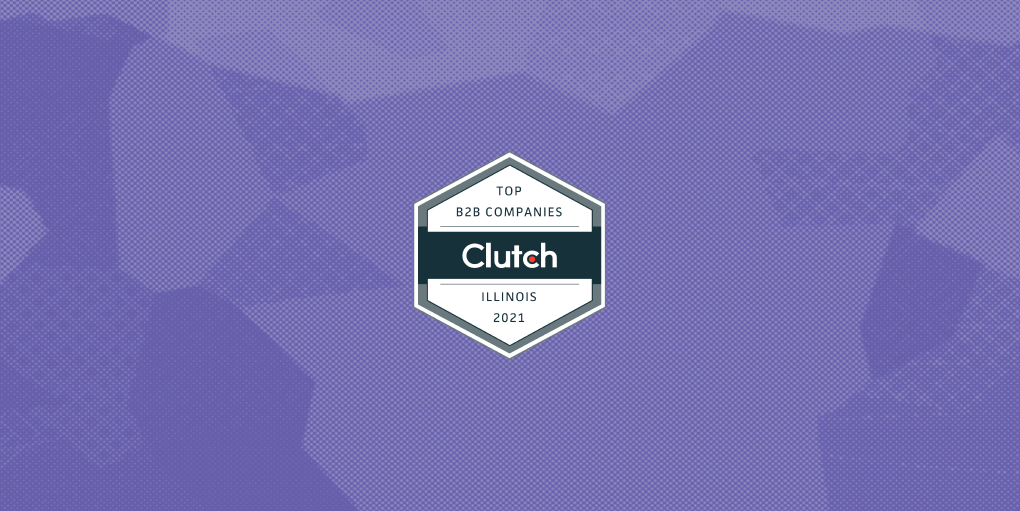 Clutch.co released a list of 300 companies for their 2021 Leader Awards in Illinois on June 22 with Fuzzy Math coming in at number 6 on the list for our work on B2B product design. We are proud to be listed among a number of other top-notch firms in Chicago and across Illinois.
These Clutch awards and rankings are determined by evaluating firms "on factors such as online presence, services offered, and brand reputation". The Fuzzy Math team works hard to provide each client with exceptional service no matter what the project entails. Over the past 12 years we have worked with clients on projects including UX research, UI/UX design, digital transformation, and more. We are thankful for each of our clients' positive feedback and reviews that contributed to us receiving this award, and are committed to continue producing and delivering exceptional products and building lasting partnerships for years to come.
Check out a few reviews from clients on past projects featured on Clutch:
Product Research and UX Insights for a Talent Management Company
Services Provided: UX Research | Digital Product Strategy
We sought to make our UX frictionless. […] The recommendations [that Fuzzy Math provided] allowed us to consider how we were going to enhance our platform in future releases. If you're familiar with the software industry, every platform goes through feature function improvements, and the recommendations that they gave us were focused on what our client wanted to see us do in terms of those improvements.

SVP of Client Solutions, Talent Management Company
Our UX research process provides the insight you need to get your product on the right track. We dive deep into understanding both how your business works and the business goals you want to achieve. Then, using knowledge gained through UX research as well as our deep UX expertise, we work with you and your stakeholders to design a product roadmap that meets all needs.
Embedded UI Design for a Medical Imaging Startup
Services Provided: UI/UX Design | Healthcare UX Design
Successful on all fronts, Fuzzy Math was one of the best contractors the client has ever seen. Their team was professional and worked independently. Despite working with a complex workflow, they were able to improve and understand the process very quickly.

VP of Product Development, Medical Imaging Startup
Fuzzy Math thrives at the intersection of people, process, and data—understanding who your users are, what their process is, and how the data supports that process. We help teams uncover that workflow and design UX and UI solutions that support the critical task at hand.
UX Refresh for a Software Solutions Company
Services Provided: Digital Transformation Strategy | Digital Product Strategy
[Fuzzy Math]'s efforts have been very helpful in regard to setting a strong design strategy for the company. Fuzzy Math's work also spurred the client to invest in a modern technology stack. Their team always stuck to the timeline and was communicative and generous with time.

Sr. Director, User Experience, Software Company
Revamping an older product (or multiple products) can be a huge undertaking. We start with the basics—understanding where you are and how you got there—and take the time to understand what your users want and need before investing in a new technology. By setting the foundation with heuristics and user research, Fuzzy Math can help your business build something strong enough to last, and flexible enough to meet changing requirements.
Interested in learning how Fuzzy Math's UX expertise can help improve your B2B product design? Drop us a line to start the conversation.