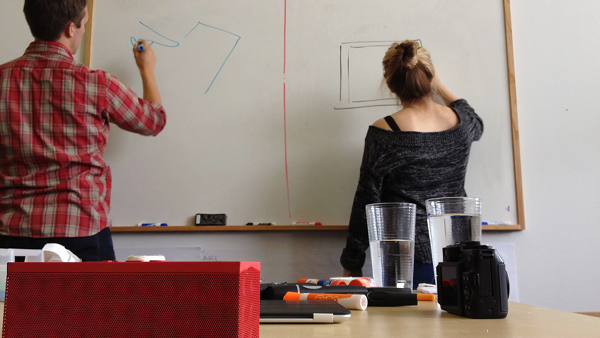 The way we work isn't completely unique but I think it's worth mentioning, especially as it relates to how we resource projects, allocate talent, and operate. The simplest analogy is to think of how film studios operate (Disclaimer: I have no experience how studios make movies but I am guessing this is an accurate description). At a basic level a movie project is started, it involves some people from the studio, a director, producers, and then a talent search begins. The studio evaluates the actors and actresses based on their work experience, audition, and fit for the role. Some nuts and bolts aside studios generally choose the best person for the role.
At Fuzzy Math we operate in much the same way on projects. We have a large fluid network and create ad-hock teams to tackle projects. It allows us to be flexible in this economy, to keep the company focused on our wheel house of UX design, and allows us to put the most talented team on the floor.
I'll have a post later on the benefit of what we call Role Based Resourcing but it follows the same basic path as a movie. There is a script that requires a certain role on a movie. For us we have a project description, proposal or brief, something written by a client, partner, or us for an internal project. Based on the needs of the project we create a set of roles, people like writers, front and back end coders, user experience designers, graphic designers, etc. And then we either reach out to our existing network to find talent or we select from the core group of people we've worked with in the past. More often it's the latter. We evaluate people based on reputation (our rank or other people vouching), their portfolio of work, their rate, and their skillset. We balance this with specific project needs, budget, and timing to determine the right fit for the project. There is always one of our partners involved in a project (in this way we are bit more Spider than Starfish) but we also always feel free to pick the most talented person for the job to ensure we've crafted the perfect team.
In many ways this is similar to the recent trend of small businesses crowdsourcing work with freelancers but without the negatives of throwing open the doors to anyone and everyone. As this article in the New York Times explains, related to advertising in this case, the model is shifting from Agency of Record to Catalyst of Record (another Starfish and the Spider reference). At Fuzzy Math we aim to be that same catalyst for experience design groups: the group that organizes the team, selects the best around, and invites talented team members to the table with equal say.
That said… there are a few disadvantages of this model. Constantly building a new team for each project is often time-consuming and it can be difficult to find the right people for the job. Working with new people can be a great learning experience, however, meshing work styles is, at times challenging. Planning ahead to mitigate future resourcing issues is also tricky. If a project is extended and the resource is only scheduled for a specified amount of time, we may be short-handed when finishing up a project. Overall, this Hollywood Studio model works for us, with the advantages outweighing the disadvantages.
Is this totally unique? No. Lots and lots of people do it. And we'd love to hear about how other companies and teams consistently reach out to outside talent, freelancers and independent contractors, to get the majority of their work done while producing rock solid results.
And we'd love to hear from people who want to work with us on future projects in this same manner.