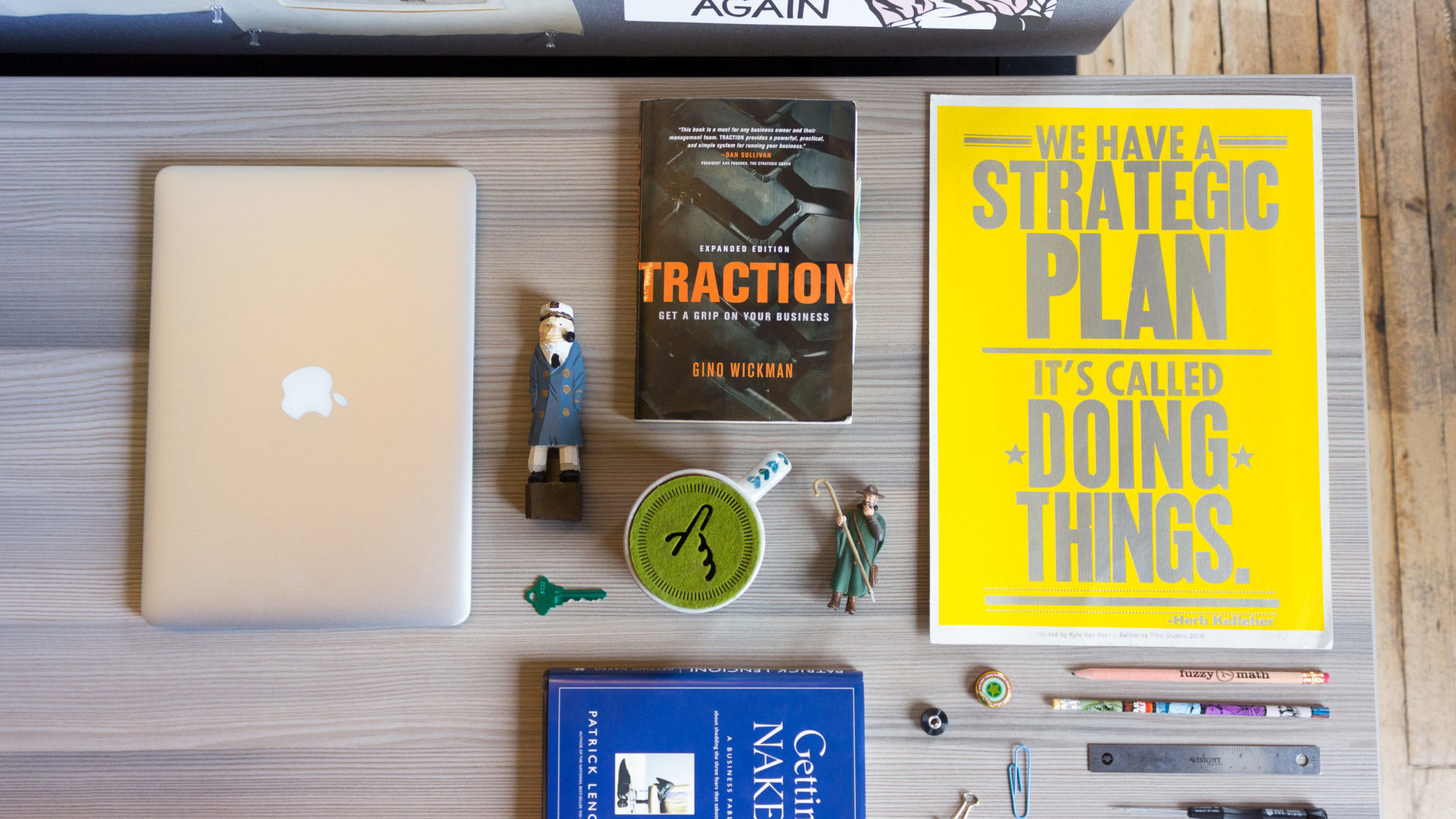 We're working through the COVID-19 pandemic, though a bit differently than we used to. In response to outbreak, Fuzzy Math is sharing our strategies for working, collaborating, and strategizing remotely in our
Remote UX Design Toolkit
.
Get the Remote UX Design Toolkit
Running a company remotely isn't easy but it's not impossible. It just requires a slightly different management style.
Before I begin, I want to note that my remote work was optional and under a different mindset than the current global pandemic, but I still learned a number of ways to facilitate proper communication, ensure strategic decision making was still in place (and being followed), and that both employees and clients were happy.
So what did I learn?
Trust your team (More than just delegation) – If you aren't already delegating certain tasks, that's a topic for another article. But when something comes in to shake up the normal state of operations—say, the boss leaves the country for 3 months, or your entire company must work remotely—this is a chance for your team to shine in new lights. It's also a chance for you to discover who has what it takes to help you lead. People get into ruts in office life and a big change, while anxiety-producing, gives each member of your team a chance to showcase their skillsets in ways they couldn't before. So let them.
Stay connected (More than just Slacking) – A multitude of digital tools have made remote working easy. But what about the personal connection your team gets from simply being around each other? I strongly suggest carving out multiple times per week that your entire company (or team if that's more feasible) gets together in real-time—not a Slack conversation or even just a phone call, but a face-to-face connection. Before my time working remotely, Fuzzy Math very rarely used video chats as a primary means of remote communication. It quickly became apparent that that wasn't going to cut it anymore. By video calling into the office for even the short meetings, it helped the whole team stay connected with me and me with them for the duration of my trip. We even added several new webcams to the office setup to better accommodate remote video calls.
Mind the schedule gaps (More than just staying focused) – Your day is most likely going to look much different when leading your team remotely. You might find more holes in your schedule—downtime that was previously filled with people stopping in or busywork. This is a perfect opportunity to look at that strategic plan you have been putting off or haven't reviewed since late 2019. Now is the time to focus on a plan that takes into account the realities of the world today. It's also a time to stop and breathe. Quickly moving from task to task or person to person in the office is normal but not always recommended. Take advantage of any space to think or read or reflect.
Side note: The biggest challenge during my three months of working remotely was the lack of in-person connection for sales. Sales are, in my experience, a different beast entirely—one focused more on in-person touchpoints and personal connection. Given that I was at a disadvantage, I was fortunate to have my fellow co-founder Ben handle the in-person work. It worked well for us to tag-team the process, and was, I think, a testament to our flexibility as a company.
But now there is no disadvantage in sales: everyone around the world is selling remotely for the time being.
Like many companies around the world, everyone at Fuzzy Math is working remotely, as of late last week. Luckily, I now have experience working remotely, as well as a few lessons under my belt.
So how are we applying these lessons?
Remote lunchroom – Every day for lunch our team is meeting in a new Zoom channel for a remote lunch. The Fuzzy Math team is small enough that we typically eat lunch together every day, and during the couple of days we've had so far without that face-to-face, off-topic office camaraderie, the loss has been felt. Eventually, once we get bored of watching each other eat, we'll invite friends of Fuzzy Math, former employees, and even some clients to hang out with us. 
Lunch-n-learns/Webinars – We run these in the office, so why not remote? There are plenty of design, business, and technology ideas running around our brains. We can take our informal remote lunchroom and add a topic. Again we'll invite some folks we know (and maybe some we don't know) to join us. It's about connecting internally but also keeping that connection with the external world. We might even get more formal and run a few webinars for anyone who's interested. We think people will be thirsty for more knowledge and connection in a few weeks.
Remote workshops – Even during normal operations, we have run remote workshops, kickoffs, and co-creation sessions with clients to much success. As much as we love face-to-face interaction, and as much as people love stickies and whiteboards, these tools exist digitally. You'd be shocked at how well many of our Design Thinking Workshop exercises translate to a remote environment. We'll be doing the same thing for any user research we have — it will all be remote UX research. And it will work.
Internal working groups – We call these Rocks Groups (based on Traction/EOS, a series of independently working groups, each around a specific topic including Culture, Craft, Design Operations, Values, Marketing, and Sales. Only Sales is led by a founder. The rest are on Fuzzy Mathers to plan, organize, and execute strategic measures that benefit the company and the team. This puts ownership of the company directly into a structured format that allows each member of the Fuzzy Math team to have some agency. These groups will continue to propel the company forward and don't rely on being physically in the same room— instead relying on each team member contributing during schedule gaps as they are able.
So what are you doing differently to lead your company during this trying time?