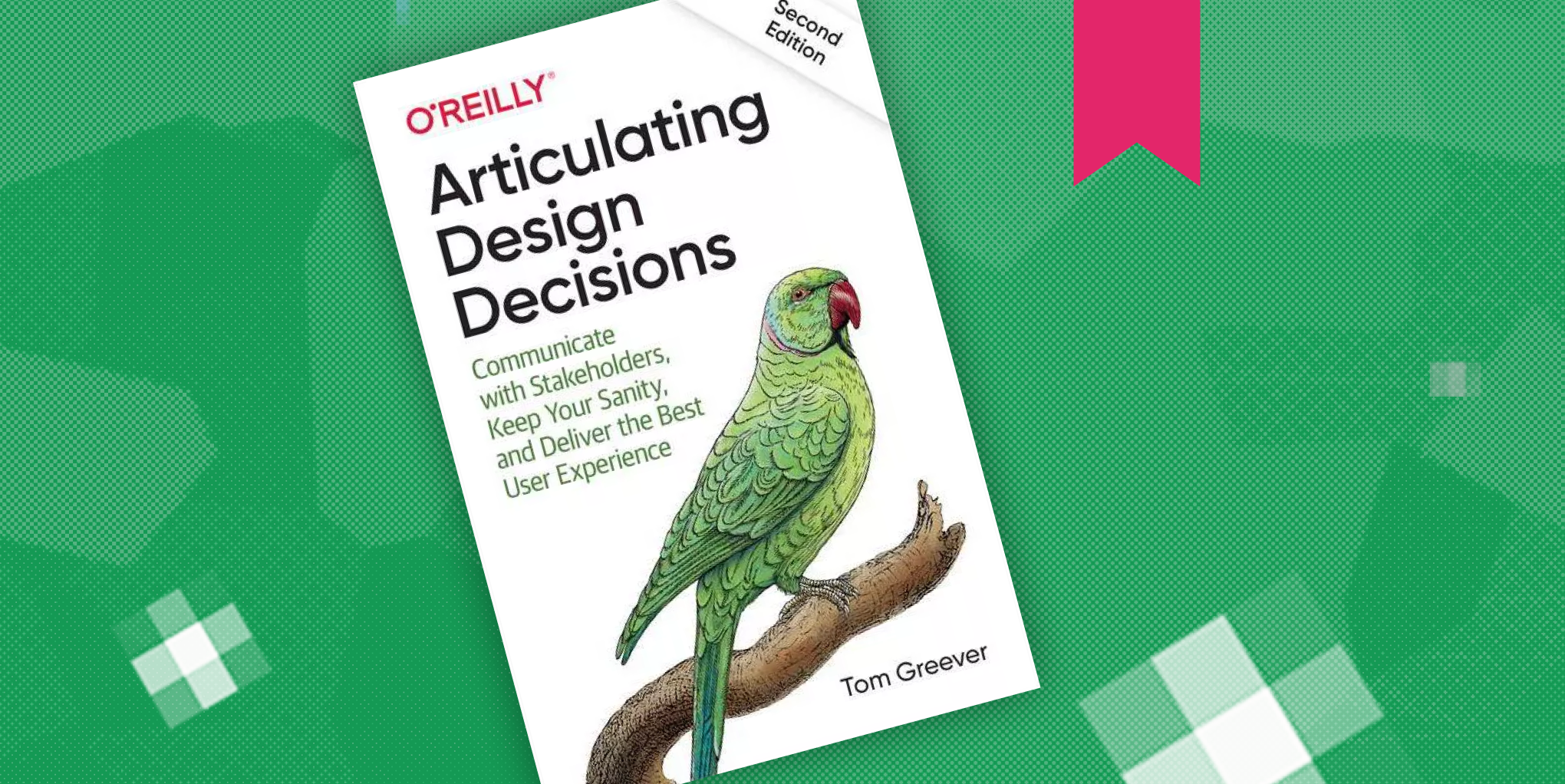 If designers make design decisions every day, then why can it be so hard to communicate the value of those decisions to stakeholders?
It's likely due to the fact that communication tactics are not one-size-fits-all. Different stakeholders may have different communication preferences and styles, and as designers, it's important for us to be able to be flexible and adapt our approaches accordingly. Some stakeholders may prefer a more visual approach with charts and graphs, while others may prefer more of a narrative approach with storytelling and anecdotes.
Related: The Challenge of Presenting Interactions
As an ever-growing consultancy, Fuzzy Math is continuously looking for ways to improve our design practices. Over the summer, we started a book club for our designers, centered around the book "Articulating Design Decisions" by Tom Greever. The reason was simple. We wanted to hone in on our communication skills and presentation strategies, while simultaneously learning from each other's experiences and creating a sense of shared community in a remote work culture. After 12 weeks of working through the core topics of the book together, we're bringing our learnings to you all with discussion guides for each chapter, key takeaways from the readings, insights into participating in a book club in a remote working world, other topics we're excited to learn about, and so much more.
What was your favorite key takeaway that you are hoping to use in your day to day while articulating design decisions?

Madeleine Byrne
One takeaway I've been thinking about a lot is that in client design reviews, we're "seeking support to move forward" rather than always approval in every meeting. It's been a really helpful framework for thinking about the goal of the meeting: a meaningful discussion while seeking feedback as well as support to move the designs along.

Dylan Drooger
Definitely the idea of thinking more about to whom you're presenting things to and what they want/need. Trying to mix the pragmatic, with things that excite them and get them more invested in what we do/the project.

Jaléssa Savage
One take away for me was the reminder that sometimes you give in for the sake of emotional wins in a project. There is a delicate balance, of course, but this book reminded me of the "humanness" in design thinking that even extends to the stakeholders and decision makers in the room.

Abbie Kmiec
A concept that I've been thinking about that I've started to implement is strategizing what potential sticky points could come up during a future meeting and having a visual example ready for discussion. Another goal for future meetings is to be more conscious of uncovering what the actual ask is when discussing design. Like what Jaléssa said, finding this balance where we can advocate for the user but also ensure we are listening to our client's concerns to understand what needs to happen to benefit the business as well.

Tré Wilson
I thought the sections about how to respond to feedback or some ideas on what to say to elicit the correct responses were very helpful and I will be going back to them before meetings. Also the suggestions around how to present work was helpful like leaving out things you know will be a problem or showing multiple ideas to show you've explored other ideas and this is why you chose this one.

Renuka Aundhekar
Take away for me was knowing who to include in the design process, understanding their perspective and finding ways to connect with them.

Gina Pan
In addition to the takeaways mentioned above, a piece that I highlighted was the questions to ask ourselves during the design process, which the answers will support how we communicate our designs later on:
What problem does it solve?
How does it affect the user?
Why is it better than the alternative?
I think keeping this checklist in mind and explicitly considering it helps speeding up the design process by helping us focus on the what we're trying to solve atm
How was it to participate in a book club in a remote work culture?

Natalie Cunningham
I loved it! This was the my first work-related book club and I thought we had great structure and discussion times in small groups over zoom. Especially being remote and not always being on the same projects as other team members, it was a nice way to feel connected, knowing we're all reading, thinking and talking about the same thing.

Dylan Drooger
I think the book club was a very good way to mix staying connected with our continuing education goals!

Jaléssa Savage
It was a blast! As a PM, I gained so much insight into the design process and design thinking in our break out rooms by just hearing the experiences of my peers. As someone who often has to advocate for design, sometimes in rooms where the designers are not present, it was valuable to be able to reflect back on the text we read.

Abbie Kmiec
In a remote culture and being siloed into project work can be hard at times! Having a book club where we were able to connect over a shared interest helped with myself feeling the Fuzzy Math culture. It has been fun to offhandedly mention how "that was a great way to articulate your design decision" 

Renuka Aundhekar
Loved it! it is a great way to connect over a common topic for all of us. I enjoyed to post-reading zoom discussions.
What else are you excited to learn about next? Or what else have you read in your design journey that has helped you?

Madeleine Byrne
I'm equally excited about learning more about communicating with our internal teams as well as clients! I know Mia (not in this channel) has read some great leadership books and want to hit her up for recommendations, but one thing I've read/ listened to and enjoyed is Brene Brown's Dare to Lead podcast. She has a phrase that she uses often: "clear is kind, unclear is unkind". it's helped me remember that communicating clearly internally is just as important as crafting the presentations and communication that we do for our clients.

Brittany Boxill
I'm really excited to learn more about the intersection of  UX and accessibility, to ensure that design is inclusive and reaches a broader audience. I've been reading 'Don't Make Me Think' by Steve Krug and it has been such a good read so far. It provided valuable insights into intuitive web usability and has influenced the way I approach design thinking."

Renuka Aundhekar
I'm interested in reading a book which is recommended to me by Kelly – Liftoff!: Practical Design Leadership to Elevate Your Team, Your Organization, and You.

Mercedes Mack
In one chapter of the book the author talked about how stakeholders are shopping our ideas around internally (or something like that). I'm interested in learning more about passive communication through asset handoff – wireframe annotations, framing on how to read the designs, summaries in figma of previous decisions in meetings (summaries in particular are sort of illustrated in the Figma designership course). Things like that. I think there's a lot of opportunity to offer grounding and framing via passive communication that can help stakeholders frame designs when shopping them around.
We also had special guest and Fuzzy Math co-founder, Mark Baldino, join in on our book club! We asked him a few questions about the output from the book club and what values continuing education provides to a company.
What were you excited to see as a result of the book club for Articulating Design Decisions? How do you hope this will help our team when discussing design with our clients?

Mark Baldino
Result – Team engagement, exchange of ideas, but mostly the application of the ideas to our ongoing client work. I'm excited to see people apply this stuff. Nothing would make me happier than to see someone take an idea from this book — like the  purpose/problem/alternatives/decisions table — and add it to deliverable.
I hope there is a mindset shift — that isn't just about the design work (deliverable, pixels, ui, etc.) — it's more — it's just as important how we explain concepts to our clients. That communication of design work is key. Without it doesn't matter how great the design work it. And this book is filled with very concrete practice examples that I hope people start applying today (or have already applied). So when someone is struggling they should return to the book — or our miro board — and look at the best practices, put in the work, and follow the process.
What do you think the benefits are of having a book club in a remote culture? What is the importance of continuing education at a consulting company?

Mark Baldino
The book club probably worked better in a remote culture. It was a series of well-design purposeful meetings. A time for exchanging ideas and learning from each other. It helped connect people who aren't working on projects together. The benefits were a very engaged group of people. And in a remote culture, as we know, engagement is critical. I also think it set the standard for what a book club could be — and I'm sure people that weren't able to join this one will make an effort to join the next one (at least I hope).
Continuing education is a two way street. It's both a company and personal responsibility. People need to show interest in learning and growing and honing their craft. And want to look for ways to apply that to our clients — always delivering more and trying new things. This is the benefit of bringing in a professional services / consulting company into your organization. Outside experts that can guide you through a process — get you from one step to the next with confidence — deliver value.  The company is also responsible — to make continuing education a priority. To offer time and resources (budget, third-party, internal, managers) to learn and grow — and the space to apply these things on client engagements.
After 12 weeks of collaborative exploration, we're excited to share our insights through discussion guides and key takeaways. The experience reaffirmed our belief in remote camaraderie and an unyielding curiosity for further growth. As we conclude this chapter of the Fuzzy Math Book Club, we are excited to continue exploring new ways to shape the future of our design process together.