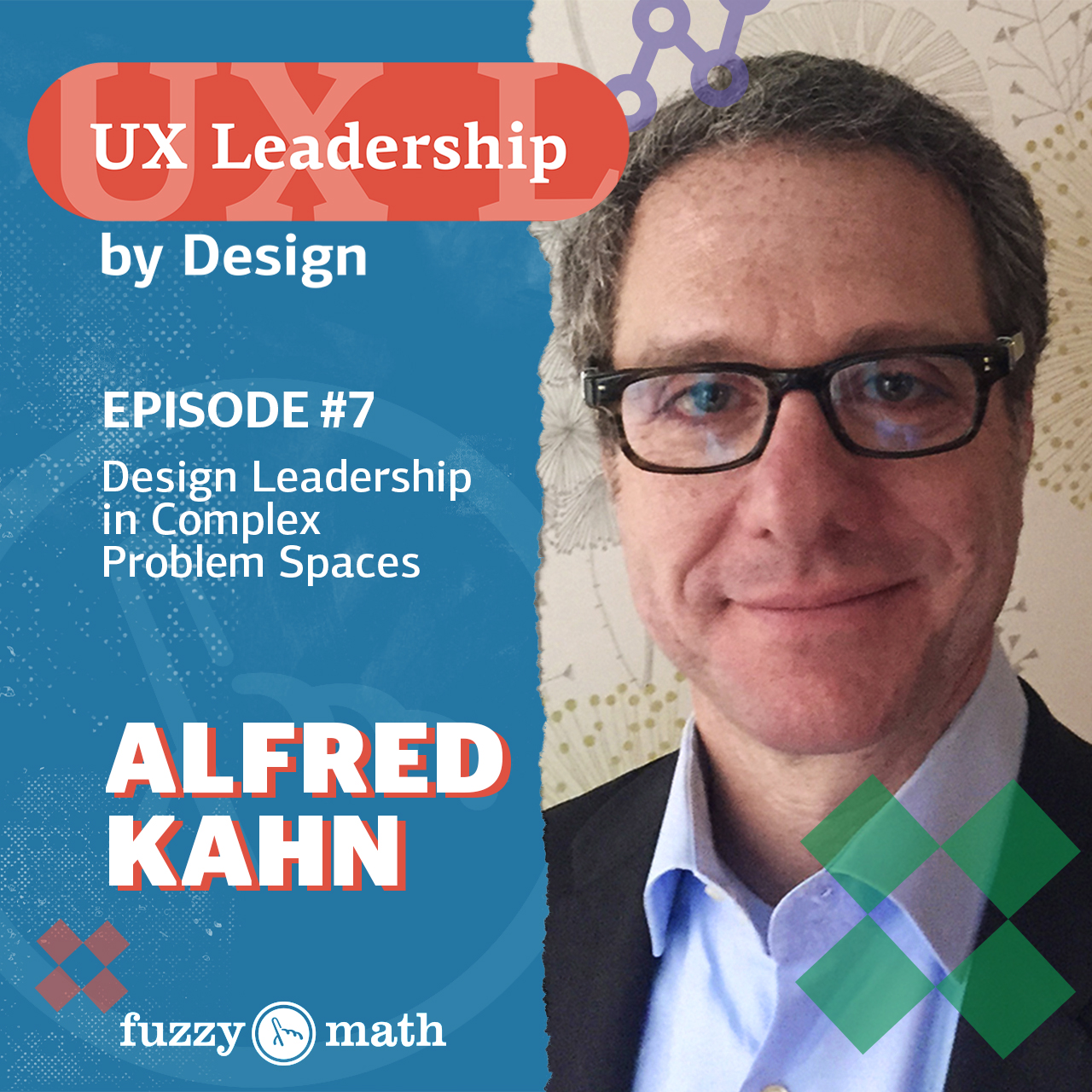 In this UX Leadership by Design podcast episode, host Mark Baldino of Fuzzy Math talks with Alfred Kahn, an experienced design leader and author. They discusses navigating complex problem spaces, infusing consumer-grade UX principles into enterprise design, and strategies for collaborative success between the "tripod" – design, product, and engineering. This episode is a valuable resource for UX Design leaders looking to better understand how to shift design's role within an organization, emphasizing metrics, research, and effective communication, and aligning teams with strategic objectives.
Topics Covered
Creating Collaborative Environments
Evolving Role of Design
Building Successful UX Teams
Building Alliances
Effective Design Leadership
Usability Testing as a Gateway to Enhance User-Centric Design
Design Metrics and Value
Evolving Role of Design in Organizations
About Our Guest
Alfred Kahn navigates design teams through complex problem spaces awash in a sea of data. Under his leadership, teams evolve from a tactical resource to a strategic partner that drives value in the company, creating designs that turn complex tasks into simple, frictionless, consumer-like experiences.
Resources & Links
Transcript
Mark Baldino:
Hello and welcome to UX Leadership by Design, podcast by and for UX design leaders. I'm your host, Mark Baldino. Podcast is and always will be brought to you by Fuzzy Math, the user experience design consultancy that brings consumer grade UX to the enterprise. At Fuzzy Math, we love to partner with internal design teams, closely collaborate with them to ensure that they have the right people in the right seats and that they're following the right process and really that they're delivering the appropriate value to their organization. Today on the podcast, we are fortunate to talk to Alfred Kahn, who's a design leader that lives for helping design teams navigate complex problem spaces that are kind of awash in a sea of data. And Alfred helps teams in a number of ways, including acting as a fractional design lead. And he's writing a book, which we learned at the end, and I don't think you'll be surprised that he's writing a book because... there's an insane amount of knowledge that Alfred is going to drop in really digestible chunks. I talk too much and I have lots of filler words. And Alfred does not, he gets right to the point. So I think you're going to enjoy it and learn a lot about how product leaders can get the most value from the design team and ensure that they are shifting from being kind of a tactical resource to a strategic resource. So thanks for joining us.
Mark Baldino:
Alfred, welcome to the podcast.

Alfred Kahn:
Thank you for having me.

Mark Baldino:
Yeah, it's my pleasure. As with most podcasts and with UX Leadership by Design, I love to give people a bit of a chance to maybe talk about a few highlights in their career, how they got to where they are. I think specifically in kind of the product and design space, it's always an interesting path for folks to get there. And it's generally a little bit of a weaving path, maybe not as direct as some other careers. So. Give the listeners a sense of how you got to where you are and what that sort of journey looked like for you.

Alfred Kahn:
Sure, yeah. I mean, fun fact is I started out in the film business and evolved into the product design and going through numerous sort of iterations. And really most of my roles have been in places like financial services and governance risk compliance, construction tech. And they're all like complex problem spaces with a lot of data. And so what I like to do is bring. a sort of consumer sensibility to the design of these products and help the team sort of create experiences that people look forward to coming to work to rather than having feeling like they're banging their head against a wall.

Mark Baldino:
Is that consumer facing orientation? Is that because of your background in film? Is that like a more natural space? You felt like it wasn't in financial services?

Alfred Kahn:
No, it's just a recognition that the web is part of everyone's lives. And the, because of the sort of speed that the consumer world works at, it's evolved a lot more quickly than the B2B world and that the elegance of that experience is something that people are surprised when they don't have that. When they come to work. So that's what was driving that.

Mark Baldino:
And what was the transition long or was it like, one day I'm in that sort of film and the next day I'm in, you know, probably.

Alfred Kahn:
It was, it was, I did a brief stint with some very rudimentary coding and quickly realized, not for me. And what really appealed to me was the whole design of the experience and I focused on that and the rest is history.

Mark Baldino:
And what sort of, like, what roles were you filling or maybe where, kind of where, what role are you in right now?

Alfred Kahn:
Well, my most recent role was as VP of product design at Warner Music Group. So again, doesn't really fit in with finance and GCR, but you know, the same criteria, underlying criteria play of, of complex problems and a lot of surprising amount of data in the music business. Um, and most of my roles have been. Certainly over the last 15 years, I've been in that type of leadership where I'm leading a team of 10 to 25 designers across disciplines. I've had research, content strategy, and even QA reporting to me. And as well, it's like at JPMorgan, I had the front end development team reporting to me as well.

Mark Baldino:
real collection of disciplines and folks under the kind of product.

Alfred Kahn:
Right.

Alfred Kahn:
Anything that has a big impact on the experience.

Mark Baldino:
Yeah, that's great.

Alfred Kahn:
That's really what it comes down to. Yeah.


Mark Baldino:
That's great. What did you see was like trends over time or was you maybe reflecting back on that? Like what stands out to you? What were maybe shifts in the perception of design, shifts in the roles that were under your, you know, in your group or just kind of your, you said, you know, kind of alluded to anything that had a big impact. Was that something you put under your purview or do you just start to see like, that's a trend of what my role sort of encompasses?

Alfred Kahn:
You know, a lot of that is driven by the culture of the company, what the perception is of what is part of design. And the big evolution has been that there's been an increasing maturity in the perspective on design. So at first, you know, oh, just make some wireframes and we'll build that. And now it's the intersection between product and UX has gotten a lot deeper. And the. understanding of what the value that design can deliver is starting to get more sophisticated. Not everywhere, but the more forward-looking companies understand that design is much more than creating screens and even user flows. It's about conceptualizing and evaluating products.

Mark Baldino:
Yeah. I've asked this before on the podcast. If someone's looking for a design lead role or wants to get in design leadership, maybe they're interviewing and they're at an organization. You mentioned that the organization has an understanding of the value. What signs do you look out for as a design leader that this organization is going to embrace this or this willing to put a few years in. Are there any telltale signs in the organizations you've worked in of like, okay, they quote unquote kind of get it or they don't and it's part of your job to, hey, pull them along.

Alfred Kahn:
That's a little difficult to tease apart in the sense that it's all of those things together.

Mark Baldino:
Okay.

Alfred Kahn:
You know, certainly the maturity of the organization, if an organization treats design as kind of a consulting resource that they're just brought in for specific tasks and then, you know, then they're sent away, that's not a good sign. And that's something that ultimately it has to be both top down and bottom up. meaning that the leadership of the company needs to understand that that's a problem and commit to fixing it. But the design team can do a lot to address that and to sort of help that process along. So the first thing is, you know, many designers chafe at the idea of not having a seat at the table, which is kind of what we were just talking about. But

Mark Baldino:
Yeah.

Alfred Kahn:
the reality is that no one's going to give us a seat at the table. We have to earn it. And so the first thing I suggest to people is focus on metrics of value. So you do work, part of that work should be a baselining the current situation and then measuring the impact that your design work has made on the outcome. that is supposed to be achieved. Then you have some numbers that you can go back and you can socialize and help people understand, wow, okay, that was the benefit that was realized by working with the design team. And that coupled with an idea of like... How do you make other people more successful? By doing that, then they're gonna wanna work with you because it makes their jobs easier and it makes them have more impact. And eventually there'll be some recognition of that, but we shouldn't shy away from tooting our own horn so to speak, not hiding our good work under a bushel. But yeah, it can be a longish process.

Mark Baldino:
Yeah. So you're doing those like that metrics of value like kind of in the background. Are you asking for permission? Like I think sometimes that is that's a hurdle that people face. And in the short term, it's produce, produce. It's this tactical kind of output. I think what you're alluding to is let's start to be a listening device for strategic metrics of value that are strategic. strategically important for the business. And sometimes that first step is like, there's so much going on in the tactical

Alfred Kahn:
That's right.

Mark Baldino:
push, push. So am I hearing that right? Like, how do you make that first step of doing that listening?

Alfred Kahn:
Start small, choose one thing and either a small project or some aspect of measurement. And I realize all this is very abstract, what I'm talking about right now, but you have to find that entry point where you can get people to read, oh, yeah, we should measure that and then use that as a building block that you can then expand from. So you know, big changes. almost always start in a small way. And if you try and do like radically change the culture and it typically fails, and it's just a lot of more work than it needs to be.

Mark Baldino:
I wonder if people who don't have a seat at the table, I think from a leadership perspective, we see that. It has to be slow, it has to be incremental. It's not just this big shift we can do. And when I think you're in leadership, it's easy to see that it's gonna take steps. When you're maybe not in leadership, it's harder to see because it feels like it's taking a really, really long time. So I'm an individual contributor as a designer, and I'm wondering why is it taking so long for my... from my design team to start delivering strategically. But probably the design lead knows internally, like, okay, this is gonna take a long time for us. We're building this incrementally. And it's just kind of two sides of where you sit in an organization, sometimes easier to see if that changes is gonna take time. And it's really hard to ask for patience team. Sometimes it's really hard to ask leadership upwards for patients in terms of like, the delivery from the design team as well.

Alfred Kahn:
Yeah. I mean that, that sort of what level do you fly at is a big question. And, and when you're, when you're at sea level, when you're on the ground doing things, it's very hard to see the bigger picture and maintain that perspective. But, you know, I think the key is always to try and create alliances. So, and I go back to what I said earlier about making other people successful. If you can make the product leader successful through your work, then they are going to. campaign on your behalf. So that you make them your champions. And then eventually you get to the point where they realize, oh, well, we need to have a design leader and you're the person and you can make, you can do all these things so that I don't have to, and I can rely on you because I have this track record with you, you're, you're familiar. It's much easier to do that than to be a senior designer and then get, uh, like a manager role from a senior designer.

Mark Baldino:
Interesting. What's that? Well, how do we, can you dive into them making allies out of product leaders? Are there any tips, tricks? I mean, you said start small, find values. Obviously, create some wins that are mutual wins, but like, and if there's any specific example, you don't need to name names. I'm just kind of curious. There's specific example, like this is when I found an ally or demonstrated, you know, real value and made other people look like, you know, winners.

Alfred Kahn:
Yeah, I think I'm going to sort of synthesize a bunch of different experiences into sort of some abstract cases. So one is in an organization that does not have a very sophisticated perspective on product design where they're focusing on output rather than outcomes and it's all about deliver, deliver. Well, never be an impediment to delivery. Be like, think of your work as. making the best out of the situation so that you can deliver the best design you can given the constraints that you have and focus on solving the delivery challenges that the product and engineering team are trying to confront. So a great example is like, engineering says like, it's going to take two sprints to build this design. You say, all right, well, let me change it. What are the constraints that you're focused, that you're challenged by? Because you can always There are many ways to solve a design problem, so you can come up with a way to solve that problem in a less lower effort way. And that's going to make the engineering team and the product team very happy. The other example is in a environment where they are focused on output. And... Um, so one of the things we did at a previous company was that they, when they are some North star metric, which is a really good metric, but it was two at too high level for the design work, meaning like we could, it was hard to draw a line between what we were working on and the North star metric. So we came up with some metrics that are sort of, you know, even further. upstream to the North Star metric that would impact the North Star metric and that's what we designed to and measured so we could then show like okay If we can increase this thing that's going to have a direct impact on the North Star metric and that draws a connection between the value indicator that the company has identified and your work.

Mark Baldino:
Yeah, which also helps the team understand that they are delivering value,

Alfred Kahn:
Absolutely.

Mark Baldino:
right? Because designing and that North Star feels so far away, they're sort of like, what's my role here? Am I important? Does leadership, you know, management see me as important? And that's a really good call. Sometimes the design team, maybe just design and product team, have to figure out that middle layer for themselves and align with North Star and then align their work to that middle layer.

Alfred Kahn:
Correct.

Mark Baldino:
Great advice.

Alfred Kahn:
And that goes back to us saying earlier about measuring your value. That's a good way to do it. So we did this design work. It produced this impact on our metric, which then produced that impact on the North Star metric.

Mark Baldino:
Yeah. So when you look at some of the more successful teams, I'm guessing the way you're speaking, it's a pretty tight integration of product, product management and design. We haven't talked as much about engineering. We talked a little like, what do those environments look like? How do you help shape those environments? What are the best practices for getting... We talked about finding somebody who can... be an advocate for design work and making them successful.

Alfred Kahn:
Mm-hmm.

Mark Baldino:
But maybe as, I don't know, with more day in and day out, like how do you get a really tight alignment between those two groups? Because a lot of times they're coming with very different backgrounds and maybe different purposes and see their roles a little bit differently. But I imagine that you've had a lot of success when those two, when design and product are really tightly integrated.

Alfred Kahn:
So actually the most successful experiences are when all three are tightly integrated, like when it is truly the tripod. And that's sort of something that the product leader sometimes has to do is to really walk the walk on the tripod and not just have it be lip service. But the times when the squads were led collaboratively by the three disciplines have been the most successful. And a lot of times it's a matter of helping people understand that, meaning like they have to experience it before they can really embrace it. And a good way to do that is through research because if, especially the usability testing, when, when an engineer or a product person sees someone struggling with a feature. that a client, then there's no greater wake up call than that. That really allows them to embrace the idea of a collaboration among the three disciplines.

Mark Baldino:
It creates a good empathy from all three sides towards the users and the challenges they're facing and just puts a face to a name or a feature set or something you've

Alfred Kahn:
Right.

Mark Baldino:
been talking about for six months. All of a sudden, you see people use it and you're like, oh, wow, this is...

Alfred Kahn:
It adds credibility in the sense that, you know, there's often like, oh, it's not so bad, you know, or whatever, you know, I'm saying that they don't, they don't really understand the true impact. But when you see it and you hear someone who's not sort of your, your stakeholder or your partner in development, struggling or being ecstatic about a feature, then that's like. It's irrefutable. You cannot dismiss that.

Mark Baldino:
Yeah. So that's great in terms of a tip for alignment, engineering. Any more tips on like product and design and like that collaborative environment?

Alfred Kahn:
Um, I would say, you know, more of the same. I mean, I spoke earlier about. Focusing on making others successful. A lot of times product leaders feel like, you know, you're slowing us down with this research, right. And, um, so, you know, I, I talk about usability testing as being the gateway drug for research. Uh, it's, it's a great tool to help people understand the value of it. Cause also you can. piggyback some guerrilla research onto the usability testing. So they a see like, okay, I get it. This is like QA for the design. And then the other thing is, oh, wow, that's, we didn't know that that's really good information. And what usually happens is that they come back and want more. So if you if you try and demand it or, or push for it, then you get resistance. But if they experience it, then they embrace it. Um, and, and I will say that at one company that I worked at, uh, there was a lot of resistance to doing usability testing because we were on a really crazy schedule and I had a meeting with the head of engineering who was trying to get me to agree to not do usability testing because it's going to slow down their, the delivery of, um, the pro the product to the market. And I said, you know, okay, I will agree to give up usability testing. If you agree to give up QA, if you feel like if you can, if you can commit to coding it perfectly the first time, I will commit to having my team design it perfectly the first time. That was the last I ever heard about not doing usability testing.

Mark Baldino:
Yeah, that's really interesting. That's a good one. I like the... It's not even a... I thought it was going to kind of be a horse trade, but it's really like... It is, but it's also saying, here's a trade-off and here's the implication of the trade-off on the design side by skipping validation research

Alfred Kahn:
Right.

Alfred Kahn:
It's helping him understand the sort of analog value of usability testing.

Mark Baldino:
Yeah.

Mark Baldino:
Yep. And I think you're right that if you can… So it's going to happen towards the end of the process, right? Lots of people say research is not a phase. It's something you're doing the entire time. Designers really want to focus on the early discovery research. But to your point, at the beginning, it's like standing in the way of progress is not a way forward. And so sometimes you have to give up a little bit early in terms of like

Alfred Kahn:
Yes.

Mark Baldino:
early ethnographic design research, really discovery-oriented. to get a little bit more into tactical delivery, then when you get your opportunity to do the validation research, throw in some Gorilla Discovery work, and then utilize that to say either, hey, we could have learned this a little bit earlier in the process, maybe. So if we'd started with talking to users, customers a little bit earlier, we could have learned this and saved a little bit. But I think you're also building muscle memory within the organization

Alfred Kahn:
Mm-hmm.

Mark Baldino:
to see, okay, this is how research can work. And then eventually, and correct me if I'm wrong, and this is maybe a final step, is people start to see it a little bit more as, oh, this isn't a more efficient way to do it than us talking through features and having a lot of conversations, a lot of meetings. People love to meet, but sometimes you can cut a little bit of that short if you're doing a little bit more user research. But you're saying you're nodding your head, so I'm assuming the same sort of thought there in terms of how to get it a little bit more efficient.

Alfred Kahn:
Yeah, everything you said, and I'll add two cliches on top of it. One is, don't let the perfect be the enemy of the good, and better half a loaf than no loaf. Get whatever research you can with the idea that everything, anything you can get will help grease the skids for the next time when you want to do a little bit more.

Mark Baldino:
Yeah, yeah, 100%. And it's hard, I think, that that's a challenge because people sincerely believe in the user human-centered design process and they feel like it creates better outcomes and the idea that you have to sacrifice a little bit, but it is the reality on the ground and it correlates to, you know, go back to the metrics and North Star sort of management perspective. A lot of times... they're looking at things a little bit differently, and it's hard to see that from, you know, on the ground as an individual contributor. And I think it's really the role of the design lead to, and product leaders, I shouldn't say, product leads to bridge that gap in communication and have the team understand that like, hey, we're gonna give a little bit here, and I don't know what the right words are, but we're gonna get a little bit back, and then we'll start building our case, and then that'll make things easier.

Alfred Kahn:
You know, as you're talking, I had a thought that occurred to me, which is that you need to approach it as a design problem. Like how to get research injected into an organization. So you know, any means necessary and as much as you can, that's really what it comes down
 to.
Mark Baldino:
100%.

Mark Baldino:
I've said on the podcast before, I tell my team all the time, we are amazing at empathizing with users, and sometimes we're not empathizing with the people that we're working with.

Alfred Kahn:
Exactly.

Mark Baldino:
I mean, I run consultancies, so it's like the co-workers but in clients, and then really client management, and you don't have to necessarily always speak the language of business, but you have to empathize with what they're trying to do as a leader and believe in that, and sort of that's part of the design process. What's the challenge here? What are people struggling with within this organization? I like to say that part of our role isn't always the UI. It's helping organizations or our teams move forward, make decisions and move forward. And that level of progress, I think, starts to build, again, muscle memory and the case for a proper design process, but it takes multiple iterations, which is exactly what we talk about. You're kind of doing a series of design sprints, but you're doing it of research implementation and research operations.

Alfred Kahn:
And internally, yeah, I mean, I, to be honest, I actually believe that you always need to speak the language of business if you are a designer in a business. Uh, and one of the things I've said to teens is the dirty secret is that 50% of design is sales. That you're, you're selling an idea, you're selling an approach, you're, you have, it's communicating and empathizing, as you said, and, uh, trying to position things in a way that people can consume them easily.

Mark Baldino:
100%. I do say that all the time. I was just at a conference up in Toronto and I had this similar conversation with a design lead and an engineering lead and they use the word sales too and everyone kind of cringed. But at the end of the day, we have to communicate effectively and we have to sell

Alfred Kahn:
Mm-hmm. That's right.

Mark Baldino:
what our kind of purpose is, what are we here for, and we have to demonstrate the value of that. There are some traditional sort of sales components to it. So, Alfred, I really appreciate your time on the podcast. It's been awesome. You said a few cliches. That's totally fine. I think that helps people resonate, but you also had a ton of great nuggets along the way. What are you up to now? What's next for you? What are you looking forward to do?

Alfred Kahn:
Well, my main focus right now is I'm working on a book, which is how to build and create and lead effective design teams. And that is primarily targeted to product leaders. And we had a lot of what we talked about in the today has been about product relating to design and vice versa. Well, you know, I've noticed that there's kind of a donut hole. between early stage startup and growth stage where design teams are usually led by product leaders. And those product leaders don't have the skills or expertise that they should have to lead a design team. So the idea behind this book is that they can read it over a weekend and then go back to work the following weekend and have some actual tools and strategies they can use to get more value from the design team, make them more effective, but also make the designer's lives better by having a more empathetic, not even empathetic, but more knowledgeable leader.

Mark Baldino:
That's awesome. I'll just say it sounds amazing. It sounds necessary. I'm jealous. I'm not writing it, but I applaud you for going through the effort of writing a book because it's a tremendous amount of work, but it's going to have a tremendous amount of value. And I would maybe... I've run into... We primarily are working with enterprise level organizations. I think the doughnut hole still exists at big companies, which is people are leading design teams, sometimes big design teams, and they don't have the... background or just the knowledge and I think a book like this which give people a reading in the weekends and some tactical output is will be of tremendous value to the community and to my listeners. So just want to thank you in advance for writing the book. I'll link to your LinkedIn profile and people can follow you there and when the book's out, I'm happy to help promote it. But just want to say thanks again for your time and energy today on the podcast.

Alfred Kahn:
My pleasure. Thank you for having me. This has been great.

Mark Baldino:
All right. Thanks, Alfred. Take care.

Alfred Kahn:
Bye-bye.