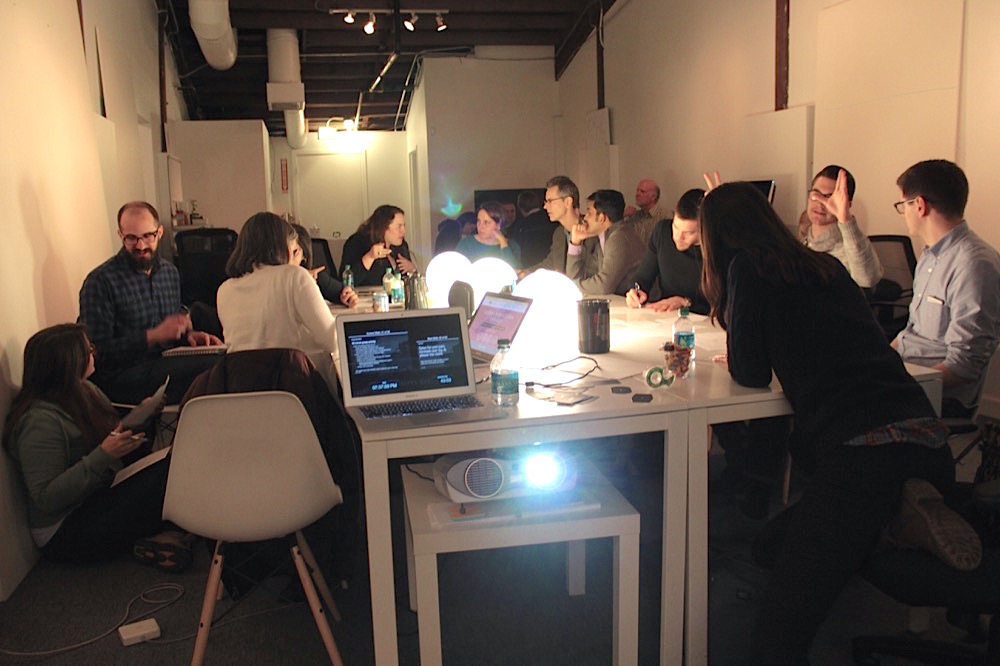 Key Question: How would you quickly help a group of service design enthusiasts to understand the responsibilities, best practices, and key elements of storyboarding within user experience design?
Fuzzy Math recently led the last in a three-part series of focused workshops by Service Design Chicago leading up to the Service Design Jam Chicago.  It took place at the Chicago office of veteran product design firm Lunar Design and was organized by practitioner Rich Ekelman.
Our theme was "Prototyping a Story" within the realm of Service Design, and rather than just give a slide-driven lecture, we built the evening around a workshop which started by way of a little talk.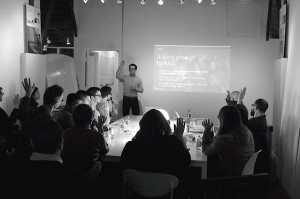 First, Fuzzy Math Co-Founder Mark Baldino shared principles and best practices of how we use the fundamentals of narrative to elucidate a "current state" experience for a product, platform, or service. He shared key insights about how unique needs of a process require different forms of storytelling.
This is where we shifted from instruction to activity, and split into groups. To demonstrate how a story can describe a "future state" experience, we had attendees focus on solving a realistic problem and then considering how to storyboard their solution to the pain point.
Sometimes you have to tell a story in order to understand the story you need to tell.
Thus, we created (as in we made up) a realistic scenario with realistic project constraints and goals. We seeded each group with a specific, clear insight from user research for the problem they were solving. As a result, each group had a chance to empathize with both the stakeholder and persona painpoints while looking at one facet of the larger scenario.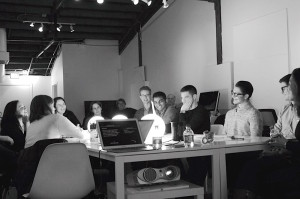 After digging into their specific insight, as well as proposing and sketching solutions (keeping in mind context, sequence, and interactions), we reviewed altogether with each group giving an overview of their group's approach and highlighting some of what they learned in the process.
We also learned through the process. A realistic user insight allowed the people in the groups to work together addressing one clear problem. Having a shared scenario as the source of those user insights reminded everyone of the value in different approaches to the same goal, and that's a valuable takeaway: sometimes you have to tell a story in order to understand the story you need to tell.
Overall we enjoyed it, met some nice people, and were glad to share a window into how we've seen storytelling play a valuable role in the service experience. Here's to more workshops and ways we can help teams understand the important stories that make a difference in the lives of their product, platform, or service.
(Stefani Bachetti produced this nice sketchnote of the event. Check it out!)