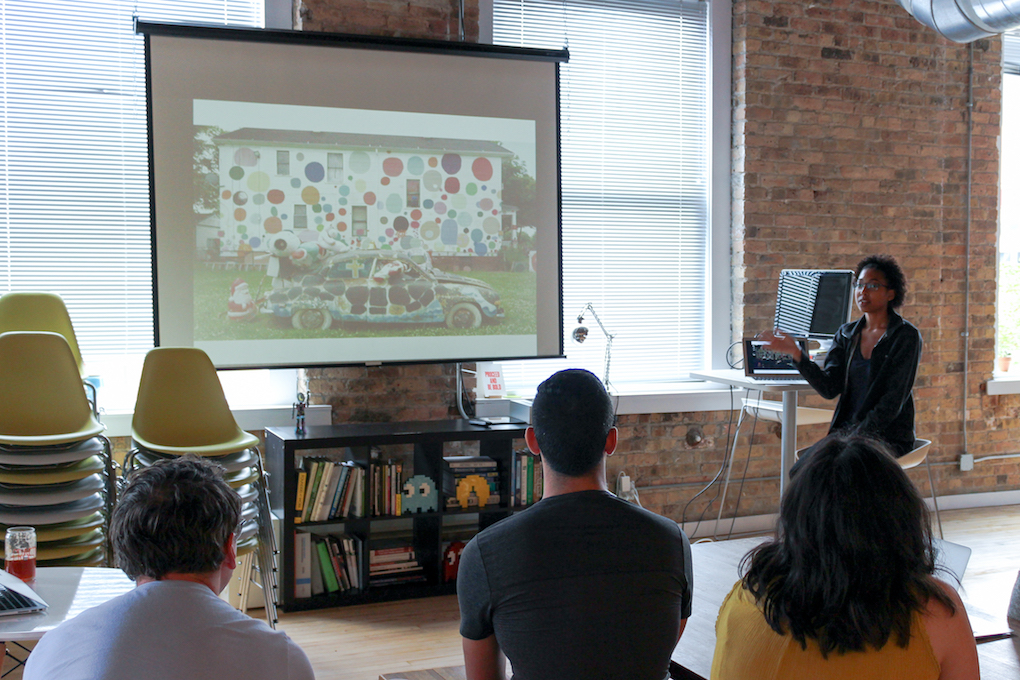 Just as a new hire is making a first impression when they start at your company, your team is making theirs through the onboarding process.
The first few weeks at work give them an example of not only how your company works, but the culture and values of your company as well. A thoughtful and well-executed onboarding can help ease the transition and make new hires feel excited to be a part of your team. This can help prevent turnover and create a better working environment for everyone. Although the onboarding process will look different depending on the type of company, here is a look at how Fuzzy Math makes a good first impression, and the ways we are working to continuously improve the process as we grow:
Make them feel a part of the team
A first day at Fuzzy Math always includes a welcome meal. Whether we meet in the morning at our favorite breakfast spot, or carve out an hour at lunch to all be together, the team takes the time to welcome a new person over some good food. I remember starting my first day, filled with nerves, and how it really helped to be able to casually chat over eggs and bacon to get to know my new coworkers. It was a great opportunity to get a feel for the community at Fuzzy Math, and I instantly felt like a valued member of the team when everyone took time from work to welcome me on my first day.
Fuzzy Math also has each member of the team schedule one-on-ones with a new employee throughout the first few weeks. It is a time to get out of the office to grab a coffee or just walk around and get to know each other. As a small team, we think this is a great way for someone new to get acquainted with everyone else. We discuss a little about our career paths and jobs, but most of the time we cover the more important things like what TV show we are currently binging or where in the city we like to grab late-night tacos.
What stood out most to me about Fuzzy Math's onboarding was that it prioritized making me feel welcome. Having time to get to know each team member individually made everyone more approachable. I appreciated how the process supported the inclusive culture found here.

Rose Tarullo
Introduce them to how you work
Starting at a new company can be overwhelming. Regardless of experience level, all new hires have to overcome some sort of learning curve to understand the processes and deliverables specific to a new company. Providing guidance for the work-specific aspects of your company can help them become a successful and contributing employee faster, which benefits your company as well as the new hire.
Fuzzy Math created an extremely useful FM Handbook that we share with all of our new employees. It breaks down all the important aspects of our work, everything from descriptions of our client deliverables to details of where and how we store our files. Not only is it a great introduction to how Fuzzy Math works, but it's also a useful resource to go back to throughout the first few months. When I started my first project and had to start completing client work, it was great being able to refer back to a document instead of having to recall a specific detail from my first few days. Even one year in, I still find myself looking back to the document to remind myself of things specific to Fuzzy Math – it's that useful!
If it's not in the handbook, we have a friendly "just ask" policy at Fuzzy Math. Everyone here, including our two founders, is open to answer questions and talk through anything. Even during busy times, there are always people willing to help out when someone raises a hand.
Think of ways to get them involved
When a person first starts, there may not be an opportunity to put them on a project right away. It's important to find meaningful ways for new hires to get involved. This helps jumpstart their growth and prevents them from not knowing what to do to pass the time. We make sure to invite new people to meetings to expose them to client calls, user interviews, and collaboration sessions. As a company who can get pretty heads-down at our own desks, we have to be a bit more proactive about pulling the person aside to talk through projects and give them the opportunity to ask questions about our work.
Recently, we have tried to create a more structured guideline for this, and appoint specific people to be an "onboarding buddy", to ensure that someone has allotted time to be a resource for a new hire. Within that structure, we think it's still important for everyone to be mindful and inclusive of someone just starting. Anyone on the team can pull a new hire aside to collaborate on a project they are working on.  Not only does this benefit the new employee by having them feel like they can make valuable contributions to the company, it can also be beneficial to a project team in gaining a new perspective on a project they may have been working on for awhile. It is great for a company when team members are open to teaching and helping out new hires, which also opens the opportunity to learn from them as well. It encourages growth and makes the company stronger as a unit.
Help them establish and then later achieve their goals
Establishing goals early on during a new job is important for a person's growth at a company. All of our new hires meet with Mark and Ben during the first few weeks to discuss personal goals. From there we try to tie these goals to company-wide goals as well, which challenges new hires to not only focus on how they can improve themselves at Fuzzy Math, but also challenges them to improve the company.
We conduct quarterly check-ins to review their goals and understand any changes. Being aware of what a person wants to get out of their work at your company can help you better support their growth. Continual check-ins can help you get them involved with projects that are more challenging, and give meaningful feedback in ways that really matter to them. We are still working on ways to track progress and make goal-setting and personal evaluations more tangible and measurable. We think this is important to better support growth and help people get the most out of their work at Fuzzy Math.
Improving the process
A great way to start improving your onboarding process is to just ask! Pull aside the new employees after they've been onboarded and have settled in with your company, and ask for honest feedback about how they felt the process went. It can sometimes be difficult for people who still feel new to speak up about what they think, so being clear about the value their honest feedback can bring is a great way to give them an opportunity to help make improvements to your company.
The onboarding process at Fuzzy Math was really great for me (shoutout to Kelly, my UX point person!). All the 1-on-1's and the About Me presentation at the beginning made me feel a part of the team pretty quickly.

In terms of the work, the opportunity to sit in on a bunch of meetings from day one gave me a solid understanding of what to expect once I got placed on a project, and I really appreciated how open everyone was to answering all my questions. It was a very welcoming process. Also, the welcome pizza party lunch on Day 1 was a great surprise!

Josh Berman
As we continue to grow here at Fuzzy Math, we are always thinking about ways to improve our onboarding process. We think it's really important to make good first impressions and to make each member of our team feel valued and important. Helping people get started on the right foot leads to more successful and happier employees, which makes your company better as a result.