Second up in our wireframe basics series – we're focusing on evaluating wireframes. Evaluating a wireframe is another crucial piece of the wireframe puzzle, for both designer and client, so the gang at Fuzzy Math put together another how to guide. The first step was understanding the parts that make up a wireframe, now it's time to figure out what all of those pieces are collectively saying, and how well they are saying it.

Evaluating a wireframe
With the wireframe in hand or staring back at you from the computer screen, it's time to review it and give some solid feedback. Constructive feedback ensures both designer and client continue to move forward through the design process and effectively solve the problems at hand. Below are a few of the main talking points to keep in mind when reviewing a wireframe:
Click on the image to view and download the 11×17 PDF (French version here).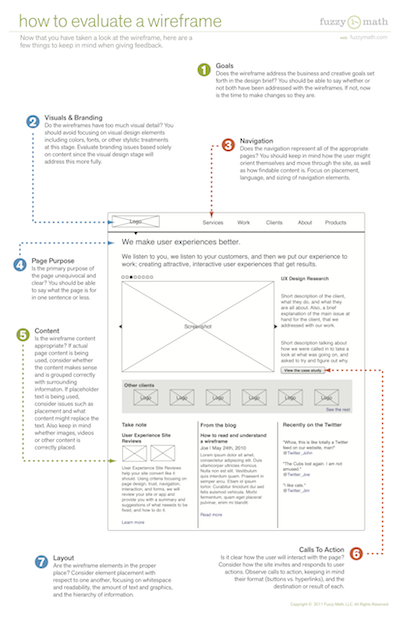 Next up in the wireframe series: How to design a wireframe