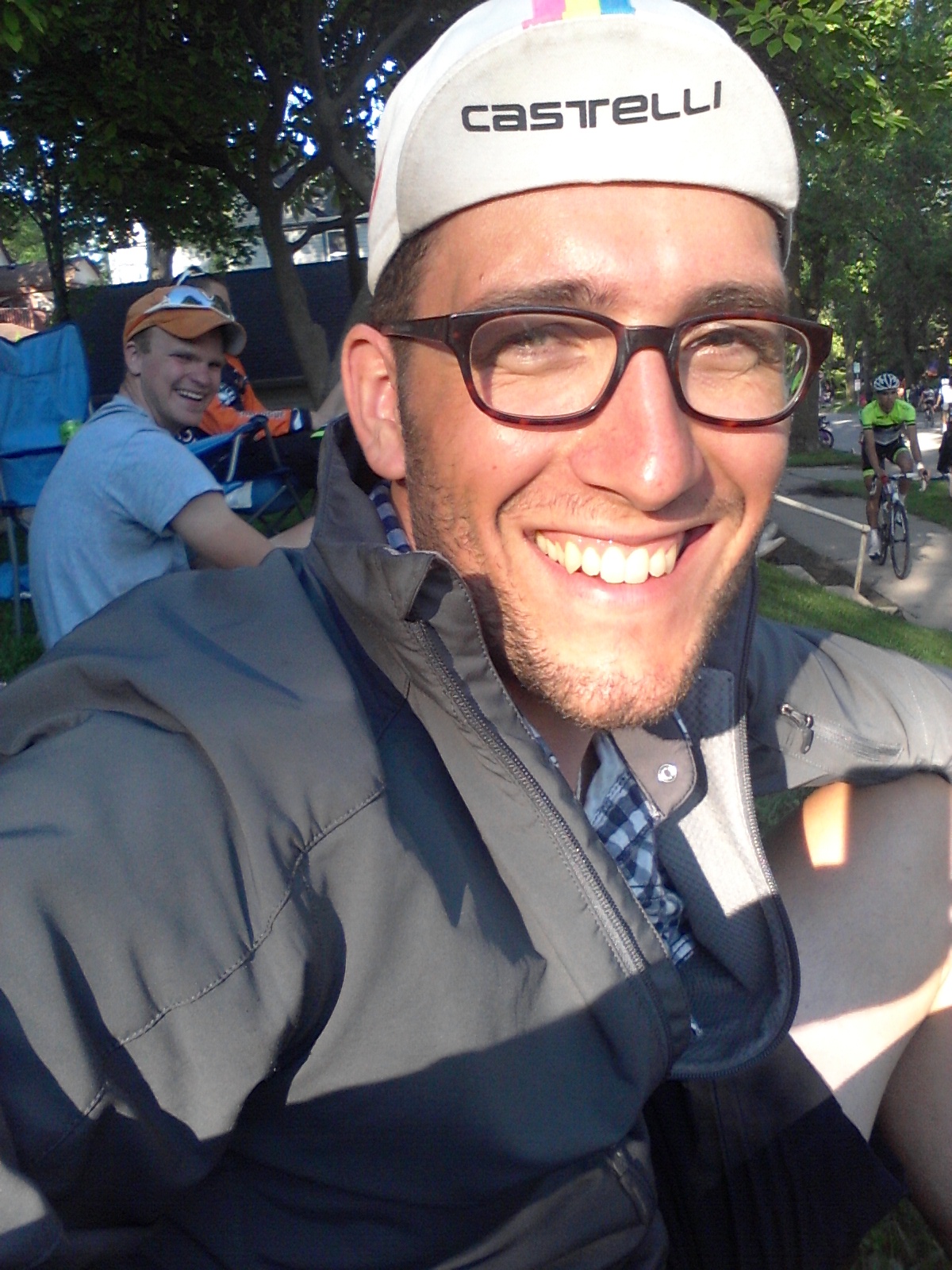 This post is the first in our "Fuzzy Math Focus" collection, where we highlight a team member or intern (let's be honest, our interns are also team members, just for a shorter term) and tell you a little bit about this person. Without further ado, we'd like to kick this series off with our most recent intern: Paul Halupka.
It's no surprise Paul was recently accepted into graduate school at the Illinois Institute of Technology Institute of Design (IIT ID) – but you'll be interested in hearing why he's opting to not take that route to achieve his professional goals. Paul brought his talented and inquisitive self to the FM office every Tuesday and Thursday for the past couple months. He finished his internship with us last week, but of course, we wanted to pick his brain just a little bit more on his last day. We asked Paul a few questions, and he came back with some remarkably thought-out answers.
1. How did you apply your educational and professional experiences to what you worked on at Fuzzy Math?
My background is mostly in print design and branding, which naturally extends into the occasional web design project, of course. I started freelancing while I was studying design in college, and have been at it since I graduated in 2007 from the University of Alabama at Birmingham. Side note: I get the impression I'm in the minority coming to Fuzzy Math from the Deep South. (Michigan seems to be the norm, eh?) As for UX design, I'm actually pretty new. It's worked out, though, that in the last couple years during my time at Active Transportation Alliance (Active Trans), I started diving into UX by accident, not really knowing that UX was a thing. I was simply close to the people who were designing events registration experiences, having been involved with designing the graphics for those events and websites. The concept of "pain points" is probably what made me realize I have a natural affinity for this stuff, despite having never been trained in it. Inattention to details to processes and systematic inefficiencies really drive me crazy. My intuitive response to these things is what makes me think it can drive me in a different way than visual design. Not surprisingly, the nonprofit environment is loaded with inefficiencies and pain points because everyone is responsible for what would be three job positions in the corporate world. It's the passionate scramble that makes this world tick!
When I realized that my graphic design career had sort of peaked, being a cyclist and designer working at this awesome bike nonprofit, I started to look at how I might grow from there. I bought books on communication and information design, started growing my responsibilities at Active Trans, and took tries at infographics for the first time. I also attended a fantastic conference at RISD/Brown that talked about how to use "design thinking" and that's when a whole new world opened up. Design Thinking is this big buzzword that focuses on using design methods to take on problems much larger than "how do we fit all this content in a brochure?" With smart methods and processes that put the end-user at the center, rather than visuals or gimmicks, we can tackle anything from better magazine layouts to water access issues in third-world countries. I love that my skill set naturally nests into a methodology that can make so much positive change. This has been really important to me, career-wise, for a while now.
2. In your opinion, what is the absolute best part about working in UX Design?
What do I love about UX? That it puts people first.
3. How were you introduced to FM, and how do you feel about landing this internship?

I approached Ben (co-founder of Fuzzy Math) after our paths crossed a few times via FM's awesome website redesign project for Active Trans. I gained a real respect for how FM has a definite method that results in a beautiful, user-conscious design. I've seen from the inside of a nonprofit what a difference good design can make. It can be the difference between spreading the word effectively and losing tons of potential advocates. Our campaigns are people-powered, so in my mind there's nothing more natural than making our efforts user-centric! The Active Trans website has been in need of a makeover for a long time, and it's going to blow people's minds when the site is re-launched.
As the staff designer at Active Trans, I got to help direct FM's visual designers on our brand standards, and how their design would work alongside our existing brand touch points. I found Fuzzy Math's ability to listen and synthesize feedback tremendously cool; plenty of designers tend to not be excellent listeners but would rather shove their concept onto the client and explain why it's the best idea. Not so with Fuzzy Math. This attitude was really attractive to me as someone who loves helping people and wants to make user experience as fluid and smart as possible.
4. Congratulations on being accepted to the Illinois Institute of Technology's Institute of Design! What do you plan on doing next?
Thanks! It was awesome to find out that one of your current FM staff members (Jared) actually graduated from the same program! I originally applied because my exposure to a new way of making design led me to the pursuit of mastering this skill set. The program tackles systematic change, product design, user experience, and tons of other stuff that also wraps in good research-based approaches. I was super excited to get accepted, but the program is really, really expensive. So I actually deferred my acceptance into ID's Master of Design program, realizing I could learn on the job and collaborate with cool folks instead, which is what made me think of Fuzzy Math. (Who knows, maybe this is the way of the future!)
5. What are your favorite free-time activities?
I spend a lot of time training on the bike. I'm a Category 3 road racer, which demands a good deal of time riding. I'm an avid bike commuter as well, of course. During the spring and summer, I race nearly every weekend with my team, Jus d'Orange, a 10-man squad that I started with my buddy last year. I like cooking and going running with my awesome girlfriend, grabbing a craft beer with my bros, and more often than not, enjoying a Friday breakfast with one of my best homegirls at Over Easy in Ravenswood. Mmm, Sassy Eggs! I also have been mentoring a kid for about five years now, and we get to see each other about once a month; we usually do cool stuff like draw and read and play outside.
6. Where do you see your career heading in the near and far future?
Looking ahead, I want to keep growing my awareness of UX, either through school or independent study. In September I will go full-time freelance as I leave Active Trans and launch back into the independent world. From here, I hope to get nestled in with a few great clients so I can continue to learn and grow while establishing a stable platform, which would allow me to spend more time riding, traveling the world, and enjoying the cool stuff Chicago has to offer. Longer-term, I want to get enough momentum as a remote freelancer that I can move to anywhere (California? Germany? France?) and keep my work up. That combination of flexibility and stability would be my dream!
7. How would you describe the FM office atmosphere in two words?
1) Quiet
2) Automatic-espresso-machine (let's make that count as one word)