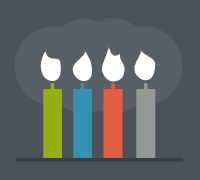 Fun note number one, which can be directly tied to the second, is that we are currently in the process of redesigning this blog. It's been quite the year over here, and since there is only so much we can throw onto Isaac and Murphy's plates, the blog redesign just never made it all the way to the top of the to-do list. But, thanks to fun note number two, we are on track to have a new design out the door early next year.
Our second (and much more) fun note is that we've grown again. Our visual design team has grown by 50% with the addition of Rachel Vorm. Rachel impressed us with really nice looking and well thought out designs, a heavy dose of consumer-facing work, and a thorough design process from request to final delivery that made a whole lot of sense (and we sure do like process!).
It also didn't hurt her case that she:
opened her intro with a slide highlighting her (heavy) coffee consumption
highlighted her love for all things tiki
has roots in the Midwest – Iowa? Check!
has a cat *and* two dogs (which is a great way to make friends in the office)
She's been with us for a little over two weeks now (sorry this is so late, Rachel!), delivering concepts for the future of the blog, and also being as thorough and enjoyable to be around as hoped!
Welcome aboard, Rachel!