As designers at Fuzzy Math who are always on the lookout for ways to solve difficult problems, we tend to gravitate toward people who have done this in very creative ways. We seek inspiring solutions to problems across industries ranging from architecture to healthcare and technology. This year, Fuzzy Math developed an overwhelmingly saturated interest in wearable devices. If a wearable is a worthwhile solution to a complicated problem, then we want to research it and design an even more effective version — or a new device altogether! We've devised a summer project plan that will cover 12 devices across three categories. Each Fuzzy Math employee will wear one device and track his or her behavior both qualitatively and quantitatively starting June 1 and ending August 31. Over that time you will be privy to three blog posts from each employee describing the experience and design perspective that individual had with his or her selected device.
Why?
With a projected shipment of 148 million units shipped annually by 2019, wearables are rapidly emerging from the shadows as a very real addition to our technology-filled lives. Through humble beginnings as calculator watches and walkmans, society has sought to fill the void between tech and ourselves.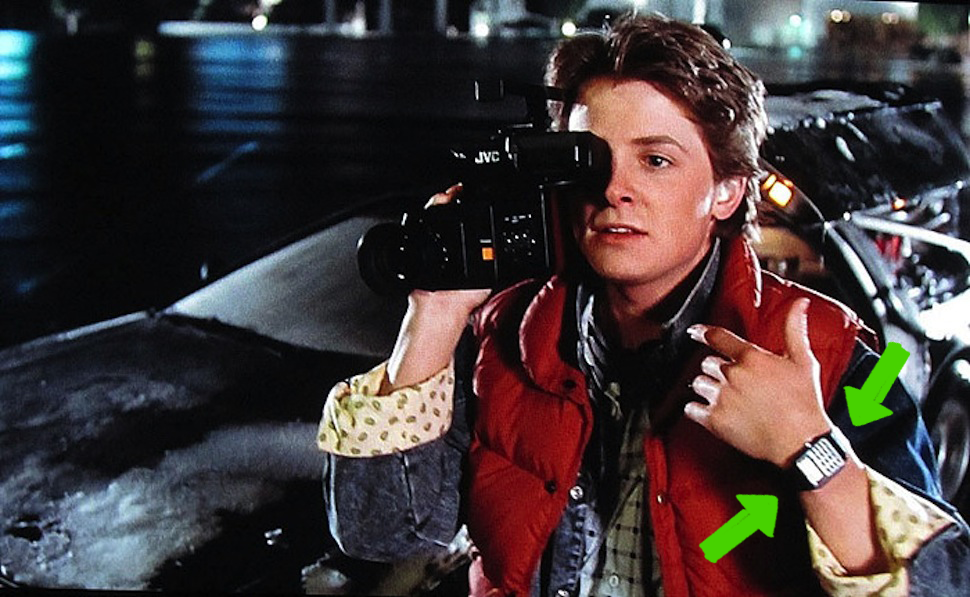 Flipping through the internet, we were surprised to see how most posts about wearables were simply aesthetic product reviews. Readers, it seemed, were more intrigued about whether they should buy now or wait until the next iteration rather than stop to think, "Why?" and, "Where does it fit into my life?"
As a growing firm with 62 years of collective knowledge in User Experience (UX) design, our mission is to delve into and gain a better understanding of this rapidly expanding section of technology. Of course, we plan on sharing our insight, and we hope you follow along throughout our process by bookmarking the Fuzzy Math blog, and following our Twitter  where all of our findings will be posted with the hashtag #fmwearables over the next three months. More on that below.
Who's involved?
Each member of the Fuzzy Math team has selected a wearable device that falls into one of three categories: awareness, activity, and sleep. We anticipate that having groups will help us establish a base goal for which we can balance our design principles. Below you will find the details of the devices we have selected, and to which group they belong.
Awareness
At Fuzzy Math, we like to think of awareness as being highly conscious of a situation or event. While the devices that fall into this category do more than just promote awareness,  this group will be critiquing their devices solely according to the goal of awareness.
Spire (x2): "This is Spire. By measuring your breathing patterns throughout the day, it can notify you when you're tense, guide you to greater calm, and help you discover what makes you focused," Each week, Spire eliminates more than one million moments of tension. Our customers report that Spire reduces fatigue and headaches, increases calm and productivity and enables a healthier and more mindful day" (http://www.spire.io/, 2015).
Fitbit Charge HR: "Get better tracking with every beat. Take control of your goals by using Charge HR to record your workouts and track all-day activity like heart rate, steps, distance, calories burned, stairs climbed and active minutes. With an impressive battery life up to five days and instant access to every stat, you don't have to look far for motivation to keep moving" (http://www.fitbit.com/chargehr, 2015).
Narrative Clip: "A new kind of photographic memory | The Narrative Clip is a tiny, automatic camera and app that gives you a searchable and shareable photographic memory" (http://getnarrative.com/, 2015).
Activity
This group will be focused on tracking what they have physically been doing. This takes into consideration things like movement, food intake, and anything that requires physical effort.
Misfit Shine: "Motivation at a Glance | Set your goal. Use points to easily measure all your activities, such as walking, running, swimming and cycling. Track your progress. Tap your Misfit Shine to see how close you are to reaching your goal. Have fun with friends. Find your friends and view each other's accomplishments. Make it fun with a little friendly competition!" (http://misfit.com/products/shine?locale=en, 2015)
Fitbit Charge HR: (Duplicate from above with a focus on activity)
Withings Activité Pop :"Pop up Your Health| Featuring the latest tech and a timeless look, Activité Pop helps you embrace healthy habits while complementing your style" (http://www2.withings.com/us/en/products/activite-pop?, 2015).
Fitbit Surge: "Create your own path. Track it with GPS. Don't just start. Surge—with run time, distance, pace and elevation stats on display. Review routes and split times after you run them, and scroll through workout summaries to stay on track while you train" (https://www.fitbit.com/surge, 2015).
Sleep
This group has devices that track the inactivity of the nervous system with eyes closed and muscles relaxed, also known as sleep.
Fitbit Charge HR: (Duplicate from above with a focus on sleep)
Withings Pulse O2: (aka Pulse Ox)"Advanced tracking, every step of the way. Whatever your fitness level or style, the Withings Pulse O2 can help you be more active and improve your health. During the day it captures steps, distance walked, elevation climbed and calories burned. At night, it monitors your sleep cycles. And when asked, it measures your heart rate and blood oxygen level. With this data at hand, Pulse O2 empowers you to make informed choices" (http://www2.withings.com/us/en/products/pulse?, 2015).
Misfit Shine: (duplicate from above with a focus on sleep)
Jawbone UP2:"Fitness tracking. Reinvented with style. Key Features: Tracks steps, sleep quality, exercise, overall calories burned. Smart Alarm™ wakes you at the optimal time in your sleep cycle, idle Alerts to help you get moving when you've been sitting too long, slim compact design for 24/7 wearability with up to 7 days battery life, wirelessly syncs with compatible Apple and Android devices" (https://jawbone.com/store/buy/up2, 2015).
Where?
Wherever we go, our wearables will follow. For the most part, the majority of our data will be coming from our home base in Chicago.
How?
Through the heatwaves of summer we'll be exercising, sleeping, and cultivating awareness, all with our individual wearable. Our data will be collected and stored via the wearable and adjoining app (if applicable). From there, each team member is responsible for focusing their data into a specific category while taking into consideration the overall impact of his or her particular wearable device.
When?
Now! Our trial begins June 1, 2015 and lasts until August 31, 2015. We've broken the trial down into three phases: Phase 1 occurs during the month of June, phase 2 will take place in July, and phase 3 will conclude at the end of August. Fuzzy Math has a summer of wearables, so stay posted to our blog for updates and perspectives.