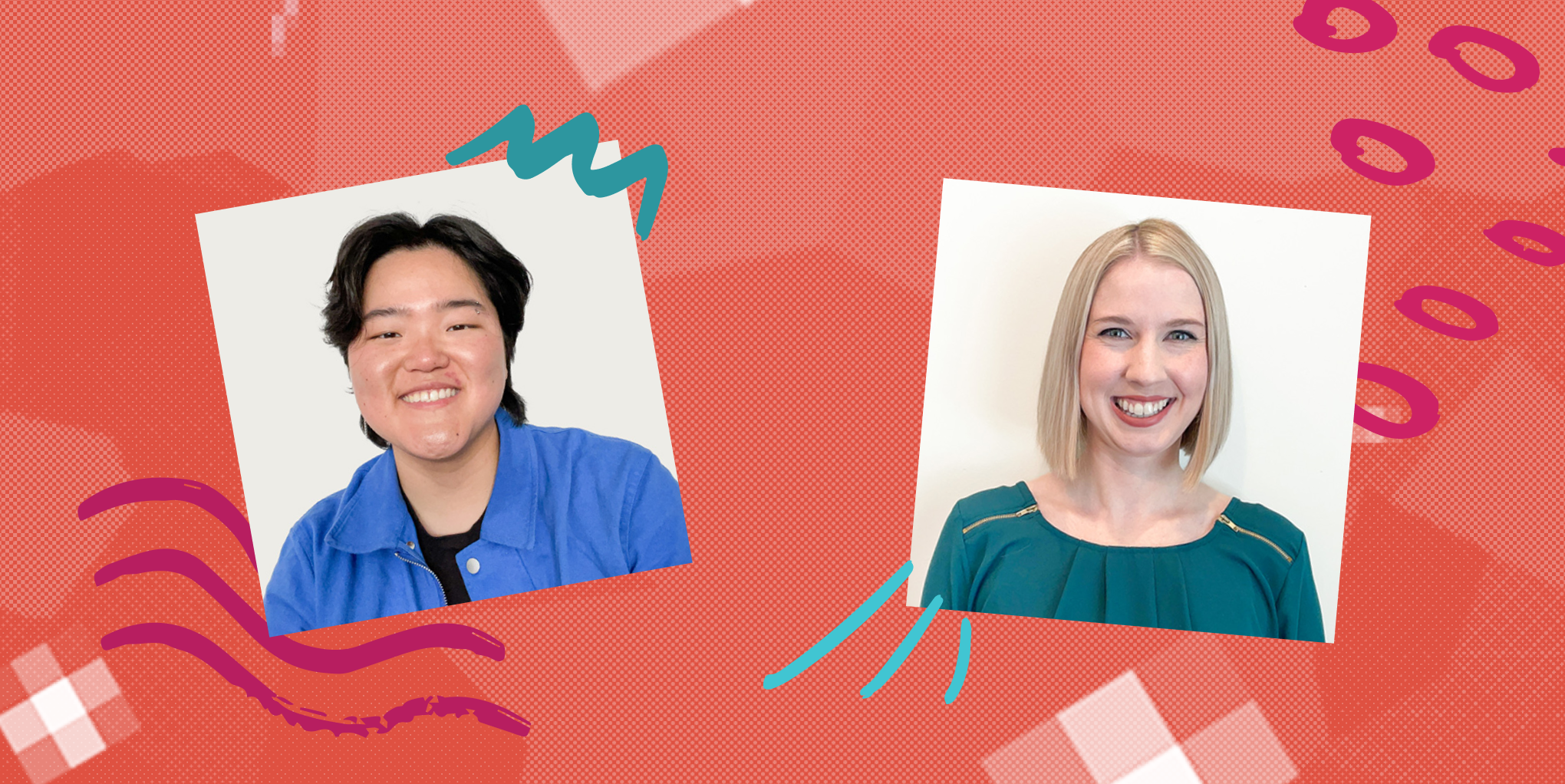 We are excited to bring you this summers 2023 Fuzzy Math interns! Over our 14 years, we have welcomed over 28 interns. As we've grown, so too has our internship program, all kudos going to our dynamic internship team for developing the program into what it is today.
Our internship program is not meant to recruit people to grab us coffee while we're in meetings. It is meant to bring in new designers and provide a space for them to practice and hone their craft with hands-on client work and collaboration with our entire team throughout the summer.
This year too, we're hoping to really explore what this internship program means for the company. So not only what we bring to the interns, but what they bring to us. How does our internship program help our more senior designers to learn and grow along with the interns, how does mentorship help us improve in our own trade?
This, and the introduction of our wonderful interns, Grace and Holly, further down!
About the Internship Program at Fuzzy Math
The internship at Fuzzy Math is a 3 month long, paid internship that occurs every summer. We hire both a UX design intern and a visual intern who are passionate about their work and are looking for professional experience at a design consultancy. Just like our full-time employees, we look for candidates that align with our values: driven by curiosity, willing to ask questions, and excited to contribute their ideas.
Overtime, we have made quite a few improvements to the internship program. Just like in design, we are constantly iterating, gathering feedback, and brainstorming new ideas to make sure we are offering the best experience possible. A few of the larger changes over the past three years have included:
Adding a visual design intern so that we have 2 interns working together
Creating a team dedicated to the planning and execution of the program
Building a more structured program that includes an onboarding process, dedicated mentors, and activities meant to encourage growth
Adapting to remote work
With these changes, we were able to welcome two new interns for the summer of 2023. Throughout their time with us, they will work with a variety of mentors during the summer on their core project. This core project will not only help the interns to grow but also will give back to the general community by producing high quality pro-bono work for an organization whose mission it is to improve lives by providing quality mental health care for all. This year's Fuzzy Math internship project lead and visual designer is Madeleine Byrne and Ellie Lee is the full time UX designer on the project. Both of them support the interns throughout the project, providing guidance and feedback along the way.
We asked the Fuzzy Math intern team: What does an internship program like ours bring to a company? What can it teach more senior designers?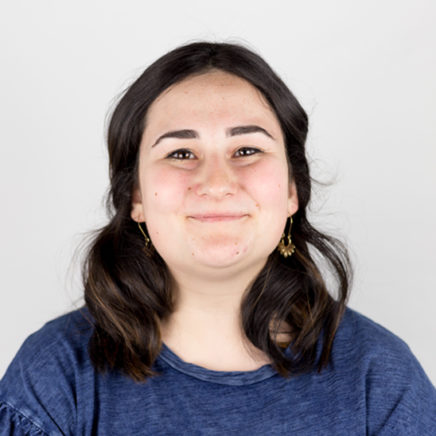 Mia Villareal
I strongly believe an internship program provides a valuable opportunity for not just the interns themselves, but for full time employees as well! It can feel very meaningful guiding others who are new to the industry, and helping them grow as designers. Through that mentorship, more senior-level designers can gain leadership skills, become more confident in themselves, and grow in their abilities to thoughtfully guide and support others. I feel very thankful for everyone who is involved in the internship program that helps to make it successful!

Brittany Boxill
I think an internship program brings fresh perspectives, interns often bring new ideas, energy, and perspectives to the table. I also think it brings diversity and inclusivity. An internship program can contribute to diversifying the workforce.

Gina Pan
The internship program allows designers to guide and mentor interns. This helps us improve our leadership, communication, and coaching skills.
The interns bring a fresh perspective and enthusiasm that can inspire other designers and rejuvenate the team dynamic. Their energy and a strong desire to learn and grow can be contagious.
The internship program allows designers to connect with people from different backgrounds, experiences, and skill sets. This exposure stimulates ongoing learning and helps foster creativity in our daily work.
So, without further ado…
Meet Our 2023 Interns!
Everyone at Fuzzy Math is ecstatic to welcome Grace and Holly to our team this summer. They started a few weeks ago, and have already kicked-off our pro bono project. 

Grace Cho | UI Intern
Where did you go to school and what did you study?
I went to Massachusetts College of Pharmacy and Health Sciences and studied Medical and Molecular Biology.
Why did you decide to pursue UI design?
For most of my professional career, I was a Community Manager working in Edtech where I was creating engagement programs for online learning. It was definitely rewarding but it burned me out – it became difficult for me to work so hard towards something that I couldn't often visualize. That's when I began my shift to UX/UI because it struck a balance between problem solving and creativity while being able to see what I'm building. While attending bootcamp, I became much more interested in UI and Visual Design.
What got you interested in FM's internship program?
I wanted an internship that prioritized an intern's growth as a designer. From visiting Fuzzy Math's website and going through the interview process, it was clear from the start that they really cared about providing a supportive environment for junior designers to flourish.
What are you hoping to get out of your internship experience?
I'm looking forward to learning as much as I can about the end-to-end Visual Design process as well as sharpening my Figma skills. It's also been interesting learning how everyone at Fuzzy Math goes about their design process so I'm looking forward to picking up on more best practices from the team!
If you could design ANYTHING (digital or not) what would it be?
Candy packaging! As a frequent candy enjoyer, I feel like there's a missed opportunity to make candy packaging playful and cute.

What is your favorite thing about design?
I love how transformative design is! To me, design is a toolkit you can use to build a new world. It allows people to constantly rebuild systems and products that no longer serve them and transform them into something more meaningful and purposeful.
What do love to do for fun?
I like printmaking, skateboarding, and making ceramics. I love how all of these things require so much focus that I'm not thinking about anything else. It's very grounding in a way.

Holly Shapnick | UX Design Intern
Where did you go to school and what did you study?
I attended Whitworth University and majored in Health Science and also have a Master of Science in Occupational Therapy from the University of Illinois at Chicago.
Why did you decide to pursue UX design?
After working in the clinical world for almost 5 years, I realized that many of the products and experiences my clients were interested in were not accessible. I was drawn to UX because it has the ability to make a positive impact for larger groups of people while allowing me to be creative, collaborative, and think outside of the box. My goal is to continue to advocate for accessibility and inclusion on a larger scale by bringing my healthcare background into the tech space.
What got you interested in FM's internship program?
I was impressed by Fuzzy Math's guiding principles and their focus on human-centered design, which matched my personal values. I was looking for a place where I could be exposed to a variety of projects while learning from a talented group of designers. I also was excited about the prospect of working on a pro bono project, as giving back to the community is important to me.
What are you hoping to get out of your internship experience?
I am hoping to gain a better understanding of the design process as a whole while honing my research, communication, and presentation skills. I am interested to see how a design consultancy operates and how the designers collaborate with each other on projects. I look forward to making new connections and getting feedback on my work so that I can continue to grow as a designer.
If you could design ANYTHING (digital or not) what would it be?
An inclusive toy line for children and adolescents!
What is your favorite thing about design
I love that design is an ever evolving field. It encourages creativity, learning, and dreaming big! It also has the ability to impact many people and as someone who wants to have a hand in positive change, it is an exciting space to be in. Helping to make people's lives better has always been my goal.
What do you love about design?
I love that design is not only about making something look good and easy to use, but also about solving real problems and making a positive impact through the work. 
What do you love to do for fun?
Outside of work, I really enjoy traveling, downhill skiing and getting outside, dabbling in art or music, and exploring the best food spots in Chicago!