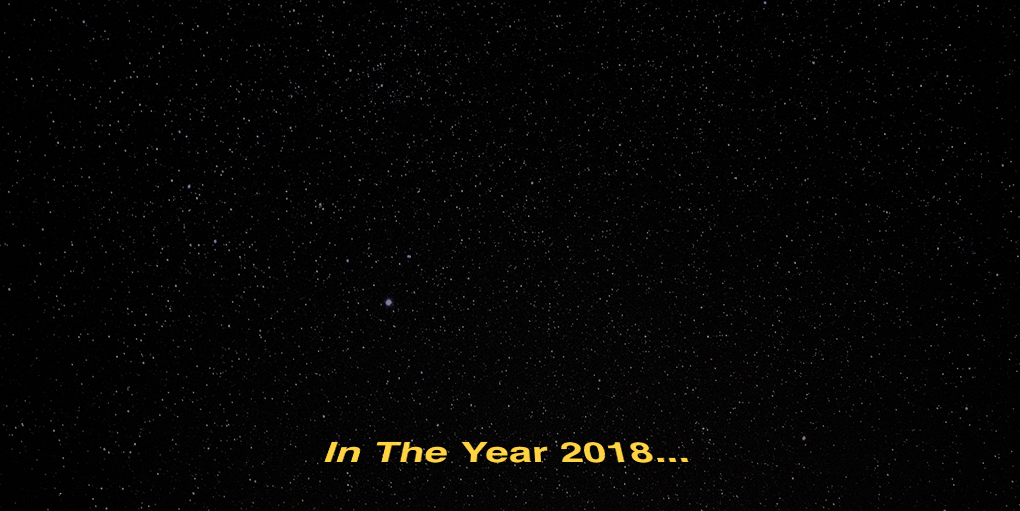 What does 2018 (the year of the dog, respectfully) have in store for the world of UX design? At team Fuzzy Math we put our heads together and came up with a few predictions for the new year.
Year after year, designers express their optimism that "this year is the year for accessibility".  I'll join the chorus and proclaim 2018 is the year for designers to finally start designing for accessibility. Whether through AI (as this article points out) or more traditional methods – accessibility has been an afterthought for many designers for far too long. The year ahead is about to change that.

Carl Duffield
We'll see a number of important changes to the personal and social sides of the internet in 2018. Privacy will finally come into the spotlight as an issue with some level of mass interest. Advocates have long warned of the intense data collection and profile building that's been ongoing for years, but it's rarely been in national dialog. Between debates over what smart devices are collecting, net neutrality, and government intelligence gathering; 2018 with mark the tipping point where privacy is something everyone is forced acknowledge. On the social side, the effects of opinion engineering in 2016 are still being felt and social networks and their effect on users and communities will continue to be scrutinized, potentially leading to major changes.

Nick Leonard
A recent push from big players like Google, Apple, and Amazon to improve their natural language processing algorithms and surge in popularity of home assistants. VUIs are in a prime spot to become prominent features in our lives. Sure, Siri and Google Now have been around for a while, but not needing to interact with your phone adds a new dynamic. I'm also predicting that UX will play a big role in designing smartly around VUI actions.

Philip Miller
In 2018 we'll see more hand-drawn illustrative style for brands. I noticed this trend gaining popularity in 2017 and I believe it'll only get prevalent this year.  Even when brands are using vector illustrations, the style is becoming looser and more abstract.

Julia Jouravel
I think we'll see continued investment and interest in designing for emotional intelligence. More products will be available to the public that makes use of Ei. More importantly, more companies will be working to figure out how to create and best use of this technology.

Colleen Pellissier
Net Neutrality has been repealed… The end is nigh. Well hopefully not…..but maybe.
I think the possible end of net neutrality will make it a lot harder for startups and other small businesses (many who are or may become our clients) to have a web presence. It may also cause issues with how we make or how we go about suggesting design decisions. We potentially will have to make even more design decisions that are based not primarily on a user, but rather on what our client can afford (depending on potential pricing tiers that could get enforced or internet speed limitations on their content). This hurts businesses and ultimately users.

Rachel Vorm
As screen dimensions and resolutions keep evolving, the need for responsive logos is becoming more and more apparent. Responsive logos are not a new concept, but the traditional practice of preserving a logo to preserve a brand throughout decades (and centuries) have put a slight hinderance on the movement in past years. Creating a responsive logo goes far beyond a simple resize — the difficulty in this process lies in the simplification of a logo for smaller screen usage while still retaining the same effective brand recognition. To illustrate the potential use of responsive logos, UK-based designer Joe Harrison created several experimental examples of responsive logo systems for big-name brands, and the result is captivating.

Wren Overesch
Content has always been an important factor for making your site user-friendly. Is there enough information? Too much? Is it all a bunch of technical jargon that might as well be a totally different language? 2017 saw the idea of a UX Writer as a specialized role rise within the larger UX world. I think it's only going to continue in 2018; and if chatbots and voice UI are going to be as big as we all think they are, it's an area that definitely shouldn't be overlooked.

Kelly Cunningham
An estimated 39 million people own smart speakers which means more users are growing accustomed to having conversations with their technology. There are instances where it's not acceptable, or in my case, embarrassing for others to know which song you just played next on Spotify. That means there's still a need for thoughtfully designed screens to interact with, and as our interactions become more conversational, so too will our interfaces. People are already shopping on Facebook Messenger through chatbots, but in 2018 those types of interactions will probably become more common.

Jon Tinman