For this edition of Fuzzy Math Focus, we are diverging from the past focus on Fuzzy Math interns to now highlight one of the guys who started it all: Partner/Co-Founder Mark Baldino. If you thought all entrepreneurs spent their college years with their heads buried in finance, marketing, and business administration textbooks, think again.
In this interview, Mark explains how he found his calling in user experience (UX), as well as his perspective and lessons learned regarding the process of starting an LLC and nurturing its growth for six years (and counting). Before we get into all that, though, we wanted to get to know Mark on a more personal level. Without further ado, meet Mark Baldino…
The personal stuff:
Where were you born and raised? Have you lived anywhere else?
I was born — and spent most of my childhood — in the North suburbs of Chicago. First, Evanston, IL, then my family moved to Wilmette (the next town over) when I was in high school.
Where did you go to school, and what degrees do you possess?
I went to Georgetown University and earned a Bachelor of Arts in Theology, with a Fine Arts minor.

What was your very first job?
Ever? During the summers when I was in high school, I worked on the grounds for a community golf course. I mowed lawns.
My first job out of college was working for a non-profit organization in Washington, DC. I did programming for them — not the coding kind though. I organized and set up events, maintained our outreach, etc., and I also did some web design.
How do you enjoy passing your free time?
Building furniture, general home remodeling work. I also enjoy walking my dog and getting brunch with friends. When I have an opportunity to take advantage of a longer period of free time, I travel. I enjoy seeing new places… and simply relaxing.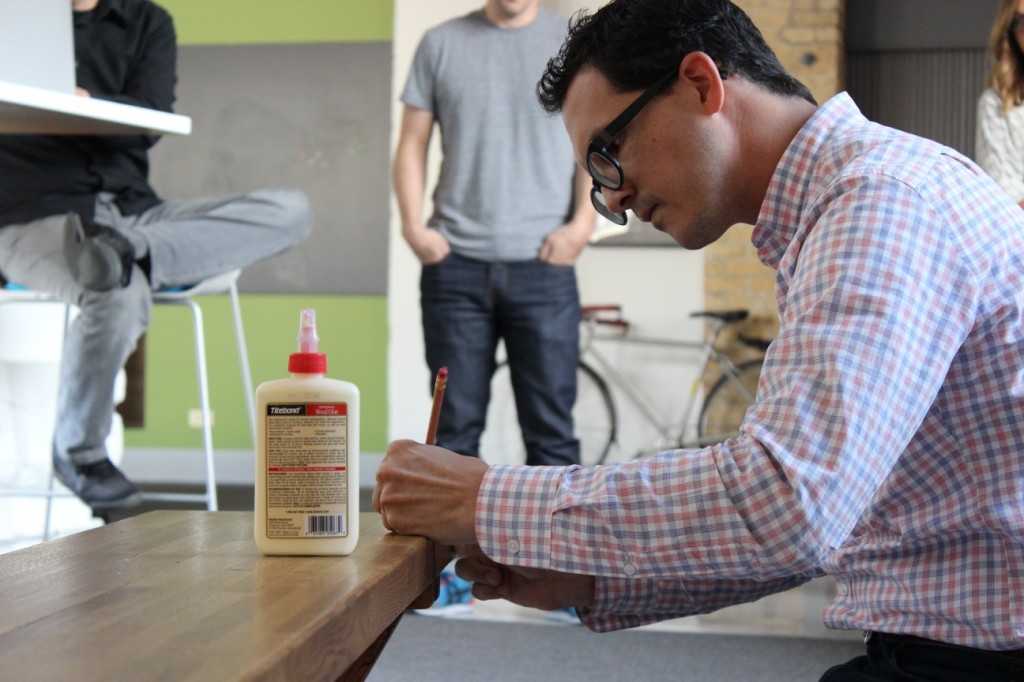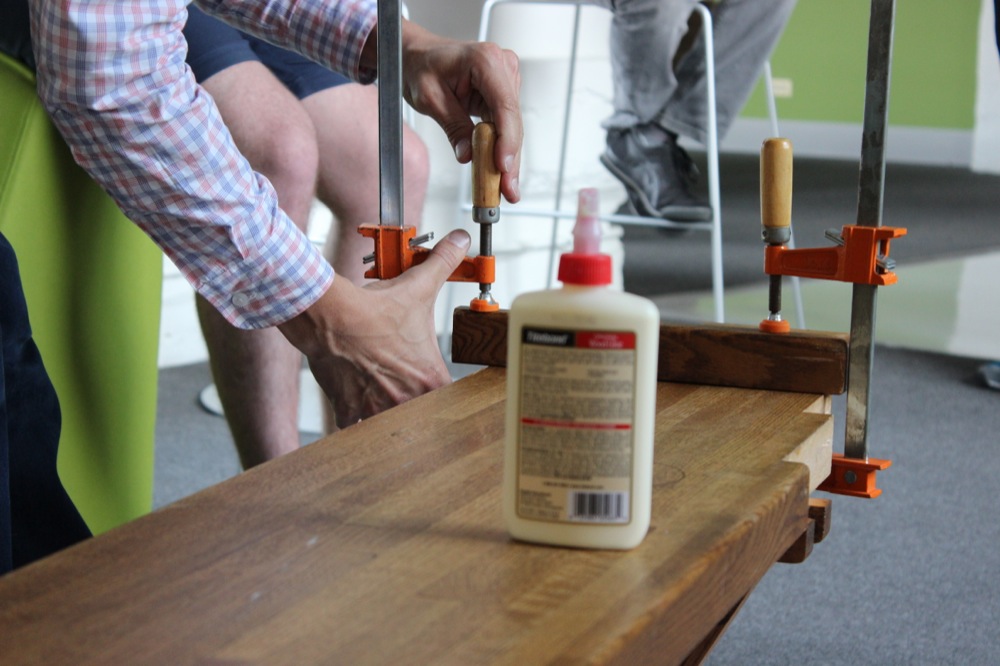 What if you could own any animal in the world? Would you? What would it be?
It would be Tate, my three-year-old Doberman. Dogs are top on my list, although it can be tough with all the concrete in the city and living in a third floor walk-up.
How/ when did you first hear about UX and decide you wanted to learn more about it?
While working at my second job out of college, I learned about Information Architecture (IA) and human computer interaction (HCI). I didn't know what those were prior to that job. I joined the IA team because I didn't have the business experience to do product planning nor the technical skills to code, so I learned a clever way to solve challenging business problems — UX (although we didn't call it that then).
In your opinion, what is the absolute best part about working in UX?
Running Fuzzy Math of course! And applying design in powerful ways to enact change.
Describe yourself in one word.
I'm a pretty practical guy, so, "practical."
---
The business stuff:
What inspired you to start your own company instead of working for someone else?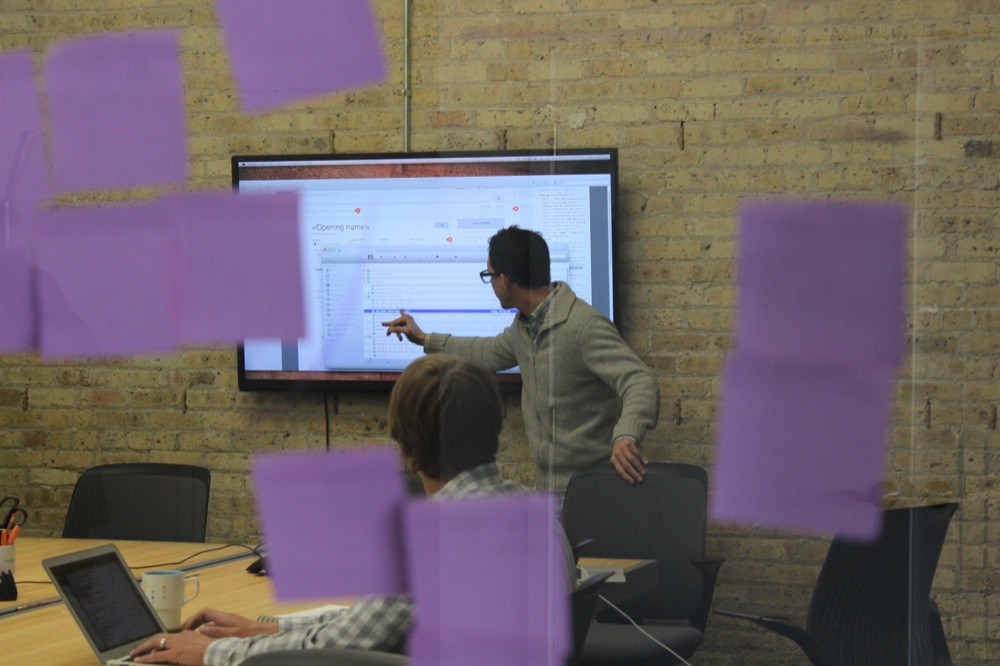 Working for someone else inspired me to work for myself. Actually it's not that simple. Working for big companies left me feeling that it was difficult to enact change, and so I left. Starting Fuzzy Math was an opportunity to create a company built around delivering high quality services from a team of high quality people. I really wanted to create a company where I would enjoy being an employee.
What did you decide not to do in order to focus on your startup?
I was lucky that my startup was in the service of which I had all of my professional experience, and I'm still a design practitioner. Honestly, I didn't have to decide "not to do" much. I did give up the concept of forgetting about work on nights and weekends. I miss that a little. There probably aren't 60 seconds in a day that FM or some aspect of it doesn't cross my mind.
What have you learned?
"…build a good base of great work before you claim to be an expert, [just] never claim to be an expert…"
– M.B.
Lots: hire good people that you trust, empower them, retain them however you can; say no to bad clients/projects, nurture good clients; lead and mentor, pay it back; pay attention to numbers; grow slowly but continue to push yourself; build a good base of great work before you claim to be an expert, never claim to be an expert; details, quality, precision, and craftsmanship matter and are differentiators in the market.
Was it obvious when you started that Fuzzy Math belongs in Lincoln Park, or even Chicago for that matter?
Yes. Our network was here. Plus, I didn't want to move anywhere else.
What has been the biggest surprise? What was one key assumption you made, perhaps even unconsciously, that has caused the most grief?
That I don't have and don't need to have all the answers. Early on, I felt the need to prove myself to clients and to ensure that I (and collectively we at FM) had all the answers on the spot. Now I realize the real skill is identifying the true problem a client has and working with them, not strictly for them, to solve it.
How have you changed since you started?
Well, six years have shown that some of my assumptions about growing and building a company were correct. And that it was possible (even in 2009 in an awful economy) to keep this thing going. That has allowed me to trust my instincts a bit more. On the contrary, if I've changed, it's in realizing that the future of FM lies in our team — and they have amazing ideas and are generally pretty awesome at what they do — so I have learned to start listening a ton more to what everyone else has to say.
What are your short-term and long-term goals for Fuzzy Math?
Our goal is and always has been to provide the best possible work for our clients. Also, we put our hearts and souls into being the most honest, respectable, practical, and pragmatic problem solvers. In the future, I'd like for FM to follow a growth path similar to the one we've been on, eventually employing around twenty-something people. As always, our big picture goal is to be recognized as the gold standard of UX craftsmanship in Chicago.
How would you describe the FM office atmosphere in two or three words?
A fun library