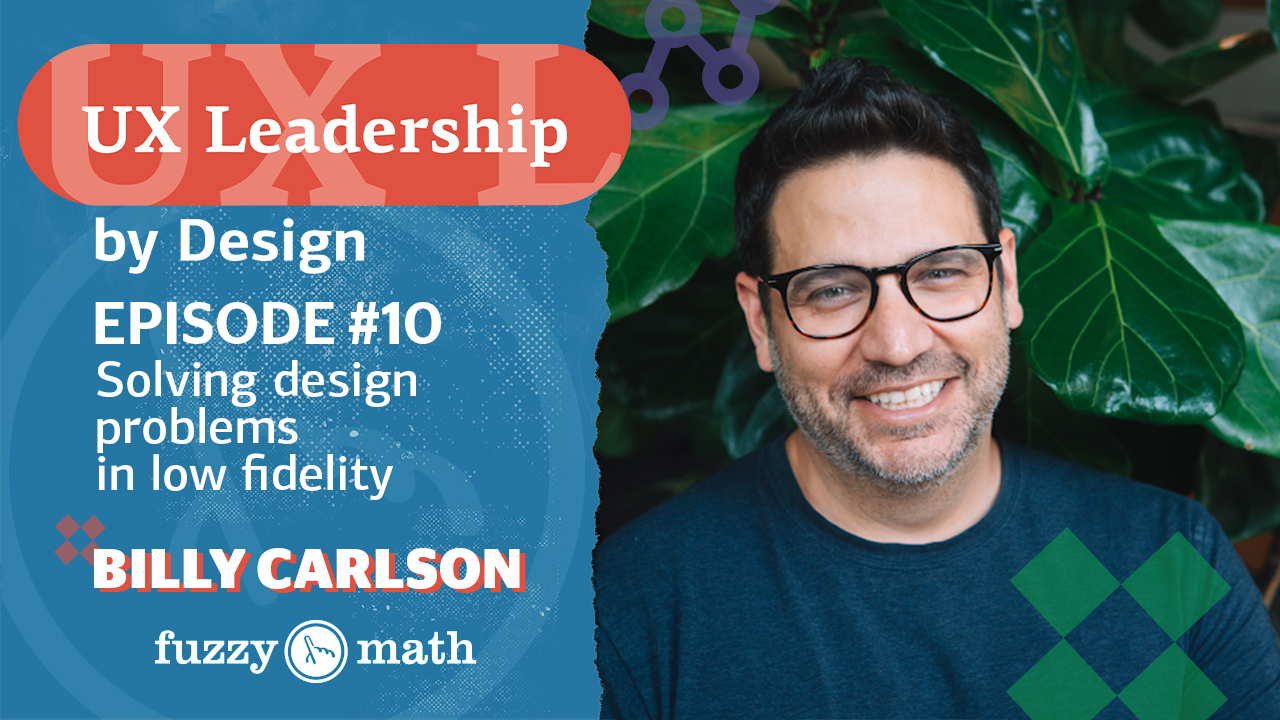 Are design leaders and their teams neglecting the power of wireframing in UX design? In Episode 10 of UX Leadership by Design, Mark Baldino explores this question, and others, with Billy Carlson, a design leader and educator.
The episode dives deep into the often underestimated process of wireframing, emphasizing its critical role in project development. Billy underscores the value of staying in the the "gray areas" of low-fidelity design early on, as it allows teams to refine their ideas, establish content structures, and secure stakeholder buy-in before transitioning to high-fidelity design. They also talk about Billy's recent book, "Wireframing for Everyone," which aims to democratize wireframing, making it accessible to both designers and non-designers.
If you're a design leader in the UX field, this podcast episode offers a fresh perspective and actionable insights to elevate your team's design process.
Topics Covered
The Role of Wireframing in UX Design
Importance of Staying in Low Fidelity
Strategies to Encourage Collaboration in Wireframing
Challenges Faced by Design Leaders
Benefits of Concept Development in Design
Balancing Control and Collaboration as a Design Leader
Transitioning from Individual Contributor to Design Lead
The Intersection of Design Leadership and Education
The Process of Writing a UX Design Book
Effective Communication in Early Design Phases
About Our Guest
Billy Carlson is a design educator at Balsamiq, where he helps new and non-designers learn best practices for all phases of user interface and digital product design. He teaches university-level UX and design thinking courses, and, as a designer since 2005, he's worked on myriad products and led large UX teams at various organizations.
Resources & Links
Connect with Billy Carlson on LinkedIn
Wireframing for Everyone by Michael Angeles, Leon Barnard, & Billy Carlson
Balsamiq
Balsamiq Wireframes Academy
Connect with Mark on LinkedIn
Fuzzy Math
Transcript
Mark Baldino:
Hello and welcome to UX Leadership by Design, podcast by and for UX design leaders. I'm your host, Mark Baldino. The oodcast is and always will be brought to you by Fuzzy Math, the user experience design consultancy that brings consumer grade UX to the enterprise. At Fuzzy Math, we deliver award-winning digital product design and some of our best projects are partnering with internal design teams to help scale them, grow them, basically be force multipliers for their impact within the organization. And today we are talking to Billy Carlson. Billy is a man that wears a lot of hats. He has led design teams from small startups, big startups, to large companies. And along the way, has threaded in mentorship and actually teaches a number of courses, currently teaching at UCLA. But Billy also just recently wrote a book that I'm really happy he wrote called Wireframing for Everyone with two co-authors. And I think maybe the book could have been called, Why is Everybody Afraid of Wireframing? Or Why is Everybody Afraid of Conceptual Design or Concepting? And we just talk about the need to stay in the gray areas as a designer, to stay in low fidelity, to iterate, to bring other people into the process and solve the hard problems at low fidelity. And then the high fidelity sort of becomes, a much quicker process. And so it's really about kind of holding the reins on teams and designers to sit with some of the difficult. concepts that we have to work through and not go straight to Hi-Fi and make everything look nice. But that's a real challenge. And so Billy and I talk about the challenges as a design leader and working with designers to encourage them in this process. So I think it'll be a worthwhile conversation. Glad you've joined us for the show. And thank you.

Mark Baldino:
Billy, welcome to the podcast. Thanks for joining us.

Billy Carlson:
Thank you for having me, of course.

Mark Baldino:
Yeah, you bet. Well, excited to chat today. I know you recently released a book, so I definitely want to get to the book. I have a tremendous amount to say about wireframes, and your book is on wireframing, so we get there. I have some opinions to share. But maybe you could just give the audience, give our listeners a little bit of a background,

Billy Carlson:
Sure.

Mark Baldino:
what you've been up to in design, what you're up to now.

Billy Carlson:
Oh yeah, this is always a hard question for me to answer because I talk too much, but I've been in design for a long time. I went to school, my degree is in visual communication, which translates to a graphic design profession. And I did that for a number of years until I was working at the Tribune Company in Chicago, and I worked closely with the UX team, and I was like, this stuff is so much cooler. That's when the iPad came out, and the iPhone was already out, so people were making. really interesting designs with an iPad and news content and I got to help with that. So that was how I got into UX design. And then from there I was sort of obsessed and eventually after a few jobs I became the director of UX at Threadless, which is a really popular Chicago startup success story, very interesting community. And it was where I learned sort of how to be a UX designer director. building digital products. As a small team, I had to do a lot of work myself with some partners, and I just loved it. And so I've been doing that since. So after that, I started more into design management, leading teams at bigger companies, bigger teams. And that's kind of where I find myself now. I'm also a design educator at Balsamiq, who I, two of my co-authors for our book, I'll hold it up really quick. and you can see it behind me. We wrote this book. So I've been focused on education and leading teams lately. So Yeah.

Mark Baldino:
Cool. What was your transition from individual contributor doer to lead? It sounds like some of that pivot happened at Threadless, startup, probably pretty fast moving. Was that just by necessity? Did you want to make that shift from individual contributor to a design lead?

Billy Carlson:
Yeah, I think I always wanted to lead teams because I like the, I love working on things myself. I am kind of a control freak. I think that comes from going to graphic design school and like the details are so important if you don't hit them. But I love collaborating a lot. I don't like working for myself. I also really like mentoring. So I've been teaching. And, you know, mentoring. So at Threadless, I started an internship program and I only had like four interns total or three interns total at the time, because they would last for a long time. But I was so fun to me to teach them, you know, the way I would like them to work, how I want things to be done, my design process. And that's sort of where I wanted to like, you know, take that to the next step and lead bigger teams and bigger teams.

Mark Baldino:
And still be involved in design education along the way. Like that's a shift not a lot of folks make. Some people kind of are in education, stay in education. Some folks are practitioners, myself included, always kind of stay in practitioners. They do design education through kind of mentorship, but you kind of made an actual career shift. Sounds like you're doing it both in parallel. Like what was that shift to the world of education and academia? How's that been?

Billy Carlson:
Yeah, it's interesting. I kind of glossed over the fact that I was teaching also. So that background was one of my friends who helped me get into Threadless, asked if I'd teach a course at the Chicago Portfolio School. They wanted to do, they called it GUI, I remember. And I was like, remember that term? I think that's what they said. But it's like a user interface design class. So I had to write my own curriculum. And then I had no idea what I was doing. So it was basically just started with someone saying, hey, do you want to give this a shot? And also I was very fortunate working at Threadless where I would be able to give talks to design communities. People would invite me to speak as being the director of UX at a company like we had a lot of, you know, there was a big audience. So like it's an e-commerce business. So we had, you know, millions of customers. So it was a lot of work, right? So it was a higher profile job. So I'm trying to say I'd speak at companies, I'd speak at things. And I was at one of them and one of the women asked me, like someone I was on a panel with, if I'd be interested in teaching with her at Northwestern. And that's how I got really into like real teaching, like academics at a university. And that was so fun for me. I was very fortunate that I had people help me write like a real syllabus and construct a course over 10 weeks because at Northwestern they do quarters, but. It was just so fun and so fascinating. And it's been a part-time thing teaching at universities, but I kind of fell into it, and then I got really into it and really enjoy it, I should say. And now I currently teach a UI design course that I created at UCLA Extension. So I'm out here in LA now and just love doing it still.

Mark Baldino:
Awesome. Any Venn diagram overlap between being a professor and a UX lead?

Billy Carlson:
I, yeah, I think it's interesting because there's a lot in the middle when you're a lead, you're still explaining things to people. And one of the things that really helps when you're an educator is you practice teaching people what you know, so you get really good at being concisely explaining why you're doing what you do. So it really helps. The professor part is very helpful to talk about real world situations and bringing in industry people. And then being on a UX team, being able to really explain why we do what we do, having examples that might be historical, because a lot of teaching is, you know, explaining the process of like how Dyson invented their vacuum or something like that, right? There's all these background stories that really help people connect why you do what you do. You could use it across those two professions, I think.

Mark Baldino:
Yeah, for sure. So I think education naturally shifted you to becoming an author, you a big writer. I think the idea of like putting a book together, I've told people before on the podcast, like the reason I'm doing a podcast is because I originally started writing a book for Design Leads and that process scared me and I was like, this is going to take too long, I don't have the patience for this. And maybe I can just have quick conversations with people and record them and it's a little bit more instant gratification. Like… Did you always want to write? What, did you always want to put a book out?
Billy Carlson:
Thank you.

Billy Carlson:
I think I always did, but I wasn't writing until I started working with Balsamiq and having to write. So that really helped me. Like I spent probably two years writing articles, which you can find on Balsamiq Wireframes Academy, balsamiq.com slash learn. And that got me really comfortable. So I was doing that for maybe an article or two, a quarter, I don't know. I wrote like… decent amount of articles, I got comfortable writing, and then the idea was proposed, like we should write a book, and then because I have co-authors, I should say that, I have two wonderful co-authors, it was less scary. Maybe that was false hope though, because it was still very difficult. But I wasn't comfortable, I wanted to, but it definitely had imposter syndrome, and said, oh, I can't do that. And then when you practice and get more comfortable writing, and it just felt natural. But I have to admit, when you write a book, and I would suggest this even for you, it's not bad. I mean, it's difficult, but it's doable because you have, like I worked with A Book Apart, and we did the best editors and support team to help us push the book along. And it makes, like if you're open to the editing and you're open to your editor's perspective, it really helps a lot, and it makes it feel collaborative and not just all on you.

Mark Baldino:
Yeah, well, it sounds a lot like a design project, which is like, lean on your team, trust the process. This is going to be scary at times, this is going to be hard work, but we're all kind of in it, all in it together.

Billy Carlson:
Yeah, you really have to push. It does, it reminds me of like teaching younger designers that there's a gray area and you have to learn to work through it and just make some, take some chances, take a leap and just push forward and then ask questions and say, like, I guessed here. So just don't pause ever and try to keep moving forward.

Mark Baldino:
Yeah, speak more on that because that gray area, I think a lot of younger designers don't want to live in. They want it to be yes or no, black or white. And it ends up falling on design lead shoulders to help clarify the gray or push them through. I mean, one of your pieces of advice is like, sort of trust the process, keep going and it'll get clarity, reflect. Like, what else do you encourage young designers to do to get through that gray area or to maybe feel more comfortable living in the gray?

Billy Carlson:
Yeah, I think you feel more comfortable the more you do it. So repetition. I share that. Well, one thing I think we help as design leaders is to just say it's OK sometimes and allow them to vent to you, like, I'm not sure what to do, and say, yeah, that's totally fine. Design is like that at points. And you have to create something to show people to move it forward. So not doing anything is just going to stall everything. I see that a lot in young designers and in students where if it's not perfect, they don't want to do it. And it's like, it's not important right now, just getting your thoughts out there, taking a chance with one direction or two directions of what you need to do.

Mark Baldino:
So your book, congratulations on getting the book out into the world.

Billy Carlson:
Thank you.

Mark Baldino:
It's called Wireframing for Everyone. I love that we're still talking about wireframing because
I think sometimes people, it feels like, you know, this like we live in the post-apocalyptic world and no one knows what wireframing is. We've all moved on and there's like references to it. But I like to tell my team that, you know, one of my jobs was two years, all I did was wireframes. No one allowed me to talk to customers, no user research, journey maps, personas, forget about it. All we were doing is cranking out wires day in and day out. And I learned an insane amount about how to do interaction design and how to communicate that design to people. So I'm thrilled that there's a book here that is coming out around wireframing, but like give us a gist of what the book is, why you think it's, you know, you and your kind of co-authors thought this was important to publish and get out into the world.

Billy Carlson:
Yeah, that's a great question. I think we feel the same way. We work at Balsamiq and it makes a software specifically just to wireframe, so it's unique. And we didn't really write the book exactly to say download and use Balsamiq. We wrote the book to explain exactly what you said. You can learn a lot about how to create great digital products just by wireframing. There could be a whole separate group of people that are great at UI design. We do touch on UI design in the book, but literally the first chapter is called why wireframes still matter, because people still, they haven't been taught how important it is to stay in low fidelity until you really understand what you're building, you have the content. It's so much quicker and easier to do that and it turns out better in the long run. Yeah.

Mark Baldino:
And there's this for everyone component. So wireframing isn't just for professionals, quote unquote, in the UX, UI space, like yourself, you and I. What is that for everyone? I'm assuming it's in the title, so it's important. What does that mean?

Billy Carlson:
Exactly. Thank you for leading me there.

Mark Baldino:
Hahaha

Billy Carlson:
It is really meant for non-designers or for designers to speak to non-designers about how they can participate because wireframes are a great tool that anyone can make. I mean, I also feel like wireframes start at sketching and move into higher and higher fidelity. So a sketch of an interface to me is still a wireframe. And expecting not just a UX designer or the design team to be in charge, of that visualization of ideas, to me, is extremely important. And I think when you're in the concept development phase, the more people providing their insights clearly, because I think a wireframe is a really good communication tool, is great. So if a PM wireframes, or the product owner has an idea that they talk to the business, bringing in a visual that they can talk to will help us understand what they're trying to do. We could bring our insights as UX designers, people who really understand, you know, not just what users expect, but usability principles, all those things. We could bring that in, but knowing what the problem they're trying to solve is, and seeing a sketch of that, how they think they can answer it, is really helpful in those early phases, in my opinion.

Mark Baldino:
Yeah. I mean, sometimes you're going to push back on both sides, which is from a designer's perspective, I own the UI and I own the look and feel. I own the interaction design, you know, like this is my deliverable. And then you kind of may get from the other side, which is asking somebody in product or engineering to start sketching and they're like, that's your job.

Billy Carlson:
Yeah.

Mark Baldino:
What are ways to… coax people on both sides of that equation, you're kind of sitting in the middle and you want this collaborative information sharing in a visual format. What are some trips for design leads to actually get everybody part of the process, remove those barriers, share this concept of it's really shared ownership of the interactions?

Billy Carlson:
Yeah. Yeah, I would lean into the collaboration part. Like, I don't know how popular design sprints are as much. I remember how popular I feel like they used to be. I don't hear that term at all anymore. But that was one of the benefits from it was we would start out by sketching together, talking about the problem and co-creating. And I think if you maybe communicate it differently, then like I expect you to make wireframes and just say like, And this is to me talking to product, like, can you show me, like, can you sketch out what you're thinking, what you heard from, you know, your business meeting, can you sketch out some ideas that would help us and, like, present that to us? Because right now, from that side, we a lot of times get, like, requirements docs, or, like, a summary of requirements docs, which is not as impactful as just talking about what's the exact problem, and, like, we can talk about different ways to solve it. And then terms from the UX perspective. Wireframes to me are not like UI design. Like you can add UI design into them, but it's more of like a way to say like, this is the content we need. This is the problem we're trying to solve. And staying in that low fidelity, sharing that will make your job doing the UI design later, much faster because you're not changing things as often. You sort of have a very clear path of what needs to be built. And a… buy-in from the larger group, which is what you always want. And that's why design thinking and all these human-centered design processes are built around, right?

Mark Baldino:
Yeah, what's the… Is the phrase… It's not fast and slow, it's fast and smooth or something like that. People assume the faster you're getting to UI and the faster you're getting from sketch to mid to high fidelity, like this is better, but you're kind of, I think, making the point that the discussions that happen at a very low level of fidelity, the buy-in and the process that you get, the understanding of kind of the user needs and the interaction, it's going to pay off dividends. in kind of the subsequent phases of the project. Is that right?

Billy Carlson:
Yes, yeah. So if we can get people to understand that you don't need to sign off on the high fidelity earlier, to me, that's better. I feel like we start in high fidelity very quickly in a lot of cases, only because we think we need to, because that's what people expect, or we assume they expect. But I always push for staying in low fidelity until we have the design and the content we want in wireframe form. even like loose wireframe form, so that I can show them how quick we can take that and turn it into high fidelity. I always think of it as like the timeline, if it's like four weeks, you could spend, you know, three and a half weeks coming up with the exact content and interactions you want and low fidelity and then three days designing it. Because there's so many patterns out there that you can take from, you know.

Mark Baldino:
Yeah, no, it's a good point. And the proliferation of that's the right word for design systems. Like now we used to have a lot of projects where it's coming in to build our design system for us. That still happens. But now it's like we have one, it's nascent. We need you to make it, you know, enterprise grade and supersize it and stuff like that. So I think people feel more comfortable skipping the low fidelity because they have a toolkit in high fidelity to work through. But you're… The point is, I think, well taken, which is let's reserve that to make that final step super duper quick, and let's spend more time kind of thinking and iterating at a lower fidelity and not worry about the final look and feel.

Billy Carlson:
I would be really curious to ask UX designers like how much time they spend changing things, right? And the early phases, because if you're staying in low fidelity, are you clear about exactly what you're asking for? And I feel like in your staying in low fidelity, you can slowly realize, yes, this is the right path. And through that iteration, And then, again, showing them how quick you can take that low-fidelity thinking and the structure and the content and turn that into something that looks like a real product.

Mark Baldino:
Yeah. Is there an overlap with your students? They might not have access to design systems. You might get in if you work in-house at a design team, but are they uncomfortable staying in low fidelity and sketching? Do you think this is a muscle we've removed from designers who are in like, I work for consultancy like Fuzzy Math, I work in-house as a designer where it's like we've started to remove that concepting early phase ideation. What are your… Do students think about it? Do they have experience doing it? Are they comfortable doing it?

Billy Carlson:
Yeah, that's such a great question. I think they're used to wanting everything to look amazing. No matter what, if it's a UX design class, I teach design thinking, user experience design, and UI design. And UI design, the only one I want them to really push how nice things look. But they always like, my portfolio won't look good unless it's visually appealing. But. And that kind of makes sense. But if you're hiring a UX designer for something that doesn't involve being a UI designer, that's not what's important. I try to explain to people that. But going back to your original question, I do think, I think they don't know anything about this stuff, to be honest with you. Yeah.

Mark Baldino:
Farin' it.

Billy Carlson:
They're like, oh, there's design systems. So I only have one week dedicated to design systems. And I basically demonstrate taking like a wireframe and building it out using a design system, the power of it and how we use patterns. I do talk about patterns a lot and reusing components and how we have very much standardized certain components to use and digital products. But yeah, I don't think they know, but they definitely don't like only showing wireframes.

Mark Baldino:
Yeah, right. Maybe the overlap is there's a desire for everybody to put something together that is aesthetically pleasing. But the hard work happens earlier in the process, from my experience, and that's where you have to sort of like sit in that gray area, sit with the uncomfortability. Yes, you could, I don't know, I'm not a visual designer, but you can put a gradient around the corner or something like that. You can start adding color, but it's like once you… add that color it distracts from the core interaction and until you can kind of release it down to its base level components in a black and white and gray phase that you should actually worry about.

Billy Carlson:
Yeah, exactly. And I feel like what happens when you dive right into high fidelity, and this has happened to every designer is you kind of get lost in that and you're making details that don't matter. And then you're like losing focus of what you're actually trying to do. And that's what I communicate to not just my students, but to young designers or really anyone, even product people like, well, why isn't it high fidelity? I'm like, cause we don't know what we're doing yet. I can make it look really good, but then let's go back to the wire frame. So we could focus on the actual. problem we need to solve.

Mark Baldino:
Yeah, we made it, the tools have made it easier to get to high fidelity really, really fast. The tools weren't great at that before. I mean, Figma's really like, it's compressed the timeline to go from lo-fi to hi-fi and integrated design system really, really quickly, which has probably made management, you know, business, some stakeholders who were looking at timelines, okay, this is great. We can just crank stuff out in hi-fi. We've all run into that. But spending time. in those uncomfortable spaces, I think, is important for designers early. It's really on the role of the design lead to actually advocate for that part of the process and clear space for that part of the process.

Billy Carlson:
Yeah, definitely. And like show, I feel like you could prove the value if you do that a few times. And you prove the value by saying, let's stay focused on the structure and the content. I used to say like the structure all the time, but I realized how important the content is now too. Like obviously content first design has really, grew, has grown a lot in the past three to five years. And you can focus on that a lot in wireframes, and then you have pretty much everything you need to move to that visual polish, I think.

Mark Baldino:
Yeah, right on. Well, Billy, thank you very, very much for joining us on the podcast. I wanted to give you an opportunity, obviously the book, everyone, go get a copy of the book. It's called Wireframing for Everyone. And grab that, read that. Where else can folks find you? What are you up to these days? I assume you're on LinkedIn somewhere. Well, we're connected on LinkedIn. You're on LinkedIn.

Billy Carlson:
Yeah, find me on LinkedIn. I'm not much of a social media guy. You can find me, email me, Billy at balsamic.com. I still do webinars and talks. Not as much webinars actually, but I'll be doing a talk at the next Rosenfeld Conference. I have a lot of content out there that you can find in. Please comment on and let me know what you think because I like feedback as any good designer, right? Also all of my socials are just Billy Carlson and I hope they're all because maybe there'll be someone that Stole that for something else, but all the major ones

Mark Baldino:
Perfect. And you mentioned the link before to Balsamiq and those sort of tutorials. We'll include that in the notes for the podcast. But I guess a big thanks for keeping the focus on wireframing or bringing it back and this sort of early stage conceptual design, which I know you and I both share a passion for and think is an integral part of the process. I think it's getting looked over more and more, so always good to draw some more attention to it. So thanks for putting the book out. Thanks for coming on the podcast. It is all much, much appreciated.

Billy Carlson:
Awesome. Thank you so much for having me, Mark. I really appreciate it. Awesome.

Mark Baldino:
You bet. Thanks, Billy.

Billy Carlson:
All right. I'll see you.

Mark Baldino:
Take care.