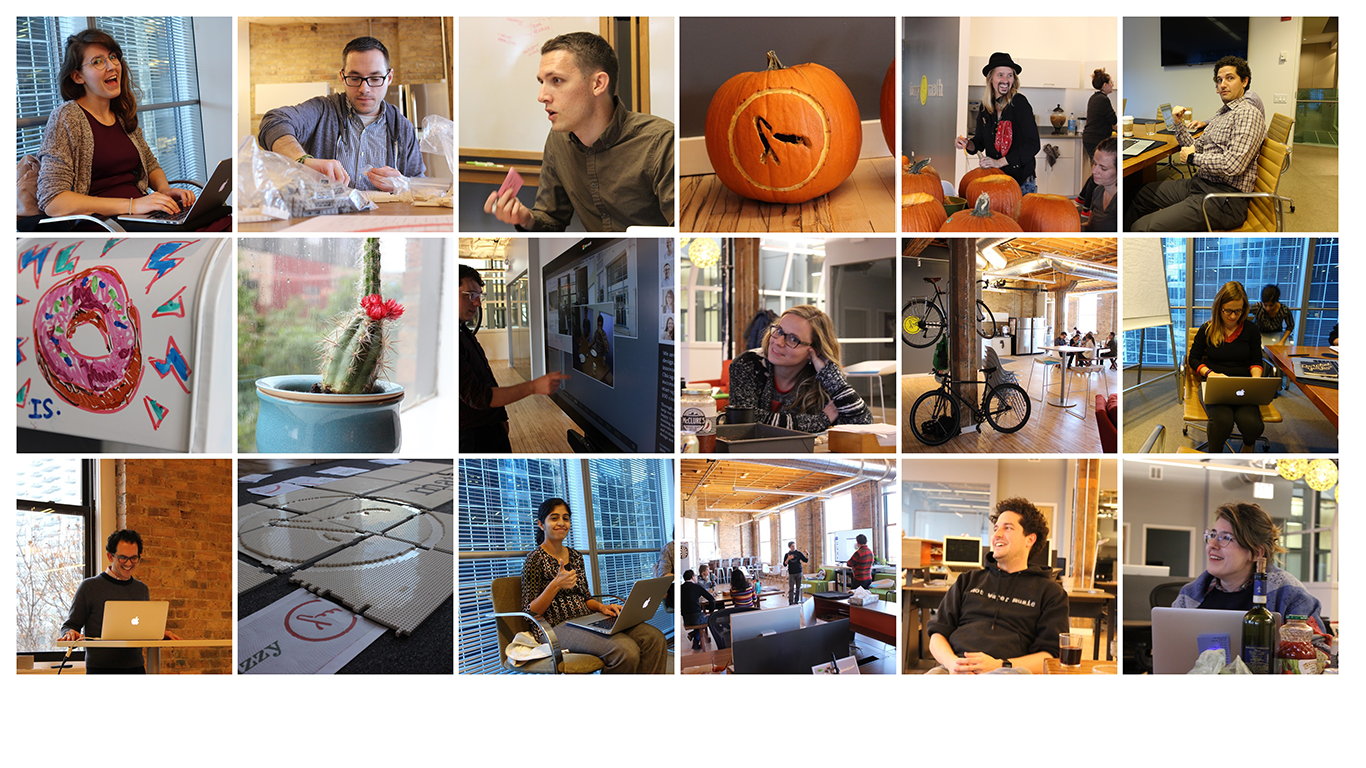 As promised, we're back with the second half of our culture post! In case you missed it, we've taken a two-part look inside our culture here at Fuzzy Math. In our previous post, we introduced our interests and backgrounds. Here, we dive deeper into what makes us Fuzzy Math and what it's like to work here.
Describe the FM studio culture.
We're creative design experts with diverse backgrounds, and we build off of each other's unique perspectives. We're dedicated, focused workers, and we work very hard, but at the same time we enjoy a relaxed environment and find time to unwind with some beverages and fun stories. We're friendly and flexible, and genuinely care about each other – "designer ego" doesn't have a place here at Fuzzy Math.
"The FM studio is pretty quiet during the work day. As an easily distracted person I see this as an asset. But around lunch time, or after work people aren't opposed to taking off our noise cancelling headphones and unwinding with some fun stories and beverages."

Julia Jouravel
"Everyone is very friendly, smart, and willing to help – a great combination when you are starting a new job or continuing to grow your career."

Aarti Israni
"I think and hope it feels a bit more like a team than "work." I've worked at places where I didn't necessarily feel all that excited getting out of bed in the morning, and I never want Fuzzy Math to feel that way."

Ben Ihnchak
"Earnest. Generous. Patient. Kind."

Isaac Steiner
"We know when it is appropriate to goof around and when it is not appropriate. People are kind. I think we genuinely all care about each other and our well being and we know that although the work we do is important, the individuals doing the work are the most important. I'd say we are a motley crue, which are the best kind of crews."

Rachel Vorm
What makes Fuzzy Math stand out as a company?
Everyone here agreed that one big way in which we stand out is through our sole focus on design. While other tech service companies offer design, they often focus heavily on web development as well. The advantage of our focus on design is that we're able to practice our full user-centered process, which means we can spend more time learning about our users and translating those needs into the best possible solutions.
We also agreed that we're not afraid to be pragmatic. We value creativity, while also focusing on the most valuable components of a solution and minimizing everything else.
"The people and the process. Not only is FM full of genuinely curious people who care deeply about crafting great experiences for users – but there's a repeatable, demonstrable process to guarantee we get there."

Carl Duffield
"I think a lot of it has to do with our name. I see Fuzzy Math as a group of genuinely thoughtful people who are not scared of mixing creativity with pragmatism."

Julia Jouravel
"Ideally it shouldn't be something that makes a company stand out, but FM genuinely cares about the people that work here, and we have a good balance of male to female workers. I feel like my voice is heard here and that I am respected. It is also awesome to work at a tech company that is almost 50/50 female to male workers. This industry is very male dominated and it is nice to work somewhere where I don't feel out of place."

Rachel Vorm
Personal working style and preferred environment
Our co-founder, Mark, once described our environment as a "fun library". We generally think this still rings true. Our office is usually pretty quiet (besides the occasional outburst of laughter at GIFs we share on Slack, and times where we enjoy lunch together at our kitchen picnic table). People often are at their desks listening to music or podcasts through their headphones, working together in a conference room, or sharing resources with one another online. We prefer a good balance of individual and collaborative work, and we like to work in a variety of locations – conference rooms, couches, our desks, or standing at one of our tall tables.
"As a permanently cold person, my favorite spot in the office is wherever is most warm. In fact, there is currently a blanket on my lap as I type."

Julia Jouravel
"I like to balance sitting and standing while working :)"

Aarti Israni
"Sitting with two monitors at my desk helps while my million windows and browser tabs start to shape a new design system. Standing at a high-top table facing the big windows on our 3rd story makes me feel like I'm commanding a ship towards something big and important. I use that for when I need to work urgently. Sprawling out in conference rooms allows me to be close to a whiteboard which I use when I'm modeling ways to work through a complex system or process."

Isaac Steiner
Last but not least: Our Favorite Slack Emojis
We'll just explain this one with an image.